David Mach - Britannia coin designer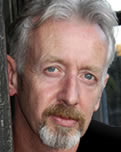 David Mach is a British artist and sculptor whose collage and sculpture transforms 'found' objects – coat hangers, matches, postcards – into impressive works, often on a larger life scale. Yet throughout David's art runs an exacting attention to detail.
David Mach studied at the Duncan of Jordanstone College of Art, Dundee from 1974 to 1979 and subsequently at the Royal College of Art, London from 1979 to 1982. His first solo exhibition was held at the Lisson Gallery, London in 1982. His international reputation was quickly established with solo and group exhibitions held in the UK and in countries throughout the world. He became a part-time lecturer at the Sculpture School, Kingston University from 1982 to 1993 and he was a lecturer at the Contemporary Art Summer School, Kitakyushu, Japan from 1987 to 1991. He was elected to the Royal Academy in May 1998 and in 2000 was appointed Professor of Sculpture at the Royal Academy Schools, London.
David Mach talks about his challenge to make Britannia a contemporary image and not just appear nationalistic: 'I worked out a design with as much movement as I could for a small surface area; movement that would encourage people to turn the coin and watch the light shift over the surface like I had done with half-crowns as a boy. My design acts as a lenticular image. The flag and Britannia appear to move reflecting a contemporary Britain; a changing Britain; a Britain which is culturally on the move but still with plenty of reasons to wave the flag.'