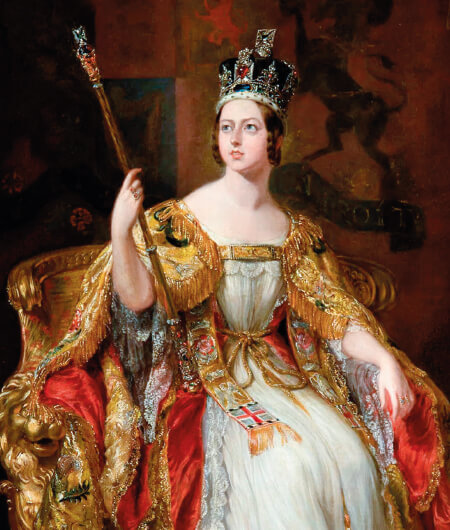 Despite reigning for 64 years, there were few coinage portraits of Queen Victoria, with one being favoured for 50 years.
The first coins of Victoria's reign featured a portrait by William Wyon RA and were issued in 1838. The 'Young Head' effigy captures the youth and beauty of Victoria when she was crowned queen at just 18 years old. Over the next 50 years, this classically styled portrait was reinterpreted several times, with each effigy designed to portray the queen as she aged.
William Wyon also created the Gothic effigy that appeared on the silver crown from 1847. This extraordinary portrait shows Victoria wearing an ornate crown that cuts through a border of trefoil which arcs around the coin's inner edge. She wears a dress embroidered with roses representing England, thistles for Scotland and shamrocks for Ireland. This portrait was the first since the reign of Charles II that a monarch wore a crown on British coinage.
The 'Jubilee Head' effigy, produced by Sir Joseph Edgar Boehm, first appeared in 1887 and gives a realistic representation of a mature monarch. The portrait was first seen on coins in the same year as the queen's Golden Jubilee but it wasn't well received. Despite the queen becoming increasingly popular in later years, this portrait was never taken to heart by her people.
Another effigy was commissioned and produced in 1893, when Victoria was 74 years old, and is often referred to as the 'Old Head' design. Created by Thomas Brock, it gives us the image of Victoria that often appears on pub signs across the United Kingdom. It is in this interpretation that she seems the most relatable. Although wearing the regalia of empire – a diamond and sapphire tiara, a diamond necklace, pearl earrings – she seems at her most human.
Perhaps it is for that reason that the 'Old Head' image is the one that we tend to connect most readily to Victoria. She was queen and the face of an empire upon which the sun never set but she was also a mother and a grandmother, as well as a passionate and artistic woman who bore the responsibility of her role for more than 60 years.