David Lawrence is a sculptor and illustrator with more than 30 years experience, including many coin design projects. He has created several designs for our iconic Britannia coin and played a key role in The Royal Mint's five-year commemoration of the First World War.
David has designed all ten coins in The Royal Tudor Beasts Collection. Although he is a seasoned coinage artist, the project presented an interesting brief. He was asked to depict the heraldic beasts – including the Lion of England – in a natural and realistic way. But heraldry, and the often mythical creatures used to convey certain characteristics or history, made that approach challenging.
An extra dimension came with the fact that a tangible representation of all ten beasts can still be experienced at Hampton Court Palace. Centuries ago, Henry VIII had statues erected to guard the Moat Bridge, displaying his lineage and that of his third wife, Jane Seymour. David explains that while some statues were indeed naturalistic in style, others were more mythical or exaggerated – after all, the Tudors would never have seen many of the creatures in real life. He felt he, "… needed to combine naturalistic elements with a stylised, heraldic depiction of the beasts."
David continues, "The Royal Beasts Collection is dynamic, beautiful and characteristic of the Tudor period and it was important this series of coins captured a sense of gravitas and dignity. The originals were more than just imposing decoration: the beasts chosen and the heraldic devices they held described Henry VIII's royal lineage and strove to legitimise his claim to the throne, while also describing Jane Seymour's royal context."
David began by sketching the beasts – he never designs using a computer, instead he uses propelling pencils to create his work by hand. His initial sketches allowed him to see that a direct representation of the statues themselves would not be possible. David says that he likes to, "… take a step back to allow my subconscious to do the hard work, striving to produce a well-rounded idea. That led me to take inspiration from these Tudor-carved beasts and modernise them, but without losing their historical or heraldic importance."
David set out to retain as much of the character and detail of the source material as possible. That meant the faces of his beasts are naturalistic, but the details of the bodies are true to the original carvings, such as the elaborate tufts on the lion's tail. The details on the shields were taken directly from the original carvings, and as David felt they needed no reconceiving or 'improving', he "… simply had to redraw them with the correct perspective."
It was crucial that the designs came together in a series, and as the collection continues, David hopes collectors will appreciate a sense of originality in each design. Balancing history, heraldic rules, the natural restriction of working within the limited field of a coin and such a rich mythology is a challenge the designer continues to relish.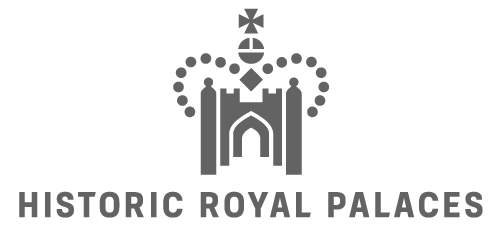 © Historic Royal Palaces 2022 Produced under licence from Historic Royal Palaces Enterprises Limited