The Great Exhibition of 1851 served as a colossal showcase of worldwide innovation, placing the British Empire at the very centre of things. Prince Albert not only helped to organise the massive event but served as one of its biggest proponents.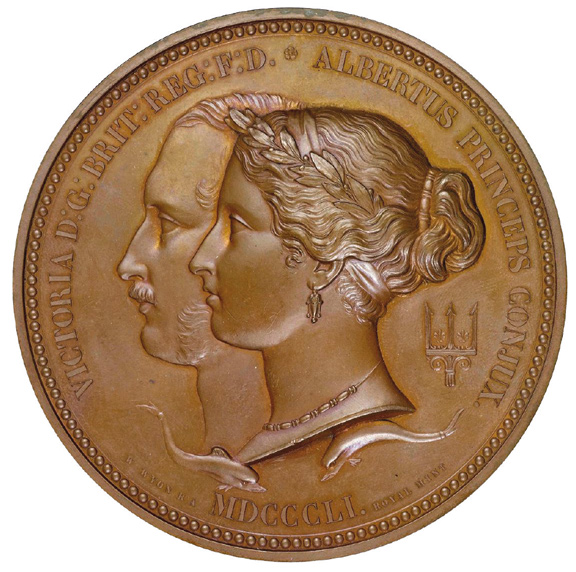 Often seen as Prince Albert's crowning achievement, it was formally known as the Great Exhibition of the Works of Industry of All Nations, it was an opportunity for the United Kingdom to show off. The event, part organised and strongly promoted by Prince Albert, lasted several months and some 100,000 different objects were displayed by thousands upon thousands of exhibitors from around the world. Any number of countries were represented – including Canada, France, the United States of America and Russia – but British prowess in industry and culture was by far the showcase.
The event was an unmitigated success, drawing in excess of 6 million visitors across its five-and-a-half-month run. Unsurprisingly, Queen Victoria was immensely proud of the event and of her husband for having organised it. On the day of the exhibition's opening she wrote in her diary:
'This day is one of the greatest and most glorious days of our lives, with which, to my pride and joy the name of my dearly beloved Albert is forever associated! It is a day which makes my heart swell with thankfulness.'
The 13,000 exhibits ranged from heavy machinery to finely crafted products. Established ceramic manufacturer Wedgwood was one of many British companies that received a medal for their exhibited works. In the case of The Royal Mint, the exhibition provided an opportunity for Chief Engraver William Wyon to shine. He was commissioned to design a special Council Medal for the event, featuring a portrait of Queen Victoria and Prince Albert.
Wyon's portrait gives the couple an air of youth and vibrancy, the two seemingly reflecting the energy and drive that defined the era. It is, quite simply, the picture of a loving couple at the peak of their powers.
Below the portrait of the dynamic couple on the medal are the roman numerals MDCCCCLI, marking the year of the Great Exhibition, 1851. The design also features a trident and dolphins, symbolising the pride Victorian Britons had for the empire's naval power.
In 2019 The Royal Mint has reworked the medal design to create a commemorative coin to celebrate the 200th anniversary of the birth of Queen Victoria and Prince Albert. In the same location as the medal, the coin design features different roman numerals, MDCCCXIX or 1819, to mark the fact that the royal couple were born in the same year. The design was produced on a series of special five-ounce and kilo coins.