Eric Heaton – Willing Servant of King and Country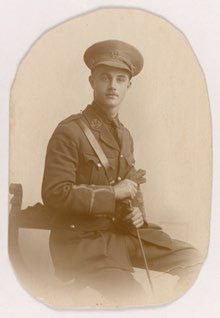 2nd Lieutenant E.R. Heaton, 1916
© IWM (Documents.12701)
Eric Rupert Heaton was born in Rochdale in 1896. A second lieutenant posted to C Company, 16th Battalion Middlesex Regiment, on 1 July 1916, the first day of the Battle of the Somme, Eric led his men in an attack on Hawthorn Ridge. Wounded in the leg he was later reported missing.
On 29 June, Eric wrote what would be his last letter home to his parents:
'The weather here is improving after very heavy rains. We have just got an English paper & read that the guns can be heard in England, I don't doubt it! ... We move soon now I believe – may it be to victory!'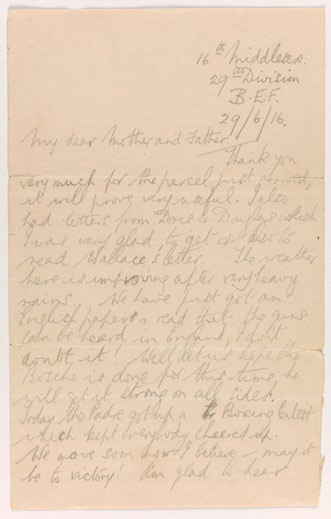 Eric Heaton's last letter home to his parents, 1916 © IWM (Documents.12701/C)

A telegram from the War Office conveyed the news to Eric's parents:
'Deeply regret to inform you that 2 Lieut E R Heaton Middlesex Regt was reported missing believed killed 1st July'.
Shortly after, Eric's company commander wrote to Mr. Heaton regretting he had no further news. He also enclosed a letter from Eric to be opened in the event of his death:
'I am writing this on the eve of my first action. Tomorrow we go to the attack in the greatest battle the British Army has ever fought ... if I fall in battle then I have no regrets save for my loved ones I leave behind. It is a great cause and I came out willingly to serve my King and Country.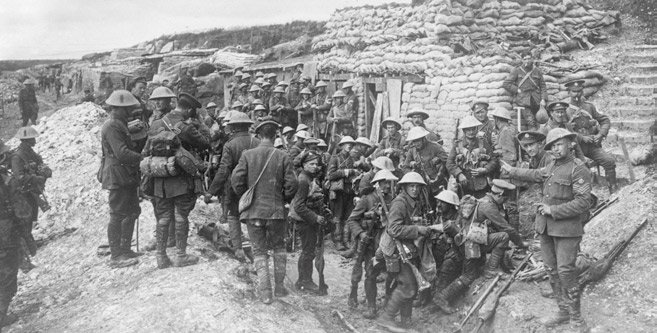 Soldiers of the 16th Battalion Middlesex Regiment, Hawthorn Ridge, 30 June 1916.
© IWM (Q 796)
My greatest concern is that I may have the courage and determination necessary to lead my platoon well ... If I fall do not let things be black for you. Be cheerful and you will be being true always to my memory.'
Sadly, confirmation of Eric's death came in January 1917.
His body was later recovered and buried just 50 yards from Hawthorn crater. The family received a photograph of the wooden grave marker along with a set of directions.
Eric Heaton now lies in Hawthorn Ridge Cemetery No.1 in France. On his headstone, dedicated to 'Our Youngest Son', the family inscribed a line from his last letter – 'I came out willingly to serve my King and Country'.
Written in consultation with IWM (Imperial War Museums)