From Outbreak to Armistice
A Story in Coins
The Royal Mint has a long-standing tradition of honouring heroes and heroines, even producing many of the medals awarded for service in the Armed Forces. In 2014 we started a five-year programme to commemorate every year of the First World War. As the series comes to close in 2018, 100 years on from the final months of war and the moment of armistice, it is time to reflect.
Five Years of War
Our collection has grown over five years, giving a unique insight into the First World War; from optimistic start to much longed-for armistice.
2014 – Outbreak
The iconic image of Field Marshal Horatio Herbert Kitchener appeared on the first £2 coin of the commemorative series, recalling the rousing call to enlist that moved so many to action.
The first five-ounce coin of the range featured John Bergdahl's interpretation of Britannia, a symbol of the patriotism and positivity that was present at the outbreak of war.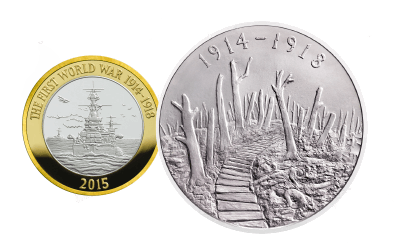 2015 – In the Grip of Conflict
We honoured the role of the Royal Navy, the force that defeated Germany's High Seas Fleet, as we looked backed to 1915 with an authentic design by military artist David Rowlands.
Esteemed sculptor James Butler MBE RA captured the utter devastation caused by conflict in a haunting design for the five-ounce coin.
2016 – The Horrors of Total War
We paid tribute to the Army and the Pals Battalions with an unusual and futuristic design by creative agency Uniform.
David Lawrence remembered the war poets who gave a unique insight into the heroism and horrors of war.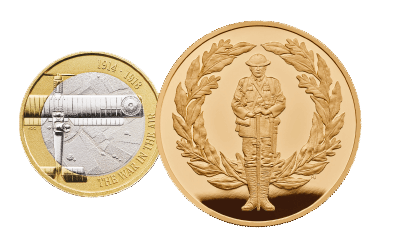 2017 – The Human Cost of War
Our coin commemorating 1917 honoured the aviators who went before, beyond and above us to win the 'race for the skies'.
Philip Jackson counted the human cost of a brutally industrialised and prolonged war with a wreath surrounding a soldier in 'rest on arms reverse' position.