Artist Impression of War
The Royal Mint has worked with some of the country's most esteemed artists for the First World War centenary commemoration. Each artist has their own unique style, but their designs come together to create one moving collection.
Their designs have been poignant, emotive reminders of many aspects of the war, often viewed with hindsight in more peaceful times. Here they share their feelings on being part of telling a story of the First World War in coins, from Outbreak to Armistice.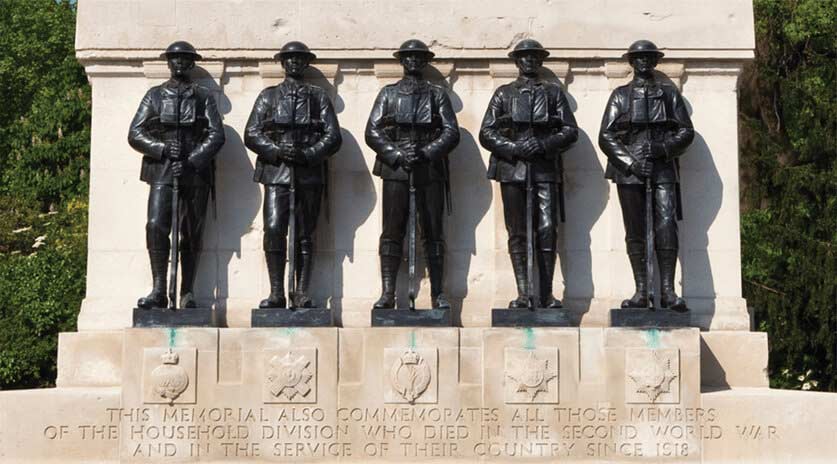 "The First World War remains such an emotive subject 100 years on. I am not a particularly religious man, but when I have researched the subject over the years, I have been quite taken over and moved by the powerful imagery that surrounds the war. It reveals the horrors and the bravery of so many people often indistinguishable and sadly uncelebrated."
James Butler MBE RA, creator of the First World War 2015 five-ounce coin design
"Many of the battles were fought over land passed back and fore, bare miles of earth and mud, land they had in their sights and then destroyed it along with millions of lives. When I began working on this series I remember reading the inscription on the cenotaph at Whitehall, 'The glorious dead'. Looking back at these devastating battles you can't help but feel that there is nothing glorious about war."
John Bergdahl, creator of the outbreak five-ounce and kilo and a number of the six-coin set designs
"I feel quite emotional about the commemoration after serving myself in the Royal Navy Volunteer Reserve and in 42 Commando Royal Marines. I have depicted many battle scenes and historic events including wars but I think the coins in this commemorative series are the most emotional and best. It is now 100 years since the 'War to end all Wars' and I hope it will bring home to the public what sacrifices were made by men and women so long ago."
David Cornell created reverse designs for the First World War Six-Coin set series, including the Edith Cavell coin that was released individually.
"I have such great respect for the men and women of the Armed Forces, and I am proud to have been on operations, so I feel I have more than an armchair viewpoint. My grandfather bought and collected old coins, which I loved to look at and handle, and I admired the work of David Gentleman, who designed many stamps and has created coins for The Royal Mint. I always thought of how he was part of history, so to be invited to contribute to this series, to commemorate the First World War, was an honour and a privilege."
David Rowlands, creator of the £2 coin released to commemorate the role of the Navy in the First World War along with coins for the series of six-coin sets.
"It is a great honour to be part of the programme of commemoration. In researching these coins I looked at many images of the conflict, in all its diverse aspects. It was a humbling and horrifying experience: glimpsing, from my peaceful, comfortable world, a time of great fear and desperation.
There have been big ceremonies in the past few years, but sacrifice, grief and remembrance are very small personal things, quiet reflections in a quiet moment, long term things that echo down the generations. These men and women did amazingly noble things; they were trying to save a way of life. To be part of remembering them is humbling indeed."
David Lawrence had created several designs exploring the cultural impact of the conflict for the First World War commemoration.