Britannia on British coins
Britannia on British coins
Britannia first appeared on coins back in the Roman era. In the second century AD Emperor Hadrian introduced a number of coins that depicted a female figure who personified Britain, with the label 'BRITANNIA'. When the Romans left Britain in the early 400s, Britannia vanished from coins and wasn't to appear again for several centuries. In fact it wasn't until Elizabeth I's reign in the 1600s that Britannia started to play a part in national life once more. She featured in contemporary drama and literature, symbolising the growing maritime empire of the Tudor queen.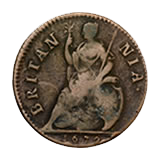 In 1636 the legal scholar John Selden argued that Britannia proved Britain's claim to the seas around her. He said that Britannia had been shown on Roman coins seated amidst the waves, portraying our naval strength. Perhaps that was why that Charles II chose to reintroduce Britannia onto our coins in 1672. Britain's maritime strength was under threat and the king hoped that Britannia would inspire the nation.
A long reign
Since her reappearance in 1672, Britannia has never been absent from the nation's coins. Over the years she became more and more associated with the sea. On the famous cartwheel pennies and twopences of 1797 she was shown seated on rocks in the sea, with a ship in the background and her spear replaced by a trident.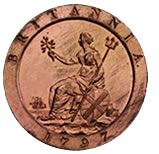 Britannia continued to reign supreme on the copper and bronze coins of every monarch. When the UK switched to decimal coinage in 1971, Britannia appeared on the definitive 50p coin. Her lasting presence on our coins made her the perfect choice when The Royal Mint was choosing a subject to appear on coins for the international bullion markets. She was an appealing and distinctive figure that was also instantly recognisable as British. She featured on the first gold Britannia coins in 1987 and on the first silver Britannia coins in 1997.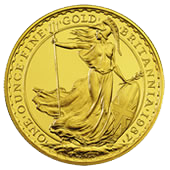 She continues to be reinterpreted by different artists to this day, with different aspects of her nature and symbolism emphasised to reflect the times. She also remains a feature of the coins we use every day and her image graces the current definitive £2 coin.