The Royal Mint's Shēngxiào Collection combines centuries of Chinese tradition with British minting craftsmanship, celebrating the 12 animals of the Chinese Zodiac. Each animal has their own unique characteristics and qualities and this year is the Lunar Year of the Rooster! The rooster is the fourth animal in The Shēngxiào Collection to be brought to life by artist Wuon-Gean Ho. It follows designs for the Year of the Horse, the Year of the Sheep and the Year of the Monkey. Like the rooster, who struts through the farmyard, crowing to greet the rising sun, people born in the Year of the Rooster are believed to be confident characters who love to stand out from the crowd.
During Chinese New Year gifts in red envelopes are traditionally given to family and friends, symbolising love, luck and good fortune. Do you know someone turning 12, 24, 36, 60 or even 96 this year? The Lunar Year of the Rooster coins are the perfect gift to offer a contemporary continuation of this ancient 'gift of giving'.
After welcoming the Chinese New Year on 28 January, we caught up with designer, Wuon-Gean Ho to find out a little more about her Lunar Year of the Rooster design.
Hi Wuon-Gean, tell us a bit about yourself…
My name is Wuon-Gean, I'm an artist and print-maker and I am the designer of The Royal Mint's Shēngxiào Lunar Coin Collection. This is the fourth coin in the series, and this year it is the Lunar Year of the Rooster.
What were your first thoughts when beginning this new design?
Before I started designing the coin I went to the London City farm to have a look at roosters and chickens and I started to draw them there. They move around a lot, they're very lively and they're very quirky with their movements – their heads move separately to their bodies. What really struck me was how beautiful and glossy their feathers are, especially the tail-feathers, they're absolutely beautiful – they almost look iridescent.
What research did you do? Did your design inspiration come to you very quickly, or did you have to think about it for a while?
I think I work in a very process driven way so when I'm drawing I have ideas of the way they move and then I have ideas of where I want to put them within the circle of the coin. So, the design really comes to me as I'm drawing and as I'm making the initial research.
Did you pick a particular type of rooster?
This breed of chicken has quite a deep symbolism for me because it's a hybrid – it's half old English game, which would have been very long-legged and muscular, mixed with Malay-fowl and there's also a touch of Italian too, a breed called Sicilian buttercup. It's a breed that was specifically developed in Lancashire and it's called the Marsh Daisy. The reason I chose this breed is because it's mix of East and West, and that's very hidden; it's not an obvious point but it's in there.
Apparently they have willow coloured legs and yellow earlobes, they also have a very distinctive comb which is very flat and pillow-like, called a rose-comb.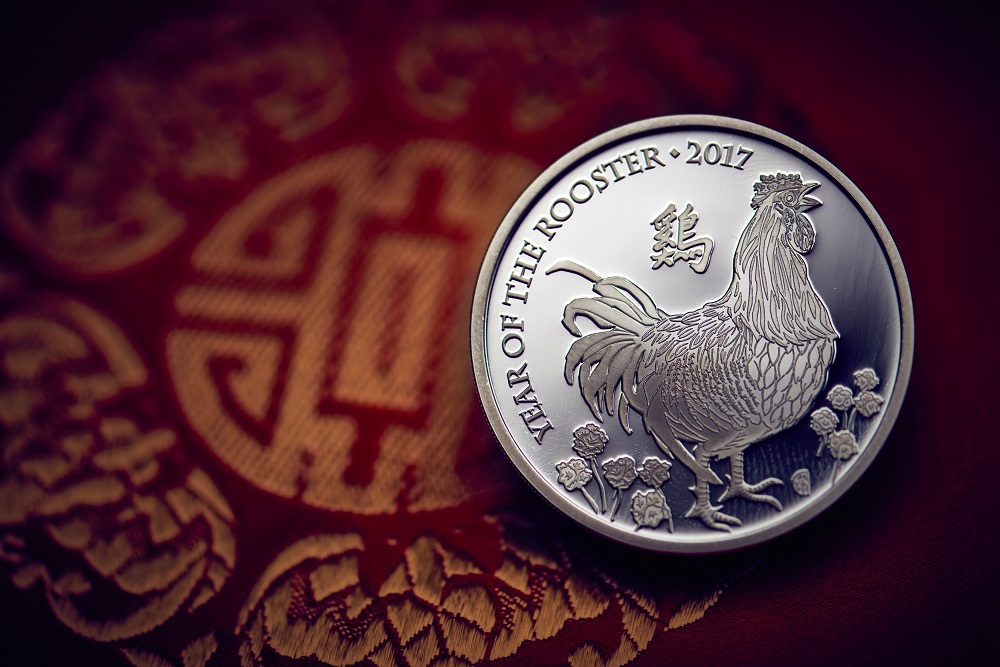 You mentioned in your Lunar Year of the Monkey video that the rooster was in a hidden location…
The reference to landscape is in the breed, so you have to look for the breed of chicken and then when you work out what breed it is you can work out where it was developed.
How do you translate the movement and energy into the design?
In this design, there isn't as much movement as in previous designs but I wanted to give the rooster a lot of personality so the emphasis is on his crowing action. He's standing still but he is crowing to announce his presence and to welcome the dawn and perhaps talk about territory – in this design it's more about his personality than about movement.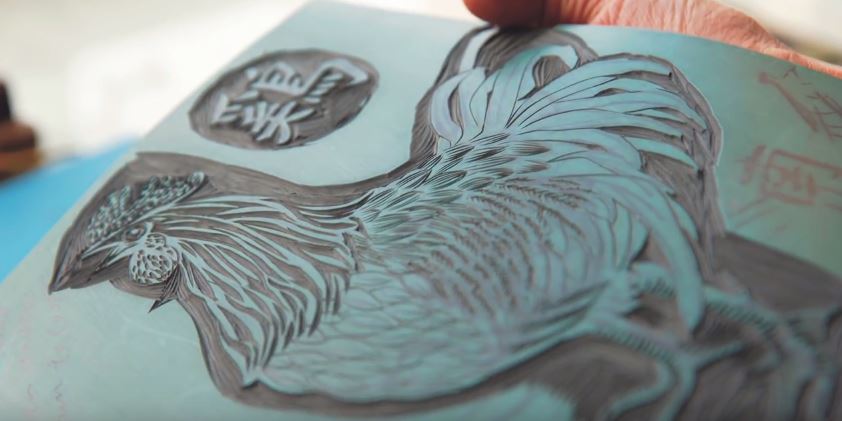 How does working on lino print enhance the designs and the look of the Lunar coins?
In some respects, depicting the feathers and the tail works really well in lino because you also use these really fluid calligraphic strokes and that translates very well onto the coin because you can make those strokes into ridges on the coin; in some respects it's a technique that you don't have any other way of designing, a pencil drawing for example.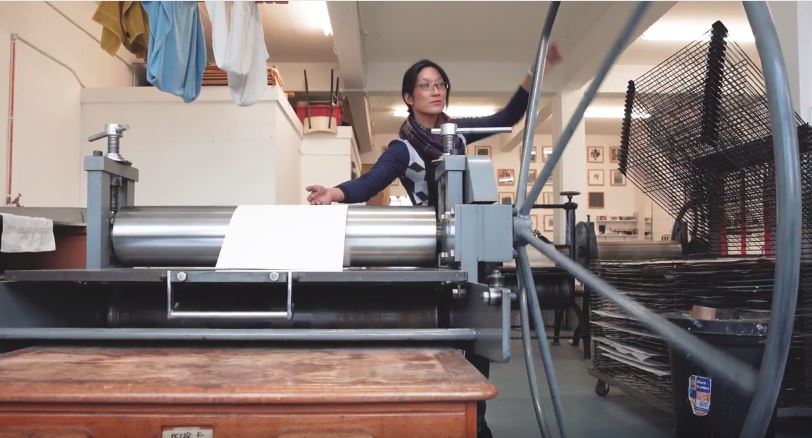 Please explain the process from idea through to printing.
The aesthetic for the lunar coins is quite formal and realistic, rather than idealised, so my design comes from observations sketched from life. Generally I start by going to observe animals, in the wild if possible. Then, I start sketching, quite often I will draw directly onto the lino block. After this I take it home and decide on one or two drawings and then I carve them. When I'm carving I generally go free-form so I follow the line as a guidance but I don't necessarily try and make an accurate copy of what I've drawn – there's a lot of improvisation at this stage! Then I print it and see what I have and then it gets scanned and put into Photoshop and start working within the circle, maybe making a few changes to the height/scale/size. There are a few things that rely on a computer but in general it's all analogue, it's all handmade.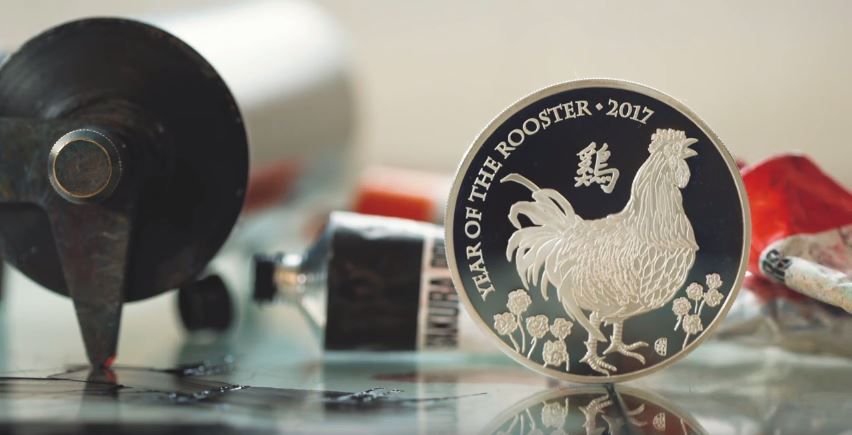 Tell us something we don't know. Are there any hidden pieces of design as with the sheep and monkey coin?
There's a pun in the coin design… The breed of chicken is called a Marsh Daisy and the flower is also a Marsh Daisy and the flower is a very common flower in the coastal locations of the UK; another name for it is sea-thrift. How the pun comes about is with a link to the history of The Royal Mint, I wanted to put the thrift on the coin because it last appeared on the threepenny bit in the 1930s. The threepenny bit had three thrift flowers on it's reverse design, and this was to encourage people to save. So there's a pun about thrift being a flower that's very beautiful and also a flower that's very economical, encouraging people to save up – this is an element that is very hidden in this design and that is why I wanted to include the thrift flower in my design. In addition to this, this year we will get a new one pound coin which will have 12-sides, as did the threepence, so there is a nod to history, a nod to other coin designs.
What's the next coin in The Shēngxiào Collection?
Next, it's the Lunar Year of the Dog. And as with previous year's designs, the dog is once again full of energy!