The Lady Behind the Loveable Characters: The Life and Stories of Beatrix Potter™ The wonderful world of Beatrix Potter™ has graced the lives of many; a pioneer of storytelling, she created many small books for many small hands. Both her characters and tales have been cherished for more than 100 years and her legacy lives on through them. But just who was Beatrix Potter? We've been in touch with Linda Lear at the Beatrix Potter Society, to give us an insight into the lady behind the tales; Beatrix the artist, the entrepreneur, the natural scientist and the conservationist.
Who was Beatrix Potter? "by Linda Lear"
Helen Beatrix Potter will always be remembered first for her twenty-three beautifully illustrated "tales" for children, beginning with The Tale of Peter Rabbit™ which changed the direction of children's literature forever. Clever, irreverent, yet drawn and told with undeniable understanding of a child's sense of adventure and of curiosity, Potter's illustrations and her words were perfectly balanced in a manner that has not been repeated or matched more than one hundred years later.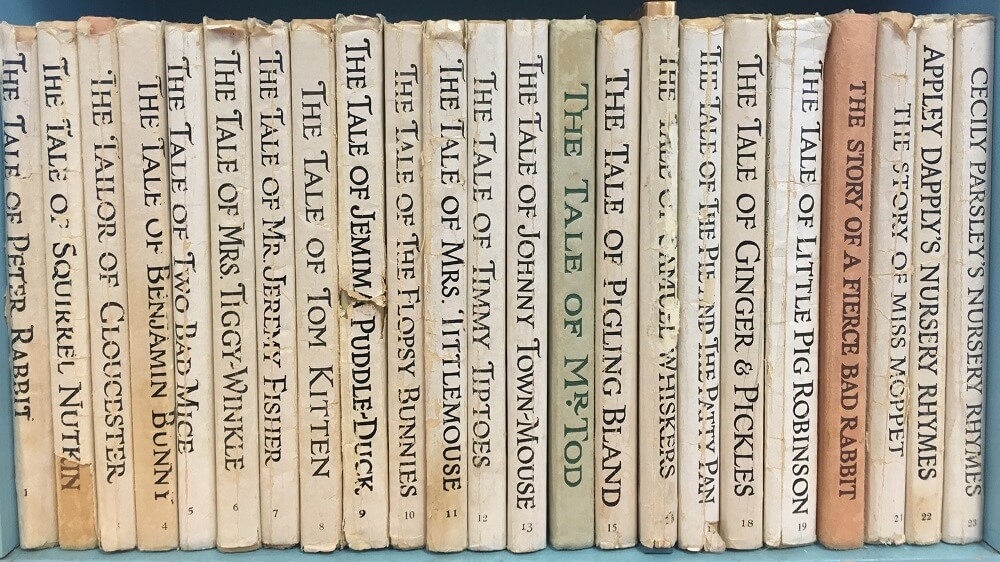 But Beatrix Potter touched our world and our lives well beyond the reach of her memorable animals and her stories of country life. A woman of keen intelligence, great curiosity, and generosity, she lived her adult life as a successful farmer and sheep breeder in the English Lake District and translated her love of country life into her charitable gifts of properties to conserve the culture that she valued, loved, and made popular in her books.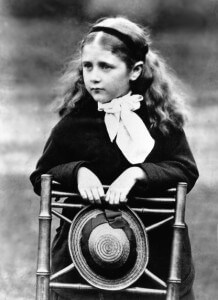 She was born in London, educated privately, and from her earliest memories, in love with the natural world and uneasy with urban life and society. Observant of language, custom, and nature, her art was self-taught and her imagination unbridled. She and her younger brother, Bertram, spent their happiest childhood summers at a country estate in Perthshire, Scotland where Beatrix was free to wander and explore. It was there that her interest in the countryside and in natural science was nurtured. As she wrote autobiographically about her childhood, "sometimes it happens that the town child is more alive to the fresh beauty of the country than a child who is country born."
Family holidays to Wales, to northern England, and to the south coast took her to local museums where she studied and painted geological and archaeological artefacts. She collected fossil specimens for later study and painted them in remarkable dimension and detail. At home in London there were art galleries to educate her eye, and natural history exhibits to stimulate an interest in all the natural sciences. Along with her brother, Beatrix collected bird's eggs and a variety of insects which they identified, and proudly displayed in a collector's cabinet in the school room.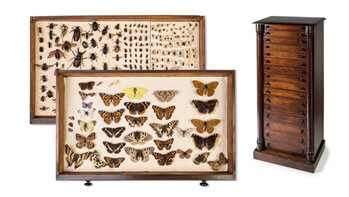 In 1882, the Potters began taking their holidays in the Lake District, a landscape Beatrix found appealing to her imagination and which stimulated her already keen interest in nature and science. It was there and in Scotland, that she refined her skills in the study of fungi, which she rendered in watercolours that are still admired for their beauty and accuracy. In 1897 Potter prepared a scientific paper on the reproduction of a class of fungi for the Linnean Society which, at the time, did not allow female members. While her conclusions have not been proven correct, her speculations, her clear microscopic observations, and her knowledge of fungi have been acknowledged by contemporary experts.
Potter's holiday travels in the 1880s and 90s also provided the incentive to write picture letters to the children of her last governess and to other young friends. These letters were full of amusing observations and sketches of the activities she saw in the countryside. She also sold some of her artwork for greetings cards and for booklet illustrations in the early 1890s.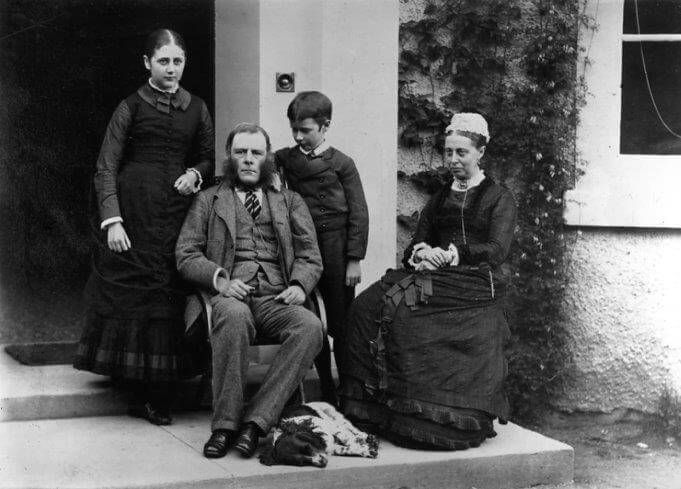 Beatrix Potter was a child of the Victorian age with its incumbent sense of duty to family and class; but she was also a quiet, creative rebel. Motivated by boredom and chafing against the restrictions of gender, she found a measure of social and economic independence and, as she described it, "something useful to do." In 1901 she turned one of her picture letters into her first book, The Tale of Peter Rabbit™ and produced her own privately printed edition of it after it had been turned down by several commercial publishers.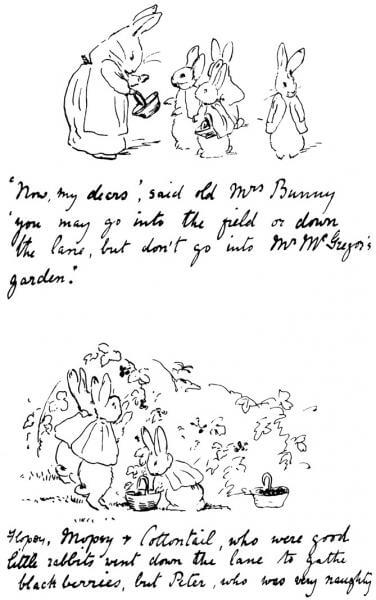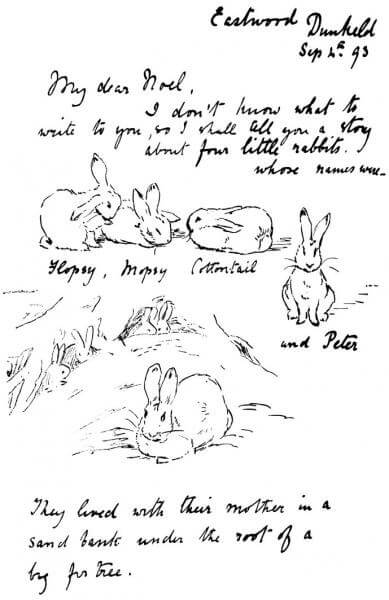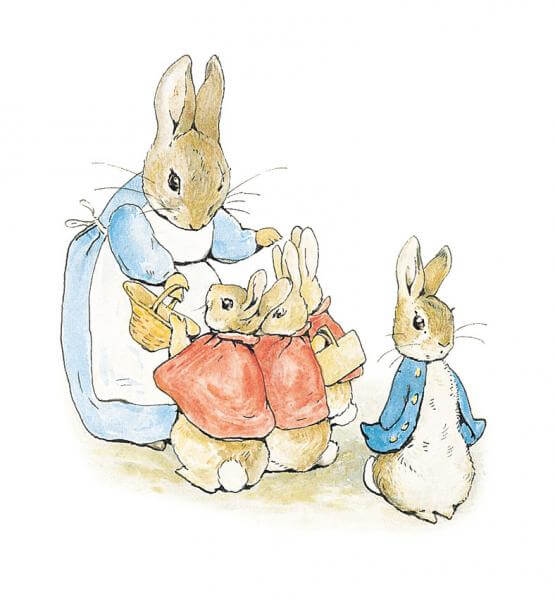 Once Beatrix agreed to redraw her black and white illustrations in colour, Frederick Warne & Co. published the little book in 1902 under the editorial supervision of Norman Warne. The following year, Beatrix wrote The Tale of Squirrel Nutkin and The Tailor of Gloucester. All were enormous commercial successes. They were followed by twenty more little books at the rate of sometimes one or two a year. A woman of unusual entrepreneurial genius and vision, Potter registered a Peter Rabbit™ doll in 1903, quite certain that the potential of "spin-off" merchandise, which she referred to as `her side-shows,' such as painting books, board games, wallpapers and figurines would be marketing assets for her work.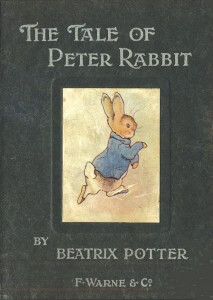 Potter's association with Frederick Warne also brought love into her life when she became unofficially engaged to Norman Warne in 1905, even though her parents objected. Sadly, Norman died only a month later, but Beatrix carried through with plans to buy Hill Top Farm, a small working farm in Near Sawrey, a Lake District village then in Lancashire. There, as a country woman and farmer, she became an expert in breeding and showing Herdwick sheep. In 1913 Potter married William Heelis, a country solicitor who had advised her on the purchase other farms in the area. They had been happily married for thirty years when Beatrix Potter™ died in 1943.
Beatrix Potter bequeathed to her countrymen a literary heritage of imaginative characters including now famous rabbits, mice, hedgehogs, foxes, squirrels and badgers. She left a pictorial image of life in the Lakes that was as authentic as it was beautiful. Most tangibly, her love of farming, and of country life, and her far-sighted desire to conserve both from commercial development and loss, allowed her to bequeath to the National Trust fifteen farms and over 4,000 acres together with their buildings, cattle, and flocks of Herdwick sheep.
2016 celebrated the 150th anniversary of the birth of a woman of resilience, creativity, independence and vision. A storyteller and illustrator of genius, Beatrix Potter™'s love of the land and the example of her environmental and cultural responsibility will continue to inspire us for generations to come and the Peter Rabbit™ coins have become firm favourites with collectors.
© Linda Lear 2016 for The Beatrix Potter Society. Linda Lear is the author of "Beatrix Potter: A Life in Nature". 2016.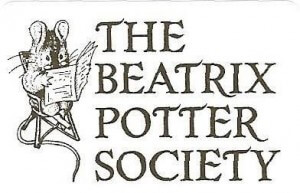 The Beatrix Potter™ Society was founded in 1980 in the United Kingdom by a group of people professionally involved in the curatorship of Beatrix Potter™ material. From the start it set out to be a focus for those with a serious interest in all aspects of Beatrix Potter™'s life and work and so it remains today.