We are delighted to reveal a special medallion to commemorate the NFL's 100th season and the first NFL game at Tottenham Hotspur Stadium.
The limited-edition medallion was designed and produced in partnership with the NFL, and will be used for the official gameday coin toss this Sunday October 6 when the Chicago Bears take on the Oakland Raiders in the first of the 2019 London Games.
Designed in consultation with the NFL and our experts here at The Royal Mint, the medallion reflects the two helmets of the competing sides, the 2019 London Games logo and includes references to the 100th season and Tottenham Hotspur Stadium. The alloy is 38.61mm wide, 2.34mm thick and weighs 28.28 grams.
The medallion to be used on Sunday is only one of a limited number made at our HQ with every single player, coach and gameday officiating crew due to receive one on what will be a landmark sporting occasion at Tottenham Hotspur Stadium.
NFL Ambassador, Team GB hockey player and gold medallist Sam Quek had the privilege of striking the first medallion when she visited our site recently. She joins a list of esteemed individuals, including fellow Olympians, royalty and senior politicians, who have undertaken the role on previous occasions.
Alistair Kirkwood, NFL UK Managing Director, commented: "Our collaboration with The Royal Mint is a fitting tribute for the NFL's 100th season, and the first ever fixture at the new Tottenham Hotspur Stadium. It is a truly memorable way to kick-off this year's London Games and is an honour to be recognised in this manner by one of the UK's most historic institutions."
Nicola Howell, Director of Consumer for The Royal Mint, said: "The Royal Mint is famous for creating coins and medals commemorating the world's most iconic sports and athletes – so we were delighted to partner with the NFL to mark their 100th season. We have created 500 medallions to celebrate the occasion, and on Sunday one of these exclusive pieces will kick start the action when it's used in the coin toss."
Live coverage of The Royal Mint medallion being presented to match officials will be shown as part of Sky Sports' live coverage of Chicago Bears @ Oakland Raiders at Tottenham Hotspur Stadium, from 5pm on Sunday October 6.
What is the Difference Between a Coin and a Medallion?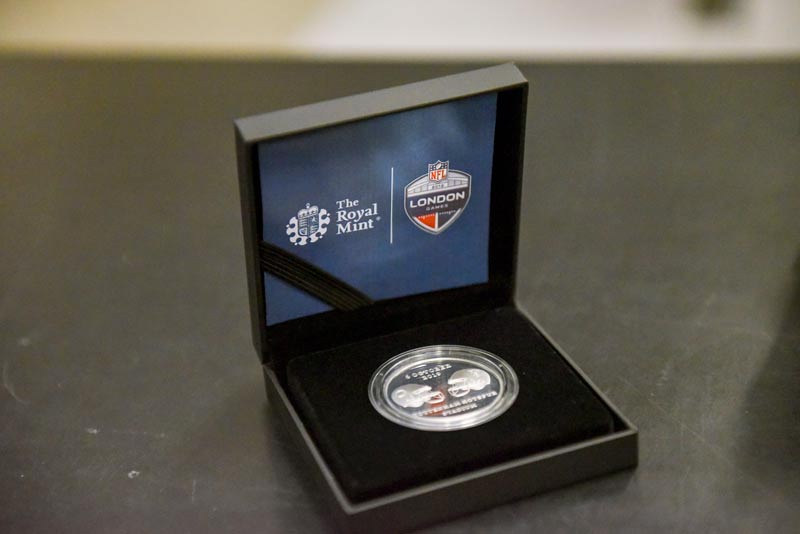 Unlike a coin which is primarily used as a medium of exchange or legal tender, a medal is usually created to reward individual achievement or to commemorate an event. The best medal designs understand this purpose, and in this way, are typically very different to those found on a coin. Medallic art is a field which allows designers a greater freedom of expression and has resulted in inspiring designs, full of meaning and symbolism.
What do you think of our NFL Medallion? Tell us on Facebook, Twitter or Instagram, we'd love to hear your thoughts.