The first coin in our James Bond collection placed the spotlight on the iconic Aston Martin DB5 – but 007's classic car is just one of many much-loved gadgets and vehicles that has ensured his success in taking down an array of tricky adversaries.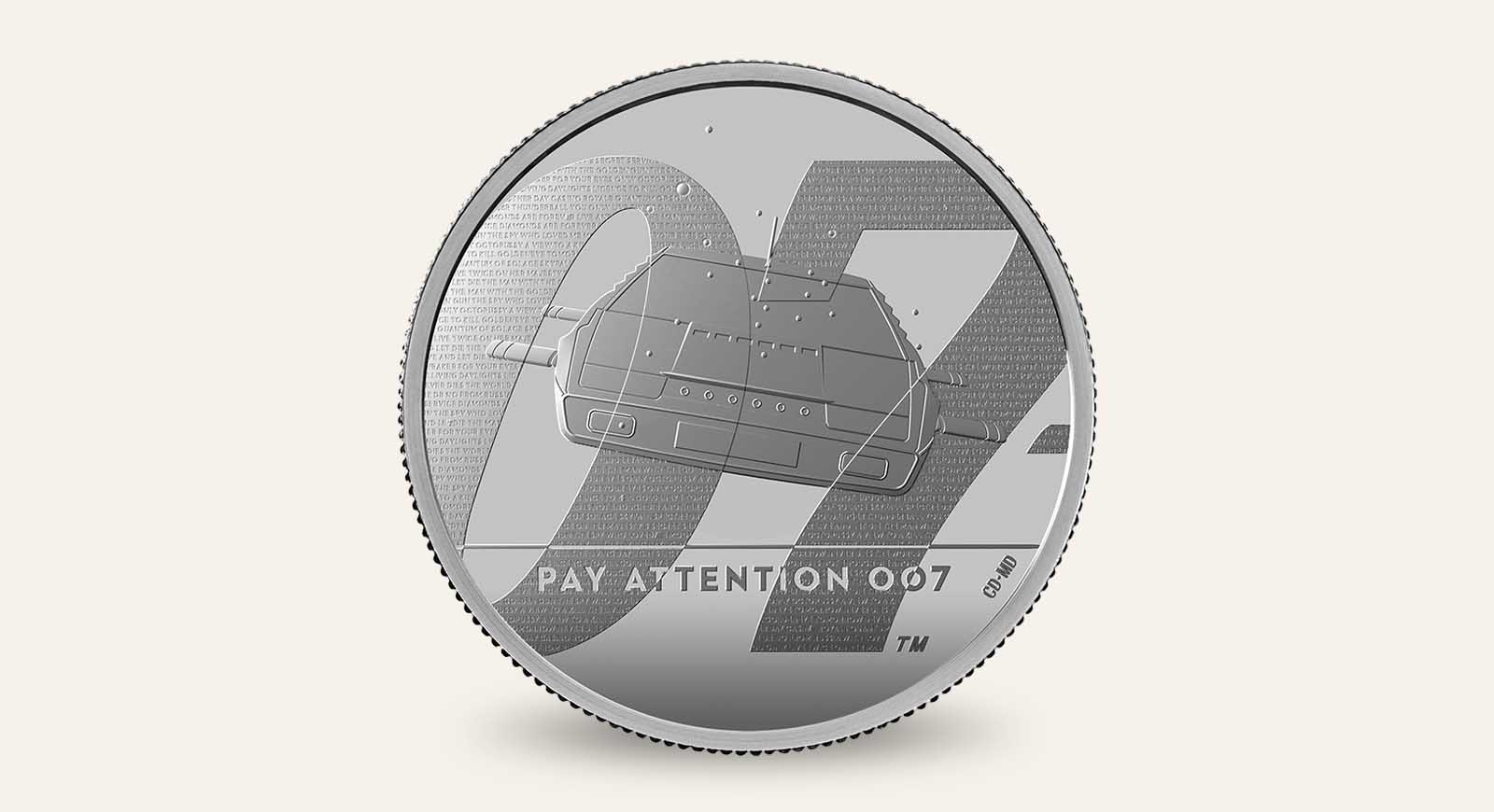 At the forefront of technology and intelligence, Bond always seems to be one step ahead of the times. In Diamonds Are Forever, a biometric fingerprint scanner gives us a glimpse of the future and the fingerprint-enabled mobile phones we now use every day. A covert tracking device which sends a signal to Bond's car in Goldfinger even has all the features of an early version of 'sat-nav'.
Bond wouldn't have any of these at his disposal without the help of Q Branch. A pre-mission briefing takes place in almost every Bond movie, often accompanied by the line 'Now pay attention 007', which was first made famous by British actor Desmond Llewelyn who is better known as Q. It is also Q who usually unveils the latest tools of espionage, from bug detectors to jet packs.

As the films caught up with the future they'd imagined, Bond's weaponry has become more understated. When Q returns in Skyfall, after a two-movie absence, he equips 007 with a simple radio transmitter and a Walther PPK/S 9mm short with a micro-dermal sensor in the grip so only 007 can fire it. Noting Bond's obvious disappointment, Q retorts with a nod to the past:
"Were you expecting an exploding pen? We don't really go in for that anymore."

Featured on our second coin in the James Bond collection is another unique and futuristic vehicle – the submarine car known as 'Wet Nellie'. A custom-built car that can turn into a submarine, it was named in reference to Little Nellie, an autogyro which featured in You Only Live Twice. The multitasking vehicle conceals an impressive range of useful gadgets, including liquid, cement-spraying jets, a mine dispenser, two under-hood harpoons, heat-seeking missile launchers, and radar-guided missiles!
The Royal Mint continues its celebration of all things Bond with a design that puts 'Wet Nellie' – 007's signature, gadget-loaded, submersible vehicle – in the spotlight. All three coins in the series line up to reveal a unified design, while there are also unique Inspired Innovations editions available.