This year is a very special year for The Snowman™. Not only is the animated film marking 40 years since it first aired in 1982, but it is also the tenth anniversary of its much-loved sequel The Snowman™ and The Snowdog. To celebrate, this year's festive UK 50p coin, the fifth to be released in our Snowman coin series, will feature The Snowdog for the first time.
This year's festive coin is also particularly poignant following the death of The Snowman's beloved creator, acclaimed author and illustrator Raymond Briggs CBE in August. He was an inspiration to many, including to award-winning illustrator and animator Robin Shaw, who was assistant director on The Snowman and The Snowdog and who has created this year's reverse design. We spoke to Robin about how it feels to see The Snowdog on a UK 50p coin for the first time and continuing Raymond Briggs' legacy.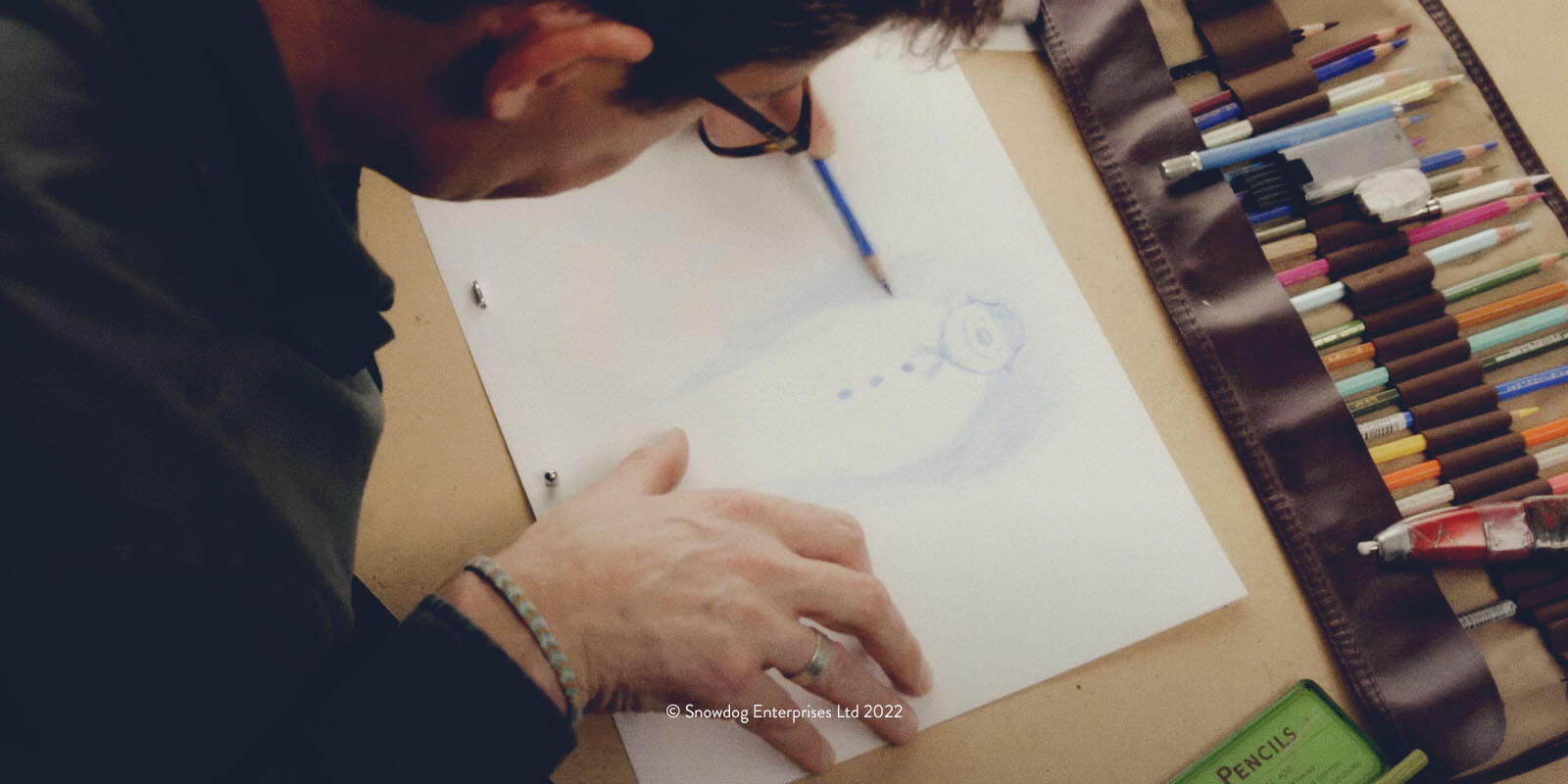 This year celebrates ten years of The Snowman and The Snowdog, and it has aired on television every year since its release in 2012. Are you proud that the film has become an annual Christmas tradition for families across the UK?
"Absolutely! Becoming part of a traditional Christmas is an incredible honour and is testament to the special place that Raymond Briggs occupies in the
nation's hearts."
How did you decide which design to use on this year's coin?
"I thought it would be good to try to capture a happy moment, like taking a photograph on holiday or at a party. It seemed like the right thing to do especially considering the limitations of the dimensions and the need for clarity in the image."
Was there anything you knew you wanted to include from the outset?
"The Snowdog is always a joy to draw (especially those ears), but the main thing I wanted to capture was the relationship between a happy dog and its owner."
How does it feel to see The Snowdog joining The Snowman on our coins for the first time?
"I'm delighted that he's been so warmly welcomed into the world of The Snowman. He's going to look particularly jolly on the coin with his colourful sock ears."
What are the main challenges you have found during the process of designing for coins?
"The greatest design challenge is to design something that is completely readable on a small scale. I always go back to Raymond's Father Christmas stamp series. Those are perfect illustrations of how to create intricate, sensitive designs that work at any scale."
What are your thoughts on the finished design?
"I'm most pleased with the amount that has been squeezed in: the dawn sky, the movement of the characters, the indulgent expression on The Snowman's face, and the essential doggy-ness of The Snowdog."
Why do you think that The Snowman and The Snowdog are enduringly popular?
"As a nation, we have grown up with The Snowman in our lives. Raymond's character is the personification of unconditional and unassuming warmth, kindness and generosity. That's what makes him such a timeless and timely character. By extension, The Snowdog is exactly the sort of pet The Snowman would have: cuddly, playfully affectionate and loyal."