The Crown of Mary of Modena
The Crown of Mary of Modena
The Crown Jewels have been kept at the Tower of London for more than 600 years. Over 23,000 gemstones adorn the collection. These pieces of living history are impossible to put a value on and when they are not being worn by the monarch on state occasions, they are kept under armed guard in the Jewel House.
The collection includes robes, orbs, sceptres and swords but for many visitors, the star attraction is the crowns. The St Edwards Crown is the most important of all, reserved solely for the climax of the coronation – the moment of crowning. The Imperial State Crown is recognisable to anyone who has watched the state opening of parliament. The crown travels to the Palace of Westminster in its own carriage before being placed in the Robing Room ready to be worn.
Tradition dictates that when a king is married, his queen consort is crowned alongside him at the coronation. Oliver Cromwell's parliamentarians melted down the original medieval crown jewels. With the restoration of the monarchy in 1660, Charles II demanded a glittering coronation by way of a statement and no expense was spared in creating a set of replacements. However, as Charles wasn't married there was no need for a crown for his consort. When he died in 1685 without any legitimate children, the throne passed to his brother The Duke of York who was crowned James VII of Scotland and II of England.
The crown featured on the Crown Jewels coin is that of James's wife, Mary of Modena. Three crowns were made for her by the goldsmith Richard de Beauvoir in 1685: a coronation crown, state crown, and a diadem (jewelled headband). Both the diadem and the state crown reside within the main collection of the Crown Jewels at the Tower of London. The state crown, although not originally intended for coronations, was used by all queen consorts until 1831, when Queen Adelaide, consort of William IV, insisted on a new design. All subsequent queen consorts also had new crowns created for them. Queen Adelaide, Queen Alexandra, Queen Mary and The Queen Mother's Crowns are all on display at the Tower.
Together the signature pieces and less well-known items form an incredible collection. The Crown Jewels never lose their capacity to delight and amaze. There's always something new to learn about these priceless pieces, steeped in centuries of royal history.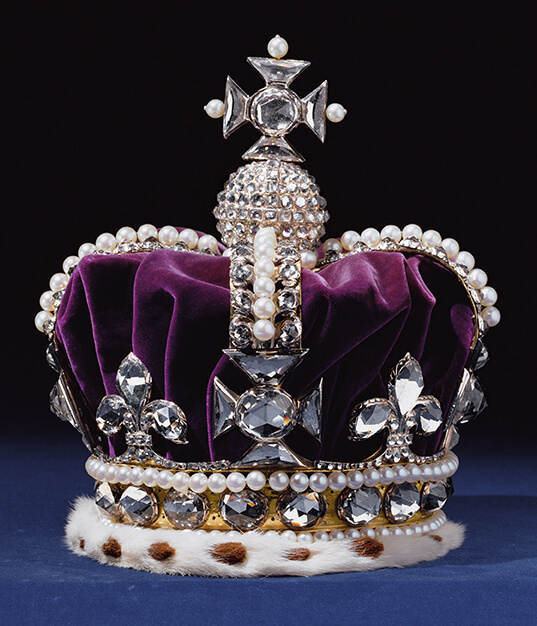 © HM Queen Elizabeth II, 2001