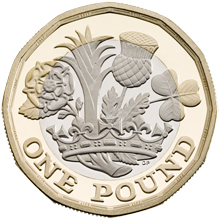 The new 12-sided £1 coin became legal tender on 28 March 2017.
The final specification of the coin and method of introduction were decided after a ten-week public consultation which looked at the physical and material characteristics of the coin, as well as the parameters for the transition. To view the government's published consultation response please visit Consultation Response Paper .
Following the coin's introduction on 28 March, we are now in a six month period when the current round £1 coin and the new 12-sided £1 coin are in circulation at the same time. The current £1 coin will lose its legal tender status at midnight on 15 October 2017.
After the 15 October, the current round £1 coin can continue to be deposited into a customer's account at most High Street Banks in the UK.
Her Majesty's Treasury and The Royal Mint are continuing to work with industry throughout the co-circulation period to introduce the new coin in a manageable way and ensure the smooth return of the old £1 coins.
Please visit www.thenewpoundcoin.com for more information on:
The specification of the new £1 coin
Why the new coin has been introduced
Business guidance, including free downloadable resources
Frequently Asked Questions