Beginning at the 25-year mark with a Golden Jubilee, Royal Jubilees are joyous occasions where a nation celebrates the life of their reigning monarch. Acknowledged and celebrated all around the world, jubilees are highly significant events.
On 6th February 1952, George VI – the reigning king – passed away and the then Princess Elizabeth inherited the throne from her father. Today, Her Majesty The Queen is Britain's longest-reigning monarch and a much-loved and respected figure across the world. So far, Her Majesty has celebrated Golden, Silver and Diamond Jubilees and in 2022, The Queen will mark another remarkable milestone, as she becomes the first British monarch to celebrate a Platinum Jubilee.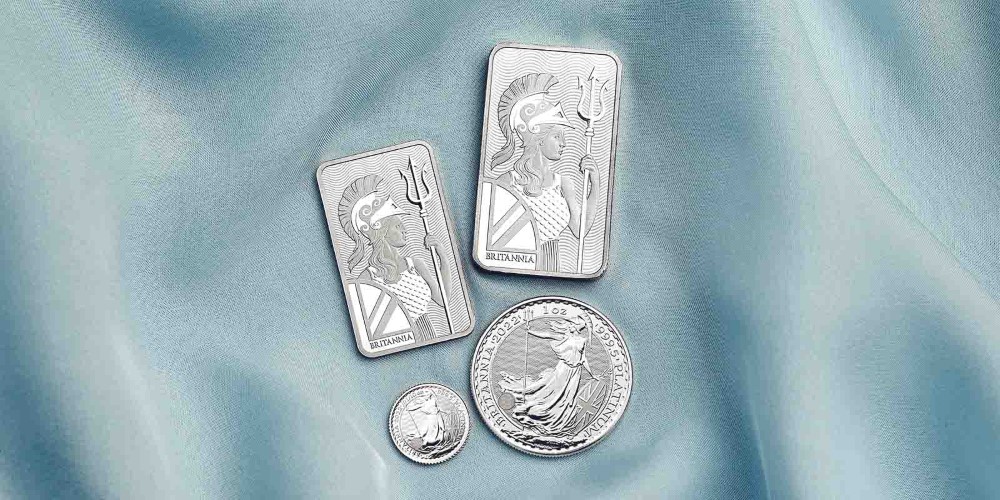 From circulating coins to commemorative editions and the bullion coins that have earned us a reputation for unrivalled accuracy, contemporary design and ground-breaking innovation, The Royal Mint has struck every official United Kingdom coin of Her Majesty The Queen's reign.
Now, as we join the nation in marking this historic occasion, we are proud to announce a special bullion range celebrating the Platinum Jubilee. We have created our first platinum bullion bars featuring Britannia, and the first of our internationally renowned Britannia bullion coins struck in platinum with four new security features. Available in jubilee-themed packaging for 2022, the range includes one-ounce and tenth-ounce platinum coins, along with one-hundred-gramme and one-ounce platinum bars.
Platinum Britannia Bars
Aptly created for the Platinum Jubilee, these are our first platinum bullion bars featuring Britannia. Each bar carries a modern interpretation of Britannia – the iconic, female and powerful symbol of Britain – designed by the coinage artist Jody Clark, whose portrait of The Queen has featured on all UK coins since its introduction in 2015.
Platinum Britannia Coins
Known for the modern classic design created by Philip Nathan for a new bullion coin produced by The Royal Mint in 1987, our Britannia bullion coins have become synonymous with accuracy, quality and beauty. In 2021, we redesigned bullion security with four new security features. Applied to our Britannia coin, it has made the coin the most visually secure in the world. First appearing on gold and silver editions of the bullion coin, this year these security elements feature on the platinum editions of the coin for the very first time.
Each Britannia platinum coin and bar is available in exclusive jubilee-themed packaging until the end of 2022.