The Story behind The Snowman Coin 2019
When we designed our first Snowman coin in 2018, we were able to enlist the help of award-winning animator and illustrator Robin Shaw. Robin has a long association with the book's author and illustrator Raymond Briggs stretching back over many years. After the success of last year's release, we're delighted to be working with him once again.
Known for his distinctive hand-drawn work, which has a beautiful lyrical quality, Robin was inspired to take up animation after watching The Snowman™ as a child, determined one day to work with its creator. This was an ambition he achieved when he was chosen to be part of the directing team behind the hit Channel 4 TV special The Snowman and The Snowdog™, a sequel to the original animated film. Recently, he illustrated a retelling of The Snowman™ by renowned children's author Michael Morpurgo.
This year's coin has been developed in partnership with Snowman Enterprises using Robin's illustrations and, once again, he's contributed exclusive sketches for the packaging. We caught up with him to find out more about the inspiration behind his artwork.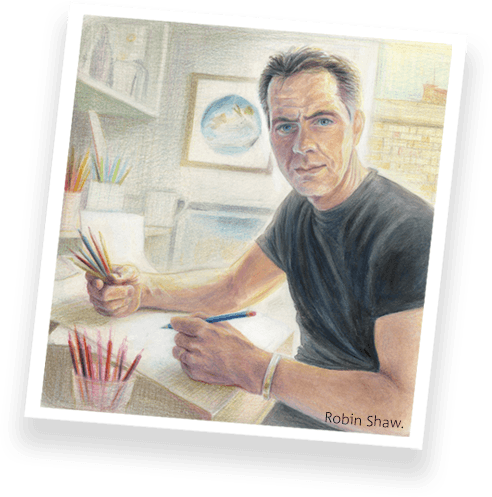 How does it feel seeing your work reinterpreted on a coin?
"With animation you are always working to a 16 x 9 inch frame and it's all about composing images and movement within that shape and sequencing them to tell a story. Seeing this design on a 50p coin, on the other hand, lets you relish the beauty of a single image that needs to be completely legible in miniature and work perfectly with the shape of the coin itself.
"This particular sketch that features on the coin derives from several illustrations I drew to mark the 40th anniversary of the book's publication. I really wanted to breathe some of the original emotion and delicacy from Raymond's book back into all the artwork that stems from it. I painted some really magical wintry scenes – the sort you imagine as a child – and drew some moving little poses of the Snowman with James. It's wonderful to see how these have come together to form this design.
"Watching The Snowman™ has become something of a Christmas tradition. The illustrations are so powerfully emotive. The fact that it's simple and wordless make it the perfect story to retell within the roundel of a coin. And following the popularity of last year's release, it's great to introduce the other main character, the little boy James, more fully on the 2019 coin. I love how the design puts him at the front and centre."
Robin's artistic talents can be seen in this video where he talks about the inspiration behind his work and what it means to him to contribute illustrations that were used to create this year's coin.