The art of minting
The Royal Mint strikes all its coins to very high standards, but the highest standard of all is Proof.
Proof coins are struck using special dies that are prepared carefully prior to striking. Each die is used fewer times and between each strike the die is polished and the coin aligned carefully by hand. The process of polishing a Proof die for a Crown can take hours. In addition, Proof coins are struck at least twice, the second strike deepening the relief and firming the definition. Each strike uses less pressure than our standard minting process in order to preserve more of the fine detail present in the artwork.
What this means is that the Proof coin is able to provide more detail, clearer relief, and a finer smoother surface than coins struck to normal standards. It showcases the artistry of the design and gives the coin a degree of engineered precision that only striking to Proof standard can impart.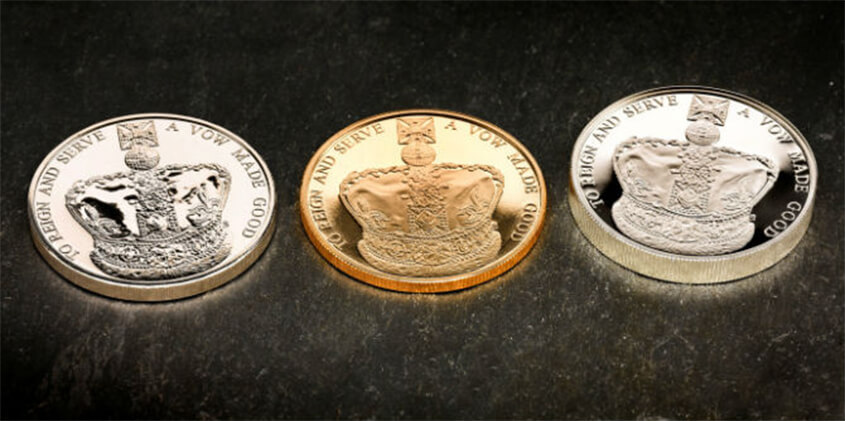 From left to right, Brilliant Uncirculated, Proof and Piedfort Proof Coronation crown. Here, as well as being able to see the enhanced level of detail and the 'frosting' you can also see that Piedfort coins are twice as thick as standard coins.
The process takes far longer than striking coins for circulation. Proof coins can be produced at a rate of between 50 and 100 an hour. Brilliant Uncirculated coins can be produced far faster – up to 300 a minute. Circulating coins can be produced more than twice as fast again, up to 750 coins a minute.
To put this into context, if one man worked eight hour days and produced 100 Proof coins an hour, it would take him 1,870,000 working days, or more than five thousand years, to strike all 1,496,000,000 £1 coins currently in circulation. Assuming the same eight hour day at a rate of 750 a minute it would take just over four thousand working days or 11 years. You can understand why Proof coins are reserved for collectors!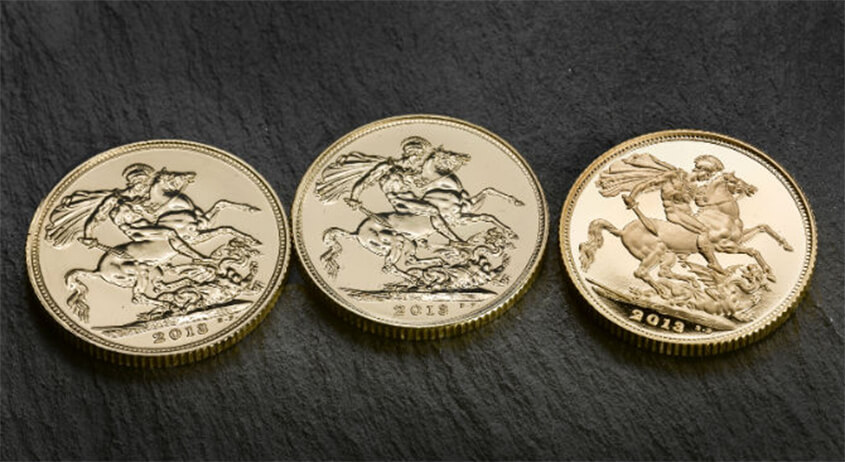 From left to right, bullion, Brilliant Uncirculated and Proof Sovereigns
Coins for collectors
Our designers understand the qualities inherent in Proof coins, and produce art specifically designed to take advantage of their features. They can use techniques such as frosting, where the coins are treated with chemicals to create a textured effect on the metal that contrasts with the mirror finish of the flat smooth area known as the table. Areas that require light relief will often be frosted, and the mirror smooth table will be used as a way of contrasting with detailed areas.
Gold and silver coins are struck primarily in Proof finishes, but we also provide Proof base metal coins for people who want the ultimate version of a coin without the price tag of precious metal. Our Annual Proof Sets are particularly popular because they offer a way to own the coins we all use every day in a finish reserved for the very few.
For those who want to own our coins without paying the significant premium that striking to Proof quality demands, we also produce an enhanced collectable finish that we call 'Brilliant Uncirculated' or 'BU'. Brilliant Uncirculated coins are struck at a lower speed and using different presses to circulating coins. Their detail and finish is superior, and they are handled in smaller batches to ensure that each one is good enough to please a collector. Delivered scratch-free to our packaging and distribution area, these coins are encapsulated to preserve their beauty.
Our other non-circulation finish is bullion. Bullion coins, bought primarily by customers who wish to own gold or silver, are struck to a relatively lower standard than Proof or Brilliant Uncirculated. The finish is good enough to ensure that the coin is recognisably a product of The Royal Mint, but not designed to specifically highlight the art on the coin.
To collectors, it is the Proof coin that truly captures what is best about the minter's art. The precision, the accuracy, the definition…these things offer a glimpse of perfection.