The Royal Mint's Tooth Fairy gifts over £40.5 million* to children during Coronavirus lockdowns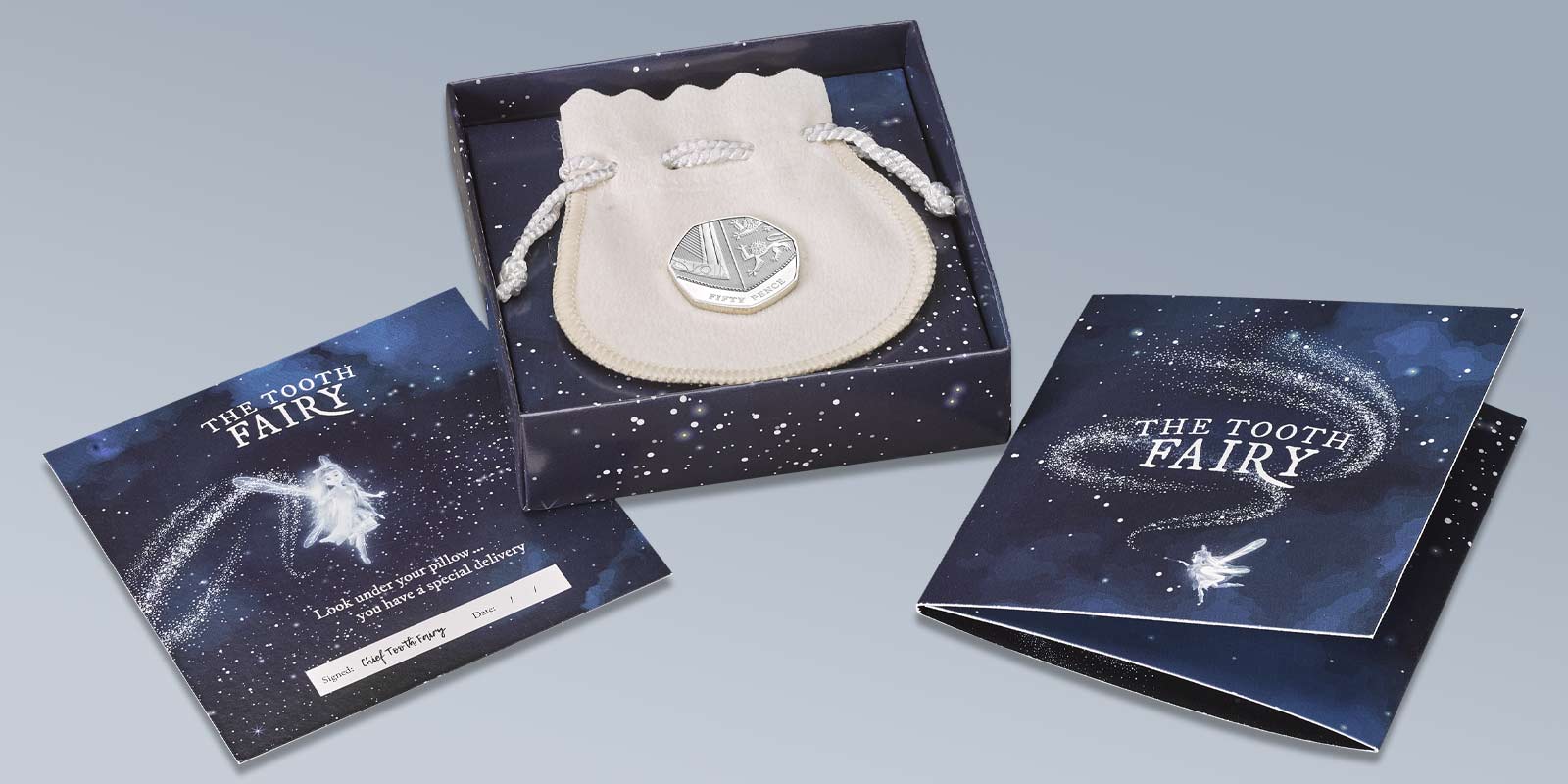 Almost 6.5 million (73%) UK parents have had to forego at least one cherished tradition for their children due to the pandemic, however leaving money from the Tooth Fairy was the tradition that parents were most able to honour
Dr Elizabeth Kilbey, child psychologist, shares the importance of childhood traditions and the impact of kids missing out on them
The Royal Mint has been the official supplier to the Tooth Fairy since she first arrived in the UK over one hundred years ago
The Royal Mint has released a unique coin set which includes one of the Tooth Fairy's favourite coins - a special commemorative 50p with Matt Dent's shield design
25th February: Ahead of International Tooth Fairy Day on 28th February, new research from The Royal Mint – the official supplier of the Tooth Fairy – shows the growing public desire to keep childhood traditions alive, with almost two thirds (60%) saying they should be protected because of the magic they bring.
While larger events had to be cancelled during the various lockdowns, more intimate traditions, such as visits from the Tooth Fairy, were more popular than ever. In fact, the research found that the Tooth Fairy left an average of £9.05 per child in 2020 as a whole, compared to £8.45 in 2019** - a 60p increase per child or a £3 million increase overall, demonstrating Brits' investment in keeping this tradition alive.
Clare Maclennan, Tooth Fairy Liaison Officer*** at The Royal Mint, commented: "As the official supplier of the Tooth Fairy, we've definitely seen a marked increase in how many coins she's coming to us for, and from my conversations with her, I can confirm that she's busier than ever! We've been helping the Tooth Fairy for many years, but it's wonderful to see that especially during these trying times, this is a tradition that's continuing to grow."
Dr Elizabeth Kilbeys, child psychologist, comments: "It's true that old-school traditions are still a key part of modern British life. Children remember these special experiences as they create a sense of belonging and security. Honouring these traditions is also a lovely way for parents to bond with their children and share special memories from their own childhood. Particularly in the current climate of uncertainty and worry, these time old traditions remind us to focus on the little things that mean so much."
Seven in 10 UK parents had to forgo celebrating their children's favourite traditions due to the COVID-19 pandemic, with visits to Santa's Grotto (85%), celebrations for Mother's Day (67%) and an Easter egg hunt with friends (79%) going unmarked last year. However, the research shows that 85 per cent are committed to keeping these special traditions alive in some way in a bid to create cherished memories throughout 2021 and beyond. Moments such as leaving milk and carrots for Santa and his reindeer (52%) and Pancake Day (51%) remain family favourites.
Indeed, 60 per cent of parents believe that marking these events in a traditional way brings magic to their children's lives, with 54% stating they brought much needed joy during these turbulent times. Additionally, parents believe such moments retain a generational tie to their parents and grandparents who also celebrated these occasions (46%).
Clare Maclennan added: "After such a challenging time, it's abundantly clear children need a bit of magic in their lives, and a special coin from the Tooth Fairy under their pillow is the perfect way to add some excitement. We know parents are keen to keep these cherished rituals going and we hope our 'My Lost Tooth Celebration Set' will help them to carry it on, and begin their child's very own coin collection from an early age. Alongside this set, we also offer a whole range of fun commemorative character coins – from Winnie the Pooh to The Gruffalo – which are perfect for children's collections."
The 'My Lost Tooth Celebration Set' includes a Brilliant Uncirculated 50p coin, 2021-dated and featuring Matt Dent's 50p Shield design - which is a favourite of the Tooth Fairy. The coin comes in a beautifully crafted pouch which keeps the coin safe and includes an endearing 'thank you' letter from the Tooth Fairy as well as a calling card for the bedside table, which parents can date specially for their child.
The Royal Mint and Owlet Press have also published a series of children's books bringing the story of the Tooth Fairy to life and revealing her long-standing collaboration with the original maker of coins. The book reveals that the iconic fairies visit The Royal Mint every night to plan their visits around the world and pick up the coins for that evening's deliveries. Each evening they work with the Mint Master's creations to craft coins that are worthy of delivering to the children.
The partnership between The Royal Mint and Samuel Langley-Swain, author and founder of Owlet Press, includes a number of children's titles across picture books, board books and a chapter book.
The first three books and 'My Lost Tooth Celebration Set' are available to purchase at royalmint.com/the-tooth-fairy/.
Notes to Editors
Research conducted by Censuswide with 1019 parents with children aged up to 10 between 11.02.21 to 15.02.21. Censuswide abide by and employ members of the Market Research Society which is based on the ESOMAR principles.
*Calculated based on the average amount left by the Tooth Fairy during the pandemic to children who lost teeth aged between 5-10 (£8.16 x 4,963,626 (ONS figures for 5-10 year olds).
** Calculated based on the average amount left by the Tooth Fairy during 2019 to children who lost teeth aged between 5-10 (£8.45 x 4,963,626 (ONS figures for 5-10 year olds), and 2020 (£9.05 x 4,963,626 (ONS figures for 5-10 year olds)
***Clare Maclennan's alternative job title is Divisional Director of Commemorative Coin
About The Royal Mint
The Royal Mint has an unbroken history of minting British coinage dating back over 1,100 years. Based in the Tower of London for over 500 years, by 1812 The Royal Mint had moved out of the Tower to premises on London's Tower Hill. In 1967 the building of a new Royal Mint began on its current site in South Wales, UK, to accommodate the minting of UK decimal coinage.
Today, The Royal Mint is the world's largest export mint, supplying coins to the UK and overseas countries.
The Royal Mint has also diversified into a number of other complementary businesses, building on the values that have been at the heart of the organisation throughout its history - authenticity, security, precious metals, craftsmanship and design:
Precious Metals: Throughout history The Royal Mint's name has been synonymous with precious metals and bullion. The organisation trades physical and digital precious metal worldwide.
Consumer coin division: The organisation runs a thriving commemorative coin business, gifting, and a collector services division retailing historic coins, an authentication and valuation service and secure storage.
The Royal Mint Experience: The Royal Mint entered the tourism business in 2016 when it opened its popular visitor centre, The Royal Mint Experience, at its home in Llantrisant, South Wales. The attraction welcomes around 100,000 visitors a year.
About Owlet Press and Samuel Langley-Swain
Owlet Press was founded by Samuel Langley-Swain in 2018, as an independent publisher of inclusive children's books specialising in uplifting, diverse stories that celebrate characters, authors and illustrators from all backgrounds and communities.
In just two years, Owlet Press has grown from a one-man operation, is now a member of the IPG, and has expanded with a team of industry experts to develop a list of inclusive & issues-based picture books that trade across independent booksellers and co-editions as well as backlist titles that continue to sell through schools and educational outlets.
Samuel is the author of various titles on the Owlet list including What Wesley Wore, Elephants in the Custard and The Blanket Bears, for which he drew on his own experiences of being an adoptive father. Samuel lives with his partner and two children in Warwickshire.
www.owletpress.com
About the illustrator
Davide Ortu is an Italian artist living in Spain. He previously worked in advertising as a graphic designer, and his children's book illustration credits include Nosy Crow as well as fairy stories and traditional tales for Usborne, Oxford and Cambridge.
Product Details
'My Lost Tooth Celebration Set' £15
The Tooth Fairy and the Magical Journey £7.99
The Tooth Fairy and the Home of Coin Makers £7.99
Dilwyn The Welsh Dragon £7.99
-Ends-