The Royal Mint Turn Blue Monday Gold with £1,000 Investment Opportunity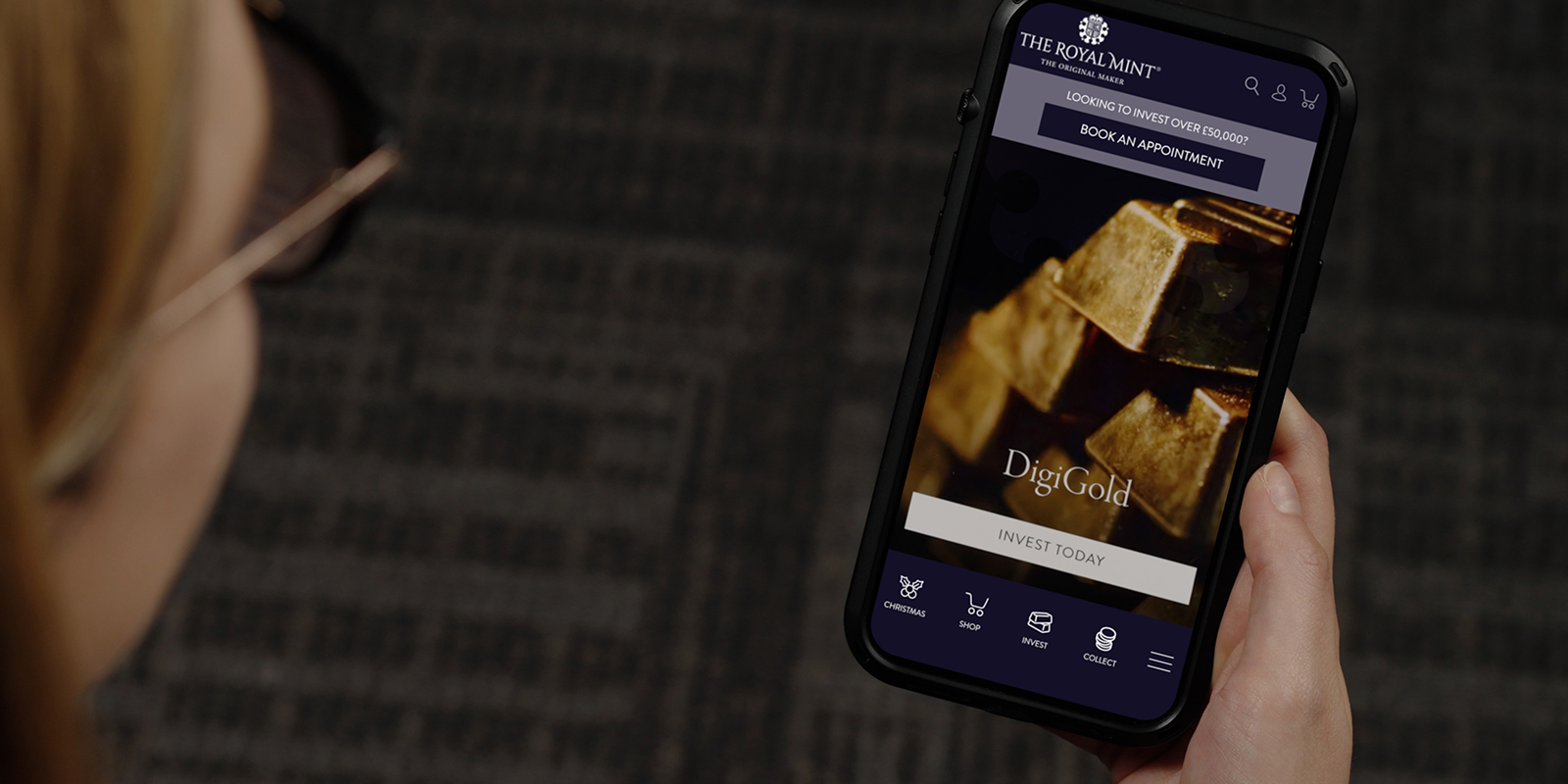 The Royal Mint announce a £1,000 investment for one investor in 2022
The sum can be invested into one of The Royal Mint's physically-backed, digital gold products
The Royal Mint will help one lucky person kick start their investment journey in 2022, by offering £1000 of gold to invest in an online account.
The Royal Mint is famous for making coins, but over recent years it has rapidly expanded into precious metals investments, offering a range of online accounts that allow people to buy gold at the touch of a button.
To coincide with Blue Monday, the day most people receive their post-Christmas credit card bills, The Royal Mint is offering someone the chance to secure £1000 to invest in one of their digital accounts. To enter and be in with a chance of winning, members of the public can input their details on The Royal Mint's website and share what their financial goal or reason for investing is.
The sum can be used towards one (or both) of The Royal Mint's digital investment platforms; 'DigiGold' designed for people who want to buy gold online, or 'Little Treasures' which helps people save for their future and can be gifted to others.
Andrew Dickey, Director of Precious Metals at The Royal Mint, comments: 'As the UK's home of gold, we want to continue to make precious metals as accessible as possible for our customers.
"As many of us start the new year with resolutions to save more, pay off debts and generally improve our finances, what better time is there for us to gift £1,000 to one lucky person to invest in one of the digital gold products available at The Royal Mint."
Data from The Royal Mint reveals that adults who invested £25 a month in gold over 18 years between 2004 and 2021, would have accumulated £12,461 in gold savings. When compared to putting the same amount into a 2% cash ISA it would have accumulated £6,493, while simply setting it aside with no interest would leave savers with £5,400*.
DigiGold is The Royal Mint's online investment option, providing people the opportunity to purchase fractions of gold bars held in The Royal Mint's vault. Particularly popular with younger investors, prices start from £25.
Little Treasures is a gold-backed savings account specifically designed for children, and the first of its kind in the UK. It also offers the opportunity for parents, grandparents or others, to invest on behalf of a child, to build a nest egg for the future, also from £25 a month.
Andy added: "Last Christmas, The Royal Mint revealed that 55% of adults were looking to save for their kids' future as opposed to buying physical presents, so the giveaway could offer one person the ideal opportunity to invest in their child or children's futures, making gold the gift that keeps giving through 2022 and beyond."
Competition Details
The prize draw opens on 17th January at 15:00hrs GMT and closes on 31st January at 23:59hrs GMT.
One winner will be selected at random from all eligible entrants and will be notified by email.
The prize draw is only open to residents of the United Kingdom and entrants must be 18 or over.
There is no cash alternative, and the prize is non-refundable, non-negotiable, and non-transferable and cannot be used in conjunction with any offer.
The prize of £1,000 must be invested into gold via DigiGold or Little Treasure for at least 12 months. The prize cannot be withdrawn from the account prior to this.
Full T&C's are on The Royal Mint's website
The Royal Mint has established itself as a leader in gold investment in the UK, offering both physical gold in the form of coins and bars and digital gold investment options – allowing investors to invest in precious metals tailored to their current stage in life.
For more information and to enter, visit royalmint.com/golden-prize
ENDS
*Based on a hypothetical 2% cash ISA and that money is saved or invested on the first business day of the month. These figures are exclusive of additional precious metal purchase & storage fees.
About The Royal Mint
With a history spanning more than 1,100 years, The Royal Mint is Britain's oldest companies and the original maker of UK coins. Today The Royal Mint is a premium British maker, providing carefully crafted coins and precious metal products for the UK and overseas. Based in Llantrisant, South Wales it has three main focuses as a business: Currency, Consumer (collectable and rare, historic coins) and precious metals investment.
Collecting with The Royal Mint:
Every coin tells a story, from a rare gold Sovereign to a Peter Rabbit™ 50p coin. The Royal Mint aims to inspire collectors young and old, and nurture a love of collecting through unique designs and popular themes. As the maker of UK coinage, we have unparalleled knowledge about coins, from the historic coins of our past, through to the collectable commemorative coins of today. Sourcing and authenticating pre decimal coins is a natural fit for The Royal Mint as we struck each one.
Investing with The Royal Mint:
As a world authority on precious metals, The Royal Mint has traded and made products in gold and silver for centuries. Since launching its designated precious metals investment arm six years ago, The Royal Mint has grown rapidly to become the home of gold in the UK – increasing its market share and becoming the largest producer of bullion coins in Britain. As well as offering physical precious metal investment options in the form of bars and coins, The Royal Mint also offers a range of digital investment options including DigiGold, Little Treasures, designed for children, and Gold for Pensions
Celebrating with The Royal Mint:
For over a thousand years The Royal Mint has marked the moments that changed the world on coins - from coronations to conflict, from commemorations to celebrations. The designs are captured on commemorative coins, minted in a range of metals. Commemorative coins do not always enter circulation but give collectors the chance to purchase coins to keep and cherish. Recent themes have included David Bowie, Winnie the Pooh, Decimalisation and Team GB. Each commemorative coin is carefully struck up to three times in order to create a superbly detailed finish, and ensuring each one meets the standards The Royal Mint is famous for.
The Royal Mint Experience
The Royal Mint opened its popular visitor centre, The Royal Mint Experience, at its home in Llantrisant, South Wales in 2016. The award-winning attraction welcomes around 200,000 visitors a year and is the place to explore the 1,100-year history of coins.
Images
The Royal Mint retains copyright ownership © of all images. These may only be used for editorial purposes and cannot be sold or used for other marketing purposes without the permission of The Royal Mint.