The Royal Mint Reveals 80% of Uk Parents Are Investing in Their Children's Future Following the Covid-19 Pandemic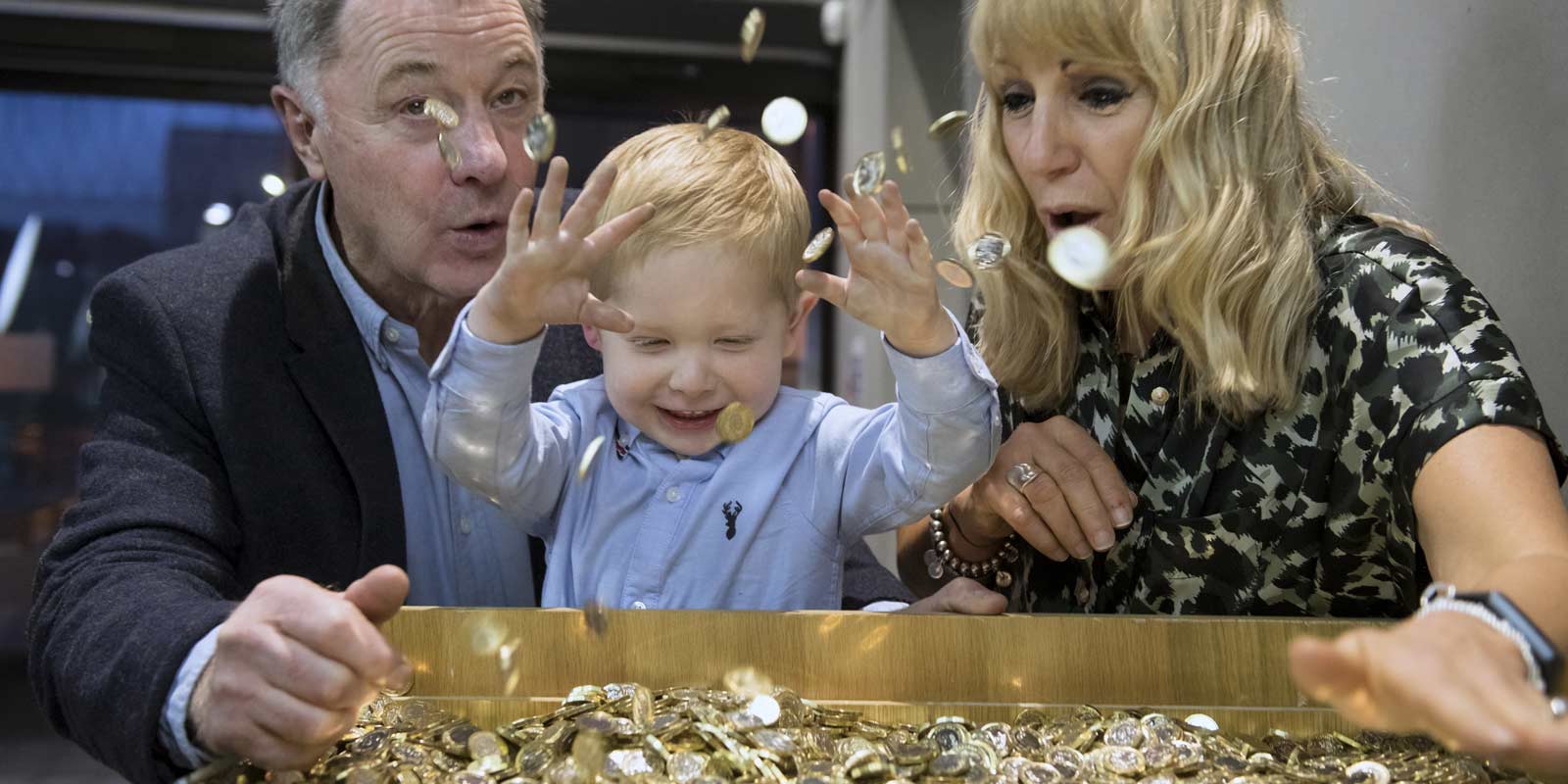 The Royal Mint recently conducted a survey into parents' savings habits following Covid-19
Results found that parents are more aware of their children's finances than they were 12 months ago as eight in 10 parents hope to develop better money habits
A quarter of parents are unsure of the best way to save for their children's future, with 62 per cent looking for new ways to invest
The Royal Mint has launched Little Treasures – a new gold backed savings account for children, the first of its kind in the UK
7th April 2021: The Royal Mint's 2021 Savings Report has revealed the majority (62 per cent) of UK parents are looking for new ways to invest to support their children, following the last 12 months of economic uncertainty as a result of the COVID-19 pandemic. Results found that parents are more aware of their children's finances than they were 12 months ago as eight in 10 parents hope to develop better money habits.
Saving for the future:
Whilst almost all UK parents (93 per cent) understand the importance of a savings account for their children, a quarter (23 per cent) haven't set one up for their sons or daughters.
It seems this is largely down to procrastination, with almost two fifths simply stating they haven't got round to setting up an account (39 per cent), while others said they were prioritising their money on day-to-day expenses (26 per cent). Additional barriers to investing are not understanding the logistics of how to invest (40 per cent) and worries about being scammed (40 per cent).
However, all is not lost when it comes to investing, as 56 per cent noted that the news of gold having a record-breaking year, despite the pandemic, sparked their interest.
A year in flux:
More than three quarters (76 per cent) of parents say the economic fluctuation of the last 12 months has made them realise the importance of saving for the future, as 71 per cent reveal their concerns for their child's financial security.
The results also revealed that British parents are experiencing these concerns as a result of rising inflation prices (38 per cent). Other worries included a lack of understanding on how best to financially prepare for the future (40 per cent) and concerns on the future job and housing markets (48 and 47 per cent respectively).
With 60 per cent of parents worrying their child won't be able to fund owning their own property, they have vowed to improve their financial habits (78 per cent) and make savvier monetary decisions (78 per cent) throughout the new financial year in order to benefit their children's futures.
Karina Hicks, Head of Precious Metals Marketing at The Royal Mint, said: "Our Savings Report for 2021 shows UK parents are vowing to make savvier financial choices in the future. As we come to the end of the financial year 2020/2021, people will be starting to make their financial plans for the coming year. For parents who are looking to easily invest in their child's future, The Royal Mint recently launched Little Treasures – an easy to understand, digital gold accumulation account for children. It follows a record year for precious metal sales as The Royal Mint continues to secure its position as the home of gold in the UK."
Little Treasures is an online account which enables adults to invest in fractional gold for children from as little as £25 per month.. If you'd invested £25 a month in gold over 18 years from 2002, you would have accumulated £13,393 worth of gold by 2020. Compare that with putting the same amount into a 2% cash ISA – £6,493 – or simply setting it aside with no interest at all – £5,400*.All of the gold is VAT free and backed by physical, investment grade bullion bars which are safely stored in The Royal Mint's purpose-built vault – one of the most secure sites in Britain. The account is an easy way for new gold investors to build a nest egg for children by accumulating a digital precious metals holding.
The Royal Mint has found the top life events parents are prioritising their saving for. Some UK parents agreed that their concerns on the future job market (48 per cent) and raising inflation prices (38 per cent) mean they fear their children will miss out on experiencing these top life events.
Table One: Top life moments parents want to help their children experience
Learning to drive (59%)
Going to university (58%)
Owning a property (58%)
Getting married (51%)
Starting a family (43%)
Starting a business (27%)
Studying abroad (21%)
Taking a gap year (20%)
Karina continues: "Backed by physical, investment grade gold bars, we've designed a digital gold savings account where you can accumulate gold for the next generation. Investors can watch their loved ones grow knowing they're building a golden nest egg to help give them the best possible start in life."
The Royal Mint has been expanding into the precious metals market over recent years, and has seen record sales of physical and digital gold in 2020. The company now offers a wide range of physical and digital gold investment products, including DigiGold which enables investors to buy fractional gold online, and a gold backed ETC in conjunction with HanETF.
For more information, visit www.royalmint.com/littletreasures
Notes to Editors:
*Calculated using the last business day of 2019 and the first calendar day of 2020. Based on interest on the cash ISA being paid yearly in month 12, and that money is saved or invested on the first business day of the month. These figures are exclusive of additional precious metal purchase & storage fees.
Investing in gold and precious metals is not for everyone. The value of gold can go up or down in-line with supply and demand. Individuals should seek advice from a financial adviser before making investment decisions. The Royal Mint is not registered with the Financial Conduct Authority (FCA).
Fees
| | | |
| --- | --- | --- |
| Buy fee | Store fee | Sell fee |
| 0.33% | 0.5% + VAT | 1% |
Little Treasures management fees are charged at 0.5% + VAT per annum based on the average daily market value of your total gold holding that is stored in The Vault®.
Invoices are issued quarterly and will be settled from customers' available account balance. If there is not a sufficient balance to cover the cost of storage, the account will be in arrears until the balance is paid. Funds can be added to an account using debit card or bank transfer.
The below table indicates estimated annual storage charge based on investing £50 per month, from 1-18 years. Please note this does not take any future market fluctuations into consideration and is indicative only:
| | | | | | |
| --- | --- | --- | --- | --- | --- |
| YEAR | TOTAL VALUE OF GOLD HELD | FLAT ANNUAL RATE | ESTIMATED QUARTERLY FEE EXCLUDING VAT | VAT AT 20% | ESTIMATED QUARTERLY FEE INCLUDING VAT |
| 1 | £600 | 0.5% | £3.00 | £0.60 | £3.60 |
| 5 | £3,000 | 0.5% | £15.00 | £3.00 | £18.00 |
| 10 | £6,000 | 0.5% | £30.00 | £6.00 | £36.00 |
| 18 | £10,800 | 0.5% | £54.00 | £10.80 | £64.80 |
Media enquiries - The Royal Mint Press Office:
0845 600 5018 (calls cost 5p per minute) or email press.office@royalmint.com www.facebook.com/theroyalmint
About The Royal Mint:
The Royal Mint has an unbroken history of minting British coinage dating back over 1,100 years. Based in the Tower of London for over 500 years, by 1812 The Royal Mint had moved out of the Tower to premises on London's Tower Hill. In 1967 the building of a new Royal Mint began on its current site in South Wales, UK, to accommodate the minting of UK decimal coinage. Today The Royal Mint is the world's largest expert mint and has three main focuses as a business: Currency, Precious Metals and collectable and historic coins.
The Royal Mint Experience
The Royal Mint entered the tourism business in 2016 when it opened its popular visitor centre, The Royal Mint Experience, at its home in Llantrisant, South Wales. The attraction welcomes around 100,000 visitors a year.
Your precious gift deserves, well, a precious gift