The Royal Mint partners with Quintet Private Bank to introduce the use of recycled gold in an exchange-traded commodity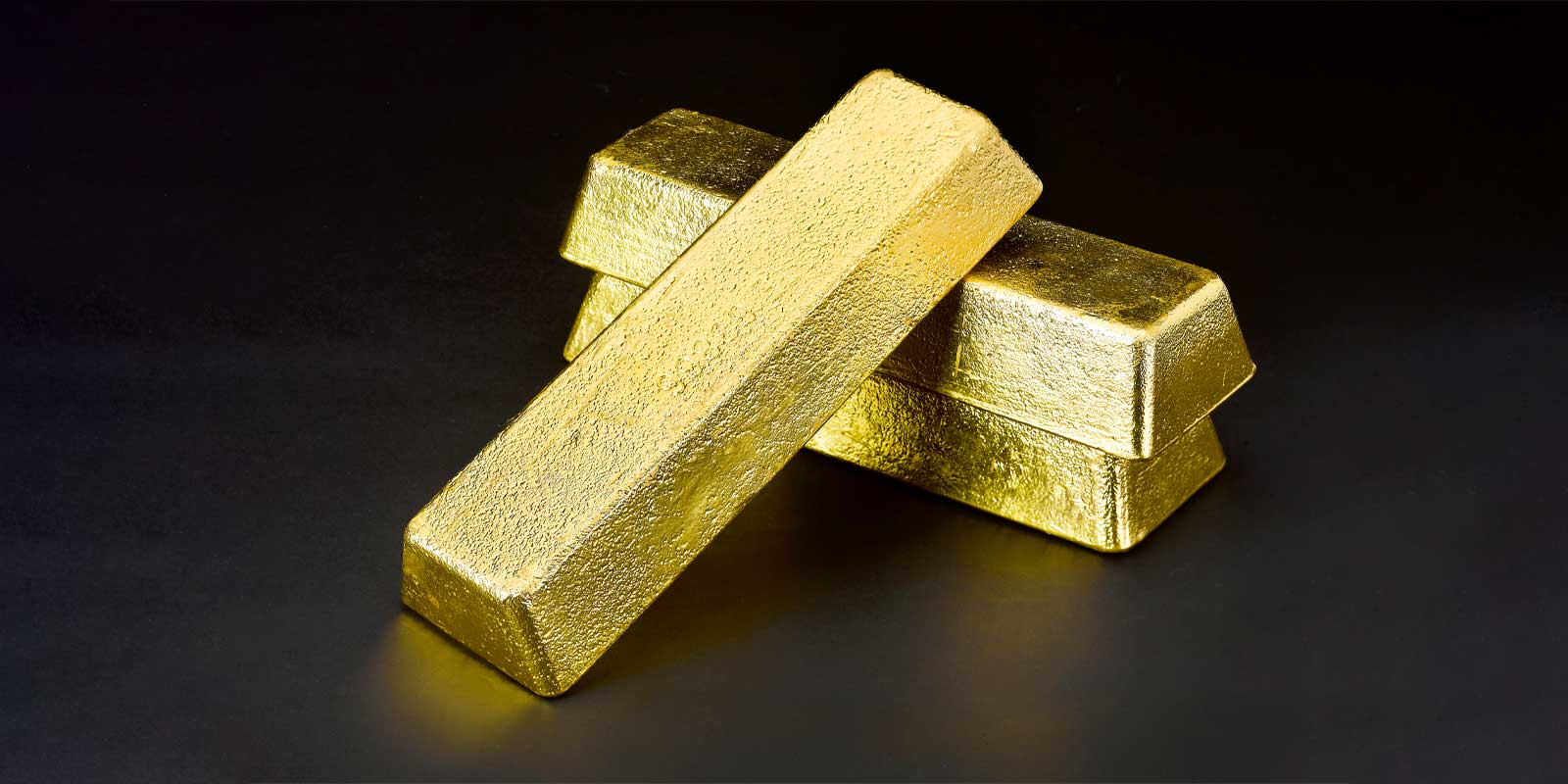 The Royal Mint introduces 100% recycled gold bars as part of its Physical Gold ETC (RMAU), in partnership with Quintet
Makes RMAU the world's first gold ETF or ETC ever backed by recycled gold bars, according to research conducted by HANetf
Quintet allocates some $170 million to RMAU to spur this sustainable-investment innovation
Gold bars produced from recycled gold will be post-2019 LBMA good delivery status
Custody of gold will be at The Royal Mint's highly secure, purpose-built vault in Wales
The Royal Mint today announced that it has partnered with Quintet Private Bank to introduce the use of recycled gold in an exchange-traded commodity (ETC). The Royal Mint Physical Gold ETC – listed on the London Stock Exchange with the ticker "RMAU" – will now be backed, in part, by bars made from recycled gold, making RMAU the world's first gold ETC or exchange-traded fund (ETF) ever backed by recycled gold bars, according to research conducted by HANetf.
Quintet has allocated some $170 million to RMAU to spur this innovation, supporting the development of sustainable investment solutions that deliver positive real-world impact.
This follows The Royal Mint's announcement last year that they would be extracting gold from electronic waste such as laptops and smartphones as the 1,100-year-old organisation continues its sustainability journey as it diversifies for the future.
Given that, unlike many other commodities, gold can be infinitely recycled with no degradation in quality, such a product may represent an attractive investment opportunity for individuals and institutions seeking exposure to an innovative, recycled product. As an ETC, RMAU seeks to combine the flexibility and ease of stock-market trading with the benefits of physical gold ownership.
The first tranche of 100% recycled gold bars will circa 50,000 ounces of surplus gold from bullion coin production refined into 400oz LBMA good delivery bars. The recycled bars will be added to RMAU over time, and their number – as well as the sources of recycled material – will increase based upon future demand. RMAU is currently, and will continue to be, 100% backed by post-2019 LBMA responsibly sourced, physical bars.
Andrew Dickey, Director of Precious Metals at The Royal Mint, commented: "We're delighted to work with HANetf and Quintet to champion responsible sourcing and circular economy practises. We already reuse a portion of our gold onsite to form gold bars, but this is the first time we have produced a dedicated recycled product for use within our ETC offering."
James Purcell, Group Head of Sustainable Investment at Quintet, said: "We are committed to supporting people and planet by investing in innovation. As a firm that places sustainability at the heart of our business and as the driving force behind our clients' investments, we are very happy to partner with The Royal Mint, which has a deep commitment to sustainable practises. We are excited about today's announcement and look forward to building upon this impactful partnership."
Dickey continued: "We're delighted to partner with Quintet to produce an innovative, recycled gold product for use in our ETC as we champion sustainability in all areas of our business."
The Royal Mint's physically gold-backed ETC is listed on the FTSE (London), Deustche Boerse (Germany), Borsa Italiana (Italy) and Euronext (France) stock exchanges. RMAU is issued, managed and distributed by specialist white-label ETF issuer HANetf, which has worked with The Royal Mint since RMAU launched in 2020.
Each gold bar is stored in The Royal Mint's vault on-site. Most gold ETCs custody their gold at commercial banks so the RMAU ETC offers an attractive alternative to investors looking to diversify their custody arrangements.
RMAU ETC securities can be redeemed in exchange for physical gold bars and coins, with delivery and storage provided by The Royal Mint, a unique feature of the RMAU ETC. This new development means that a percentage of the bars held in the vault specifically for the ETC will be made from recycled gold.
For more information, visit https://www.hanetf.com/product/7/fund/the-royal-mint-physical-gold-etc-securities
ENDS
Notes to Editors
The Royal Mint Physical Gold ETC (RMAU) product details:
| | |
| --- | --- |
| Name | The Royal Mint Physical Gold ETC (RMAU) |
| Primary Ticker | RMAU |
| Denomination | Each ETC is equal to 1/100th of a troy ounce of gold at launch which is approximately $19 per ETC based on today's price of gold[1]. |
| Asset backed | 100% backed by London Bullion Market Association (LBMA) post 2019 responsibly sourced Good Delivery bars. |
| Custody | The Royal Mint, Llantrisant (near Cardiff), Wales |
| Redemption | Investors can redeem for physical gold alternatives including gold bars and coins. Storage and delivery provided by The Royal Mint. |
| Sourcing of gold | This ETC allocates gold that has been sourced on a best endeavour basis from the LBMA's Responsible Sourcing program. |
| Total Expense Ratio (MER) | 0.22% per annum |
Product Identifiers
| | | | | | |
| --- | --- | --- | --- | --- | --- |
| EXCHANGE | Ticker | RIC | ISIN | SEDOL | CCY |
| LSE | RMAU | RMAU.L | XS2115336336 | BKT7175 | USD |
| LSE | RMAP | RMAP.L | XS2115336336 | BKT7197 | GBP |
| Borsa Italiana | RMAU | RMAU.MI | XS2115336336 | BKT71B9 | EUR |
| Xetra | RM8U | RM8U.DE | XS2115336336 | BKT71G4 | EUR |
| Euronext Paris | RMAU | RMAP.PA | XS2115336336 | BNBPP98 | EUR |
The Royal Mint and Sustainability
Sustainability is an integral part of The Royal Mint's ambition to be a leader in the production of sustainable precious metals
The Royal Mint is taking action to reduce its reliability on mined materials
We have partnered with Canadian clean-tech startup Excir to introduce technology to the UK that will recover and recycle gold and other precious metals from electronic waste
We are also identifying alternate sources of recycled precious metals – whether produced on-site or procured from trusted suppliers
We want to champion a UK-based circular economy, increasing our use of recycled materials, working with British suppliers, and supporting employment and skills development
The refiner being used for the production of the RMAU recycled bars is located in Spain as there is not currently a UK LBMA good delivery accredited refiner who could support this process
About The Royal Mint:
With a history spanning more than 1,100 years, The Royal Mint is one of Britain's oldest companies and the original maker of UK coins. Today The Royal Mint is a premium British maker, providing carefully crafted coins and precious metal products for the UK and overseas. Based in Llantrisant, South Wales it has three main focuses as a business: Currency, Consumer (collectable and rare, historic coins) and precious metals investment.
Investing with The Royal Mint:
As a world authority on precious metals, The Royal Mint has traded and made products in gold and silver for centuries. Since launching its designated precious metals investment arm six years ago, The Royal Mint has grown rapidly to become the home of gold in the UK – increasing its market share and becoming the largest producer of bullion coins in Britain. As well as offering physical precious metal investment options in the form of bars and coins, The Royal Mint also offers a range of digital investment options including DigiGold, Little Treasures (designed for children), and Gold for Pensions
About Quintet Private Bank:
Quintet Private Bank (Europe) S.A., founded in 1949, is headquartered in Luxembourg and operates in 50 cities across Europe, staffed by 2,000 professionals. Widely recognized as a private banking leader, Quintet serves wealthy individuals and their families, as well as a broad range of institutional and professional clients, including family offices, foundations and external asset managers.
Quintet's family of private banks includes: Brown Shipley (UK), InsingerGilissen (Netherlands), Merck Finck (Germany), Puilaetco (Belgium), Quintet Danmark (Denmark) and Quintet Luxembourg (Luxembourg). For further information about Quintet Private Bank, please visit: www.quintet.com
About HANetf:
HANetf is an independent provider of UCITS ETFs, working with asset management companies to bring differentiated, modern, and innovative exposures to European ETF investors. Via our white-label ETF platform, HANetf provides a complete operational, regulatory, distribution and marketing solution for asset managers to launch and manage UCITS ETFs. www.hanetf.com
Disclaimer:
This document has been prepared by The Royal Mint, HANetf and Quintet. This document is for information purposes only and does not constitute individual (investment) advice. Investment decisions must not be based solely on this document. Whenever this document mentions a product, service or advice, it should be considered only as an indication or summary and cannot be seen as complete or fully accurate. All (investment) decisions based on this information are at the individual's own expense and own risk. It is up to the individual to assess whether the product or service is suitable for them. The Royal Mint and its employees cannot be held liable for any loss or damage arising out of the use of (any part of) this document.
Investing involves risks, and the value of investments may go up or down. Past performance is no indication of future performance. Any projections or forecasts are based on a certain number of suppositions and assumptions concerning current and future market conditions, and there is no guarantee that the expected result will ultimately be achieved. Currency fluctuations may influence returns. The information included in this press release is subject to change, and The Royal Mint has no obligation after the date of publication to update or adapt the information accordingly.
MEDIA CONTACTS:
The Royal Mint:
Rachel Thomas
Senior Communications Manager
Quintet Private Bank:
Nicholas Nesson
Group Head of Corporate Communications
+352 4797 2065
HANetf:
Tom Bailey
44 (0)7977 492 456