The Royal Mint issues new Britannia coin on International Women's Day – celebrating women of all ages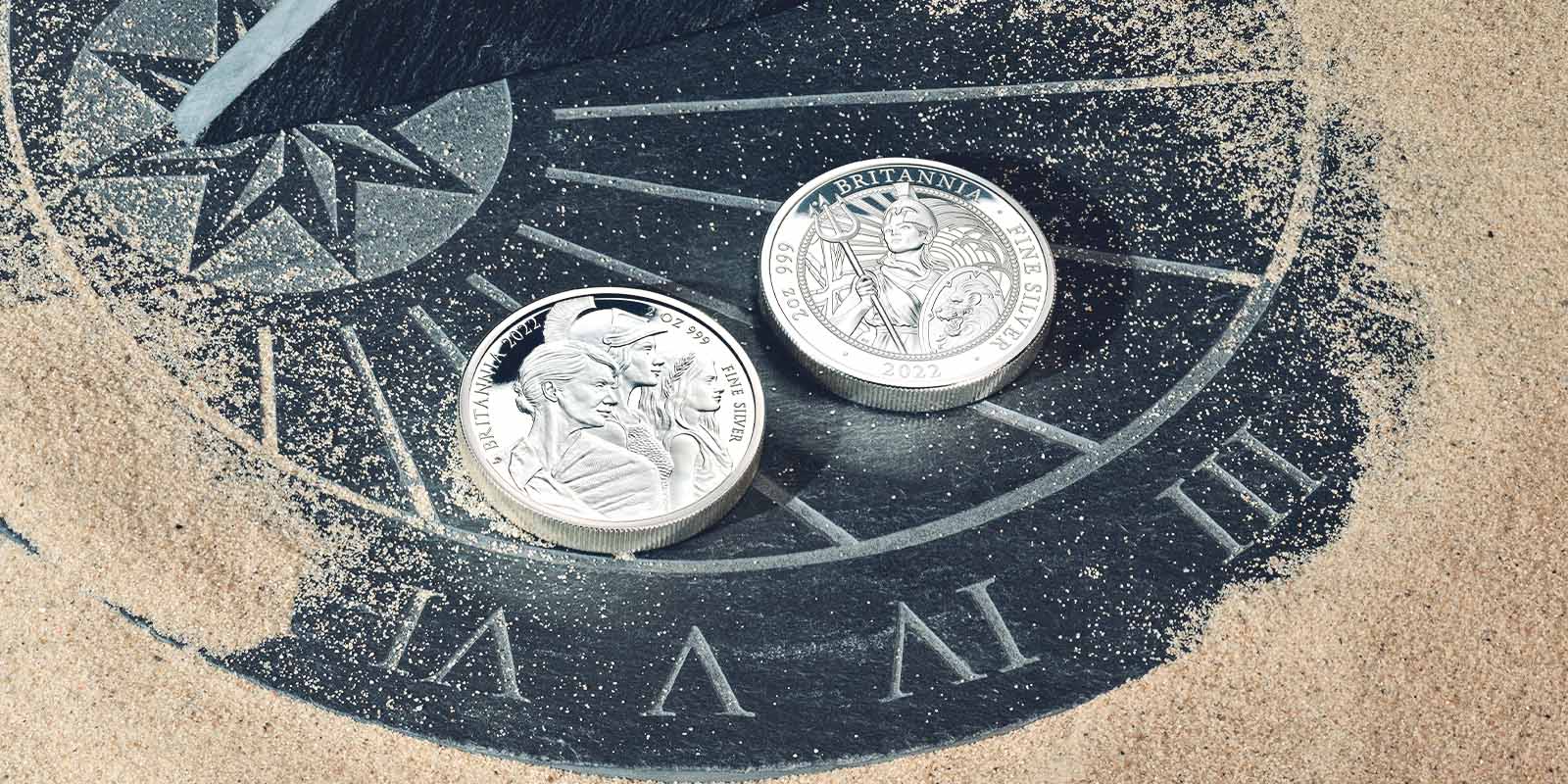 The Royal Mint has today launched an original new depiction of Britannia to coincide with International Women's Day
For the first time the coin features three figures of Britannia on one design – celebrating all ages of women as equal
Britannia first appeared on UK coins 2000 years ago, and has traditionally depicted Britain as a strong woman
To celebrate International Women's Day, The Royal Mint has unveiled a new depiction of Britannia, one of Britain's oldest and most enduring feminine icons, on a collectable UK coin.
The new design is inspired by Gustav Klimt's classic 1905 painting 'The Three ages of Woman' and features Britannia moving from girlhood to maturity. It is the first time that Britannia has appeared three times on one UK coin, and champions women of all ages as equal. It was created by Italian artist and sculptor, Sandra Deiana and updates a classic theme for modern collectors.
A second design also features in the Britannia range, capturing Britannia's time-honoured and classical look. Made with pioneering laser technology to incorporate intricate details, this second unique design retains Britannia's classical appeal, while displaying a modern vision and was developed by Daniel Thorne from The Royal Mint's Product Design team.
Britannia first appeared on UK coins around 2,000 years ago under the rule of Emperor Hadrian. The Romans depicted Britain as a strong female – a symbol that has endured and continues to grace the nation's coins today on the circulating £2 and commemorative designs.
The Royal Mint has a strong commitment to gender equality, and in 2018 appointed Anne Jessopp as the first female Chief Executive in its 1,100 year history. It has 50-50 representation on its Executive Board, and is one of a number of companies in the UK to have a gender pay gap which is marginally in favour of women.
Britannia remains one of The Royal Mint's flagship coin ranges, with new designs released each year for collectors. Last year the collection featured the first depiction of Britannia as a woman of colour on a UK coin as part of commitment to reflecting and celebrating Britain's diversity.
Claire Maclennan, Director of Commemorative Coin at The Royal said: "Britannia has graced Britain's coins since Roman times, and is one of the most enduring female icons of our nation. On International Women's Day we are delighted to unveil an original new design which champions women of all ages as equal. This beautiful new design reflects The Royal Mint's own commitment to diversity and equality, ensuring women can prosper in all areas of our business and see themselves on the nation's coins."
Sandra Deiana, Designer of the Britannia 2022 commemorative coin, said: "I particularly love the Britannia theme – it is the most difficult concept I have faced so far and I will always remain connected to it. No one had harmonised three female representations together. I had to find a way to represent the Britannia icon in three different eras, through the three ages of woman."
The Royal Mint's 2022 Britannia collection is available in gold Proof, silver Proof and silver Brilliant Uncirculated editions from The Royal Mint's website: www.royalmint.com
ENDS
2022 Britannia Exclusive Editions Range Specifications – Featuring a portrayal of the three stages of womanhood in one Britannia design for the first time
Britannia 2022 UK Exclusive Editions Gold Specifications

Coin title

The Britannia 2022 UK Two Ounce Gold Proof Coin

The Britannia 2022 UK Gold Proof Kilo coin

Denomination

£200

£1000

Issuing Authority

UK

UK

Alloy

999.9 Au

999 Au

Weight

62.42g

1,005.00g

Diameter

40.00mm

100.00mm

Obverse Designer

Jody Clark

Jody Clark

Reverse Designer

Sandra Deiana

Sandra Deiana

Quality

Proof

Proof

Limited Edition Presentation

100

5

Maximum Coin Mintage

106

6

RRP

£4,775

£69,445
Britannia 2022 UK Exclusive Editions Silver Specifications

Coin title

The Britannia 2022 UK Two Ounce Silver Proof Coin

The Britannia 2022 UK Silver Proof Kilo Coin

Denomination

£5

£500

Issuing Authority

UK

UK

Alloy

999 Ag

999 Ag

Weight

62.42g

1,005.00g

Diameter

40.00mm

100.00mm

Obverse Designer

Jody Clark

Jody Clark

Reverse Designer

Sandra Deiana

Sandra Deiana

Quality

Proof

Proof

Limited Edition Presentation

550

43

Maximum Coin Mintage

556

40

RRP

£185.00

£2,330
| | |
| --- | --- |
| Coin title | The Britannia 2022 UK One Ounce Brilliant Uncirculated |
| Denomination | £2.00 |
| Issuing Authority | UK |
| Alloy | 999 Ag |
| Weight | 31.21g |
| Diameter | 38.61mm |
| Obverse Designer | Jody Clark |
| Reverse Designer | Sandra Deiana |
| Quality | Brilliant Uncirculated |
| Limited Edition Presentation | 5000 |
| Maximum Coin Mintage | 5010 |
| RRP | £62.50 |
2022 Britannia Collection Core Range Specifications
The Britannia 2022 UK Gold Proof Range

Coin title

The Britannia 2022 UK Quarter-Ounce Gold Proof Coin

The Britannia 2022 UK Two-Ounce Gold Proof Coin

The Britannia 2022 UK Five-Ounce Gold Proof Coin

Denomination

£25

£200

£500

Issuing Authority

UK

UK

UK

Alloy

999.9 Au Fine Gold

999.9 Au Fine Gold

999.9 Au Fine Gold

Weight

7.80g

62.42g

156.295g

Diameter

22.00mm

40.00mm

50.00mm

Obverse Designer

Jody Clark

Reverse Designer

Daniel Thorne

Quality

Proof

Maximum Coin Mintage

785

106

106

RRP

£670.00

£4,775

£11,430
The Britannia 2022 UK Premium Six-Coin Gold Proof Set

Coin title

The Britannia 2022 UK Fortieth-Ounce Gold Proof Coin

The Britannia 2022 UK Twentieth-Ounce Gold Proof Coin

The Britannia 2022 UK Tenth-Ounce Gold Proof Coin

The Britannia 2022 UK Quarter-Ounce Gold Proof Coin

The Britannia 2022 UK Half-Ounce Gold Proof Coin

The Britannia 2022 UK One-Ounce Gold Proof Coin

Denomination

50p

£1

£10

£25

£50

£100

Issuing Authority

UK

UK

UK

UK

UK

UK

Alloy

999.9 Au Fine Gold

999.9 Au Fine Gold

999.9 Au Fine Gold

999.9 Au Fine Gold

999.9 Au Fine Gold

999.9 Au Fine Gold

Weight

0.8g

1.58g

3.13g

7.80g

15.60g

31.21g

Diameter

8.00mm

12.00mm

16.50mm

22.00mm

27.00mm

32.69mm

Obverse Designer

Jody Clark

Reverse Designer

Daniel Thorne

Quality

Proof

Limited Edition Presentation

150

RRP

£4,615
The Britannia 2022 UK Premium Three-Coin Gold Proof Set

Coin title

The Britannia 2022 UK Tenth-Ounce Gold Proof Coin

The Britannia 2022 UK Quarter-Ounce Gold Proof Coin

The Britannia 2022 UK Half-Ounce Gold Proof Coin

Denomination

£10

£25

£50

Issuing Authority

UK

UK

UK

Alloy

999.9 Au Fine Gold

999.9 Au Fine Gold

999.9 Au Fine Gold

Weight

3.13g

7.80g

15.60g

Diameter

16.50mm

22.00mm

27.00mm

Obverse Designer

Jody Clark

Reverse Designer

Daniel Thorne

Quality

Proof

Limited Edition Presentation

150

RRP

£2,040
The Britannia 2022 UK Silver Proof Specifications

Coin title

The Britannia 2022 UK One Ounce Silver Proof Coin

The Britannia 2022 UK Two Ounce Silver Proof Coin

The Britannia 2022 UK Five-Ounce Silver Proof Coin

The Britannia 2022 UK Silver Proof Two Kilo Coin

Denomination

£2

£2

£10

£1000

Issuing Authority

UK

UK

UK

UK

Alloy

999 Ag Fine Silver

999 Ag Fine Silver

999 Ag Fine Silver

999 Ag Fine Silver

Weight

31.21g

31.21g

156.295g

2010.00g

Diameter

38.61mm

38.61mm

65.00mm

150.00mm

Obverse Designer

Jody Clark

Reverse Designer

Daniel Thorne

Quality

Proof

Proof

Proof

Proof

Maximum Coin Mintage

3610

760

386

78

RRP

£95.00

£185.00

£465.00

£4,995
The Britannia 2022 UK Premium Six-Coin Silver Proof Set

Coin title

The Britannia 2022 UK Fortieth-Ounce Silver Proof Coin

The Britannia 2022 UK Twentieth-Ounce Silver Proof Coin

The Britannia 2022 UK Tenth-Ounce Silver Proof Coin

The Britannia 2022 UK Quarter-Ounce Silver Proof Coin

The Britannia 2022 UK Half-Ounce Silver Proof Coin

The Britannia 2022 UK One-Ounce Silver Proof Coin

Denomination

5p

10p

20p

50p

£1

£2

Issuing Authority

UK

UK

UK

UK

UK

UK

Alloy

999 Ag Fine Silver

999 Ag Fine Silver

999 Ag Fine Silver

999 Ag Fine Silver

999 Ag Fine Silver

999 Ag Fine Silver

Weight

0.8g

1.58g

3.15g

7.86g

15.71g

31.21g

Diameter

8.00mm

12.00mm

16.50mm

22.00mm

27.00mm

38.61mm

Obverse Designer

Jody Clark

Reverse Designer

Daniel Thorne

Quality

Proof

Limited Edition Presentation

1,300

RRP

£235.00
The Britannia 2021 UK Two-Coin Silver Proof Set

Coin title

The Britannia 2021 UK One-Ounce Silver Proof Coin

The Britannia 2021 UK One-Ounce Frosted Silver Proof Coin

Denomination

£2

£2

Issuing Authority

UK

UK

Alloy

999 Ag Fine Silver

999 Ag Fine Silver

Weight

31.21g

31.21g

Diameter

28.61mm

28.61mm

Obverse Designer

Jody Clark

Reverse Designer

Daniel Thorne

Quality

Proof

Limited Edition Presentation

1,100

RRP

£190.00
| | |
| --- | --- |
| Coin title | The Britannia 2022 UK Quarter-Ounce Platinum Proof Coin |
| Denomination | £25 |
| Issuing Authority | UK |
| Alloy | 999.5 Pt |
| Weight | 7.85g |
| Diameter | 20.00mm |
| Obverse Designer | Jody Clark |
| Reverse Designer | Daniel Thorne |
| Quality | Proof |
| Maximum Coin Mintage | 160 |
| RRP | £550.00 |