The Royal Mint hails the latest circulating 50ps in 2020 Mintage Figures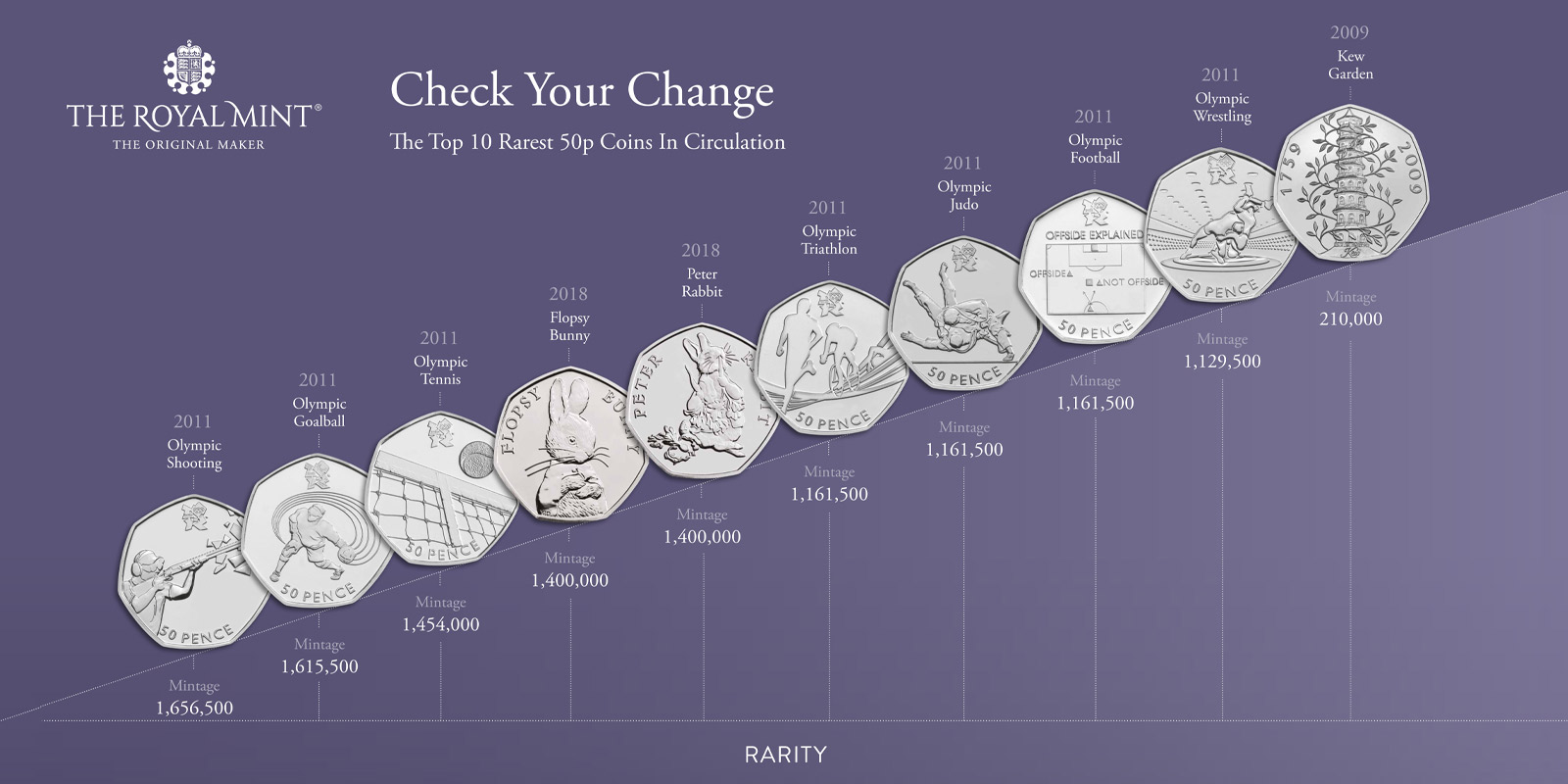 The Royal Mint has posted the latest breakdown of coins that have entered circulation, including the British Diversity and Withdrawal from the European Union 50ps
The mintage figures follow the release of the commemorative Winnie the Pooh and Friends on a 50p piece – which remains Britain's favourite collectable denomination
The Royal Mint confirms the 2009 Kew Gardens 50p remains the rarest coin in circulation
Download b-roll of the Withdrawal from the European Union 50p being struck at The Royal Mint: HERE
The Royal Mint has today posted the mintage figures for the calendar year of 2020, providing the only official guide to the rarest coins in circulation.
In 2020, over 338 million coins were released into circulation, including the new 50 pence designs celebrating British Diversity and Withdrawal from the European Union. Ten million of each of the 50p designs were released into circulation – making them accessible for all.
As well as the coins found in your change, the Royal Mint is the original maker of official UK commemorative coins, released each year to celebrate landmark events, anniversaries and individuals that have shaped our nation.
Ahead of today's figures, the Original Maker launched the latest 50p in the Winnie the Pooh and Friends, inspired by Disney, collection. Marking the 95th anniversary of the loveable bear and based on the original illustrations of E. H Shepard, the new design features Winnie the Pooh and his friends; Christopher Robin, Piglet, Tigger, Eeyore, Kanga and Roo. See the full Winnie the Pooh and Friends collection, at The Royal Mint.
The 50 pence piece is Britain's most collectable coin and provides the ideal canvas for special commemorative designs, which includes more than 70 themes in circulation. The famous 2009 Kew Gardens 50p is the most coveted coin in circulation, with a mintage of just 210,000. Other rare designs include the 2011 Olympic 50p's and the highly collectable Peter Rabbit 2018 coins.
The Royal Mint's Director of UK Currency, Mark Loveridge, comments: "Coin collecting remains a popular hobby, with circulating coins adding the extra excitement of appealing to new and avid collectors by showing up in your change when you least expect it!
"As the Original Maker of UK coin, we are delighted to continue to play our part in telling the story of our nation with the 2020 circulating 50ps, charting British Diversity and the much-anticipated Withdrawal from the European Union. With a mintage of 10 million, these are an accessible and exciting addition to the coins in our pockets, while The Kew Garden's 50p remains the rarest coin in circulation since 2009."
In addition to making coins for the UK, The Royal Mint is also the world's largest export mint and produces coins and blanks for 30 countries in 2020-21.
The Royal Mint's Top 10 Rarest 50p Coins in Circulation
| | |
| --- | --- |
| Coin title | Mintage |
| 2009 Kew Garden | 210,000 |
| 2011 Olympic Wrestling | 1,129,500 |
| 2011 Olympic Triathlon | 1,161,500 |
| 2011 Olympic Judo | 1,161,500 |
| 2011 Olympic Football | 1,161,500 |
| 2018 Flopsy Bunny | 1,400,000 |
| 2018 Peter Rabbit | 1,400,000 |
| 2011 Olympic Tennis | 1,454,000 |
| 2011 Olympic Goalball | 1,615,500 |
| 2011 Olympic Shooting | 1,656,500 |