The Royal Mint celebrates 50th Anniversary of Pride with rainbow 50p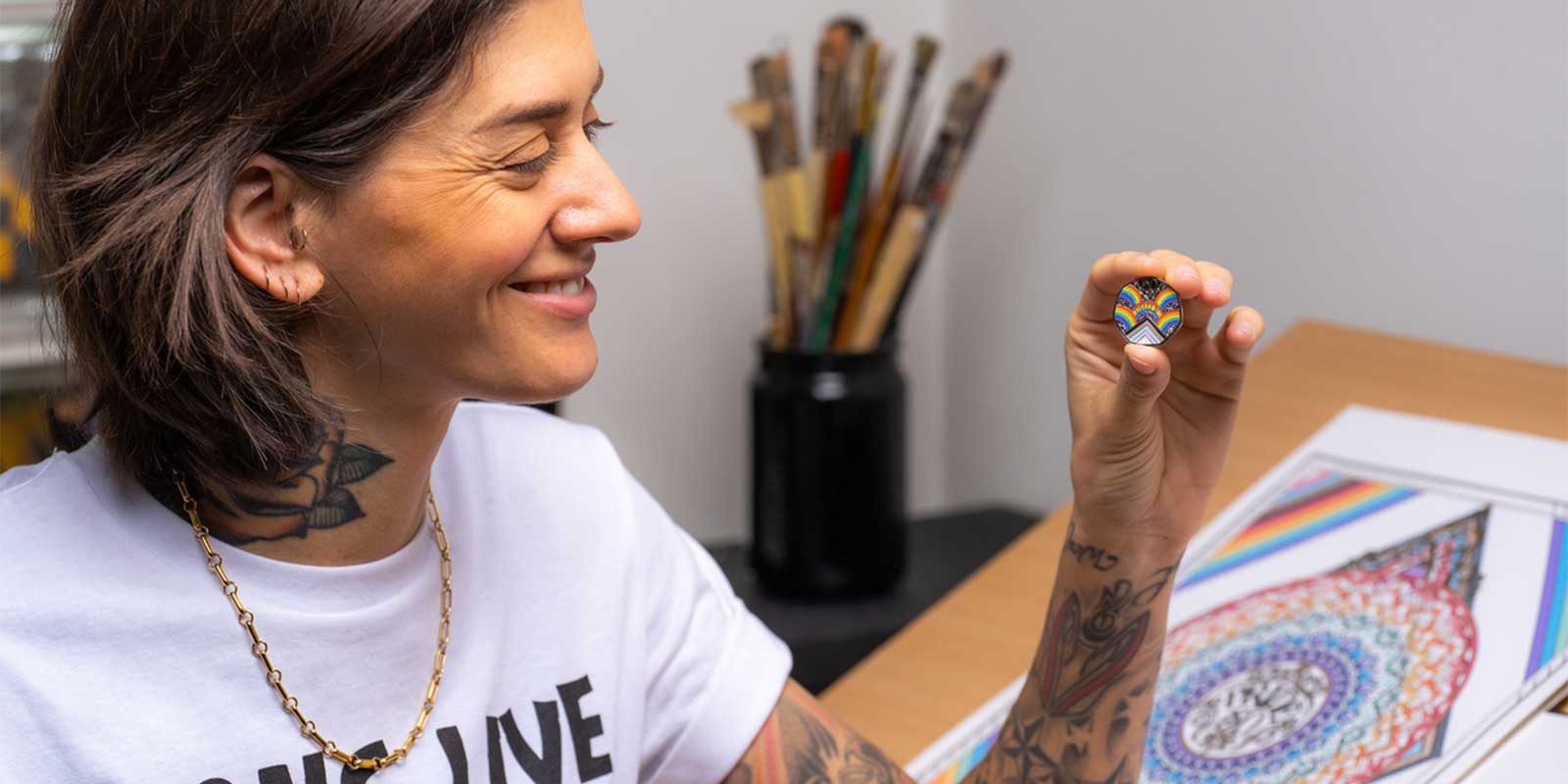 The Royal Mint's first ever coin celebrating Britain's LGBTQ+ community has been launched today, 9th June 2022, in collaboration with Pride in London
Five million of the 50p coins will enter circulation, making the design accessible to all
The design by Dominique Holmes was revealed last month and features the iconic colours of the Pride progression flag in special edition colour versions of the coin
The coin forms part of a commitment by The Royal Mint to work with diverse designers to reflect a modern Britain, marking significant anniversaries and events on UK coin
The Royal Mint has today launched a commemorative 50p celebrating the 50th anniversary of Pride UK. The coin marks the first time Britain's LGBTQ+ community has been celebrated on official UK coinage, developed in collaboration with Pride in London. Five million coins will also enter general circulation later this year, making the landmark design accessible to all.
The 50p design, revealed by The Royal Mint last month, features Pride in London's values of Protest, Visibility, Unity, and Equality in rainbows on the reverse (tails) of the coin. With state-of-the-art colour printing technology, the iconic colours of the Pride progression flag are recreated with special-edition colour versions of the silver and brilliant uncirculated coins.
Following an LGBTQ+ art exhibition hosted by Pride UK, The Royal Mint invited participating artists to submit entries in a competition to create a reverse design for a coin celebrating the 50th anniversary of Pride UK. The winning submission selected by The Royal Mint Advisory Committee was the work of Dominique Holmes, an east London artist, writer, and LGBTQ+ activist with a varied artistic background that includes tattoo artistry.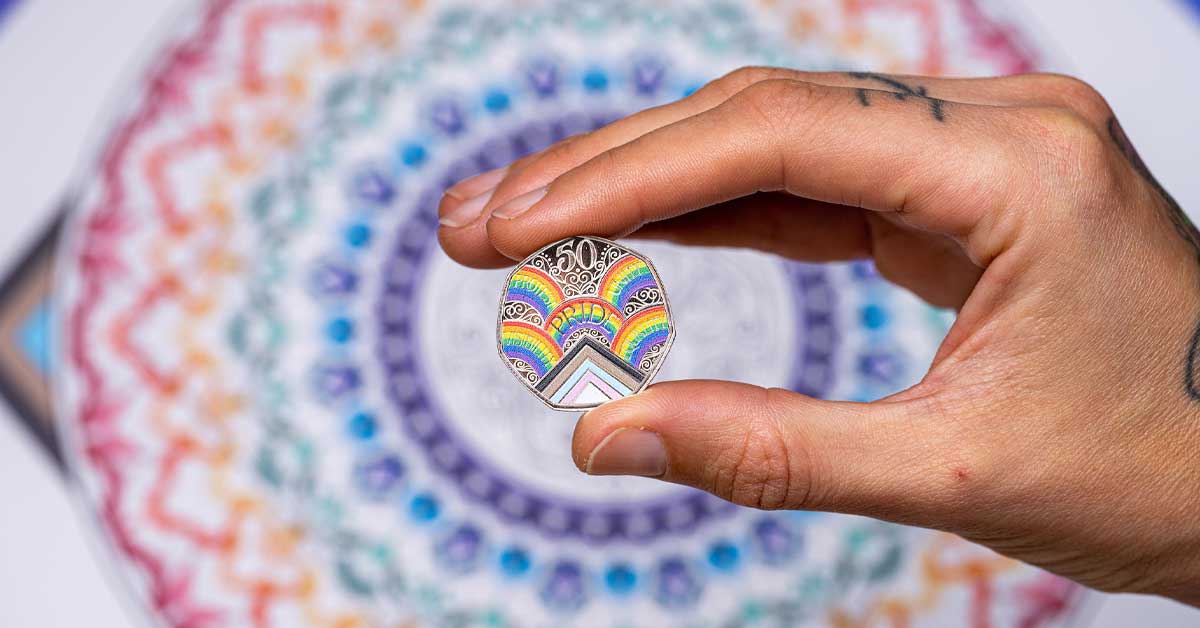 Speaking about their design, Dominique Holmes said: "Working to the scale of a 50 pence piece was interesting for me as I'm used to working on a larger scale. The main challenge was ensuring that the important messages of protest and visibility could be clearly understood on the coin. I had to keep a 50p next to me at all times as I worked to keep my sketches in check!
"Seeing the design and the message of Protest and Pride on the coin itself was quite moving. Growing up in the 80s and 90s in the UK, I never saw this sort of positive LGBTQ+ representation, and I feel very proud to have worked on something that celebrates and commemorates such an historic moment for the LGBTQ+ community and the Pride movement so publicly.
"This is a significant milestone in the fight for LGBTQ+ rights and equality. Pride means so much to me and to so many people across the UK and beyond, and it's important that we take time to celebrate the progress made over the last 50 years, whilst continuing the important work for our community."
Nicola Howell, Chief Commercial Officer at The Royal Mint said: "It has been a pleasure working with Dominique on the 50th Anniversary of Pride coin. Their design is a fitting tribute to the legacy of Pride UK, and we know how excited collectors will be to find one in their change. We are always looking to work with talented British artists from a range of backgrounds who are passionate about bringing their own diverse experiences to life on an official UK coin."
The launch of the new LGBTQ+ coin forms part of The Royal Mint's wider commitment to diversity and inclusion. Alongside D&I training for all employees, a network of D&I Champions and employee-led LGBTQ+ society, 'Enfys', employees from The Royal Mint will be marching in the Pride in London parade on 2nd of July to show their support to the LGBTQ+ community.
As part of the launch, The Royal Mint will make a financial contribution to London LGBT Community Pride C.I.C. The 50p will be available to purchase via The Royal Mint website and includes gold, silver, and brilliant uncirculated versions.
ENDS
| | | | | | | |
| --- | --- | --- | --- | --- | --- | --- |
| Coin title | 50 Years of Pride 2022 UK 50p Gold Proof Piedfort Coin | 50 Years of Pride 2022 UK 50p Gold Proof Coin | 50 Years of Pride 2022 UK 50p Silver Piedfort Proof Coloured Coin | 50 Years of Pride 2022 UK 50p Silver Proof Coloured Coin | 50 Years of Pride 2022 UK 50p Brilliant Uncirculated Coloured Coin | 50 Years of Pride 2022 UK 50p Brilliant Uncirculated Coin |
| Denomination | 50p | 50p | 50p | 50p | 50p | 50p |
| Issuing Authority | UK | UK | UK | UK | UK | UK |
| Alloy | 916.7 Au | 916.7 Au | 925 Ag | 925 Ag | Cupro-nickel | Cupro-nickel |
| Weight | 31.00 | 15.50g | 16.00g | 8.00g | 8.00g | 8.00g |
| Diameter | 27.30 | 27.30mm | 27.30mm | 27.30mm | 27.30mm | 27.30mm |
| Obverse Designer | Jody Clark | Jody Clark | Jody Clark | Jody Clark | Jody Clark | Jody Clark |
| Reverse Designer | Dominique Holmes | Dominique Holmes | Dominique Holmes | Dominique Holmes | Dominique Holmes | Dominique Holmes |
| Quality | Proof | Proof | Proof | Proof | Brilliant Uncirculated | Brilliant Uncirculated |
| Additional Features | N/A | N/A | Colour Printing | Colour Printing | Colour Printing | N/A |
| Limited Edition Presentation | 50 | 200 | 1500 | 4000 | Unlimited | Unlimited |
| RRP | £2,185 | £1,095 | £112.50 | £67.50 | £18.00 | £10.00 |
About The Royal Mint
With a history spanning more than 1,100 years, The Royal Mint is Britain's oldest companies and the original maker of UK coins. Today The Royal Mint is a premium British maker, providing carefully crafted coins and precious metal products for the UK and overseas. Based in Llantrisant, South Wales it has three main focuses as a business: Currency, Consumer (collectable and rare, historic coins) and precious metals investment.
Collecting with The Royal Mint:
Every coin tells a story, from a rare gold Sovereign to a Peter Rabbit™ 50p coin. The Royal Mint aims to inspire collectors young and old, and nurture a love of collecting through unique designs and popular themes. As the maker of UK coinage, we have unparalleled knowledge about coins, from the historic coins of our past, through to the collectable commemorative coins of today. Sourcing and authenticating pre decimal coins is a natural fit for The Royal Mint as we struck each one.
Investing with The Royal Mint:
As a world authority on precious metals, The Royal Mint has traded and made products in gold and silver for centuries. Since launching its designated precious metals investment arm six years ago, The Royal Mint has grown rapidly to become the home of gold in the UK – increasing its market share and becoming the largest producer of bullion coins in Britain. As well as offering physical precious metal investment options in the form of bars and coins, The Royal Mint also offers a range of digital investment options including DigiGold, Little Treasures, designed for children, and Gold for Pensions
Celebrating with The Royal Mint:
For over a thousand years The Royal Mint has marked the moments that changed the world on coins - from coronations to conflict, from commemorations to celebrations. The designs are captured on commemorative coins, minted in a range of metals. Commemorative coins do not always enter circulation but give collectors the chance to purchase coins to keep and cherish. Recent themes have included David Bowie, Winnie the Pooh, Decimalisation and Team GB. Each commemorative coin is carefully struck up to three times in order to create a superbly detailed finish, and ensuring each one meets the standards The Royal Mint is famous for.
The Royal Mint Experience
The Royal Mint opened its popular visitor centre, The Royal Mint Experience, at its home in Llantrisant, South Wales in 2016. Since opening the award-winning attraction has welcomed around 400,000 visitors through its doors and is the place to explore the 1,100-year history of coins.
Images
The Royal Mint retains copyright ownership © of all images. These may only be used for editorial purposes and cannot be sold or used for other marketing purposes without the permission of The Royal Mint.
ABOUT PRIDE IN LONDON
Pride in London is a volunteer-led organisation responsible for delivering the capital's flagship LGBT+ Pride parade and events since 2013. Pride in London's mission is to promote visibility, unity, and equality in society for all LGBT+ people and allies. We do this by producing LGBT+ Pride events that inspire, celebrate, educate, and commemorate our diverse community.
This year marks 50 years since the UK's first pride protest march took place in London in 1972. From these historic origins, the annual event now welcomes over 1.5 million LGBT+ people and allies onto the streets of London.
For more information, follow @prideinlondon on Facebook, Twitter, Instagram and TikTok, or visit www.prideinlondon.org.