The Royal Mint celebrates 120 years of Peter Rabbit™ with brand-new coin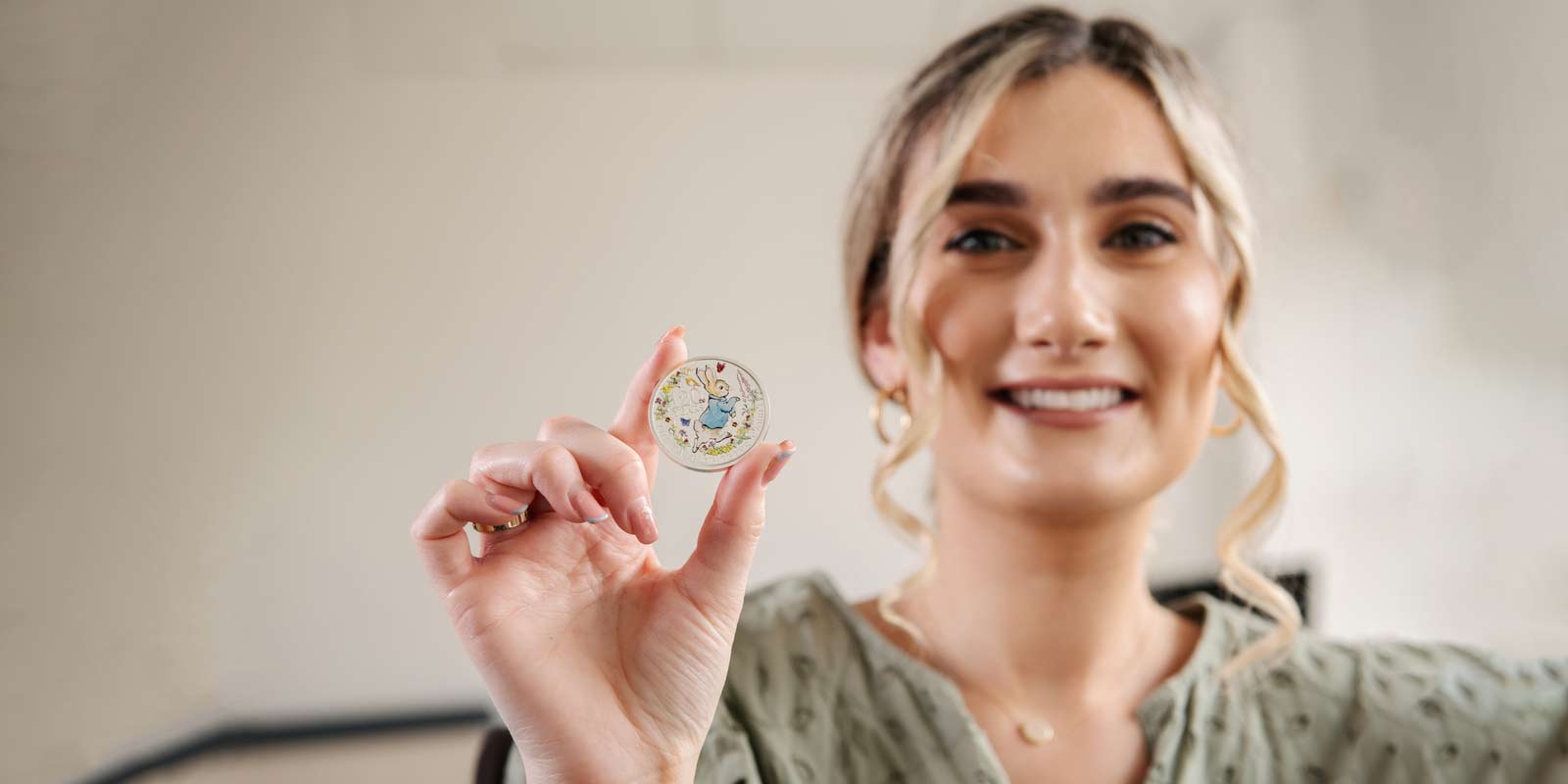 The Royal Mint is celebrating 120 years since The Tale of Peter Rabbit was first published with a brand-new design on a £5 coin
The new commemorative coin features Peter Rabbit in his blue coat surrounded by wildflowers and is available in gold and silver as well as a 'Brilliant Uncirculated' edition
The Tale of Peter Rabbit has been celebrated on coins by the Royal Mint since 2016 and is highly popular with collectors
The Royal Mint has today revealed a brand-new commemorative coin marking 120 years since the first publication of Beatrix Potter's The Tale of Peter Rabbit, developed in collaboration with Penguin Ventures.
As well as minting the coins found in our pockets, The Royal Mint makes collectable coins celebrating key themes and milestones and featuring some of Britain's most-loved childhood characters on UK coin.
The Royal Mint's own Ffion Gwillim created the design using original storybook illustrations, settling on an image showing Peter Rabbit surrounded by wildflowers, bees, and butterflies.
Speaking about the design, Ffion said, "As the coin is a celebration of The Tale of Peter Rabbit, I knew from the beginning that I wanted the coin to be cheerful and have a celebratory feel. I took inspiration from the colourful floral illustrations seen throughout the book.
"Taking the different floral elements from pages in the book to create a new scene on a round coin was a welcomed design challenge – applying colour to such a detailed coin also took a lot of care and precision.
Recently, research from The Royal Mint revealed that more than half of 35–44-year-olds said that childhood character coins were the main reason for starting a collection (51%) The childhood character coins also inspired almost three quarters of Royal Mint's collectors aged 18-24 (74%).
The Royal Mint's Director of Commemorative Coin, Clare Maclennan, said: "Coins remain Britain's favourite collectable item. Their appeal continues to reach new collectors with the increasing popularity of our childhood character coins which celebrate some of the greatest childhood stories and characters we know and love on official UK coin.
"The collectable Peter Rabbit £5 crown is the latest release in the series, marking the 120th anniversary of the mischievous, loveable rabbit. Inspired by the original watercolour illustrations, and available in a vibrant special colour edition, the coin is itself a beautiful work of art for collectors of all ages, and we're so thrilled to see these pieces are inspiring new and younger collectors to get involved."
Since 2016 The Tale of Peter Rabbit has been brought to life on a number of 50p and £5 coin designs, with Peter being the very first literary children's character to appear on a Royal Mint coin. Each Peter Rabbit design created since 2016 has evolved, demonstrating a different aspect of Peter Rabbit's cheeky personality, as well as other loveable characters created by Beatrix Potter.
The Tale of Peter Rabbit by Beatrix Potter was first published in 1902 and since then the iconic rabbit in a blue jacket has gone on to win the hearts of millions of families around the world. The original Tale has sold over 46 million copies globally and has been published in 48 languages including Braille and Hieroglyphics.
The coin is available as gold and silver proof editions, as well as a Brilliant Uncirculated edition available from The Royal Mint website. The coin is commemorative and will not be entering general circulation.
ENDS
| | | | | |
| --- | --- | --- | --- | --- |
| Coin title | The Tale of Peter RabbitTM 2022 UK 1oz Gold Proof Coin | The Tale of Peter RabbitTM 2022 UK 1oz Silver Proof Colour Coin | The Tale of Peter RabbitTM 2022 UK £5 Brilliant Uncirculated Colour Coin | The Tale of Peter RabbitTM 2022 UK £5 Brilliant Uncirculated Coin |
| Denomination | £100 | £2 | £5 | £5 |
| Issuing Authority | UK | UK | UK | UK |
| Alloy | 999.9 Au | 999 Ag | Cupro-nickel | Cupro-nickel |
| Weight | 31.21g | 31.21g | 28.28g | 28.28g |
| Diameter | 32.69mm | 38.61mm | 38.61mm | 38.61g |
| Obverse Designer | Jody Clark | Jody Clark | Jody Clark | Jody Clark |
| Reverse Designer | Ffion Gwillim | Ffion Gwillim | Ffion Gwillim | Ffion Gwillim |
| Quality | Proof | Proof | Brilliant Uncirculated | Brilliant Uncirculated |
| Additional Features | N/A | N/A | N/A | N/A |
| Limited Edition Presentation | 120 | 3500 | 8600 | Unlimited |
| RRP | £2,505 | £100.00 | £17.00 | £13.00 |
About The Royal Mint
With a history spanning more than 1,100 years, The Royal Mint is Britain's oldest companies and the original maker of UK coins. Today The Royal Mint is a premium British maker, providing carefully crafted coins and precious metal products for the UK and overseas. Based in Llantrisant, South Wales it has three main focuses as a business: Currency, Consumer (collectable and rare, historic coins) and precious metals investment.
About The World of Peter Rabbit™ and Beatrix Potter
The Tale of Peter Rabbit is one of the world's best-loved children's books and was created by author and illustrator, Beatrix Potter in 1902. The story has never been out of print since it was first published by Frederick Warne & Co. (today an imprint of Penguin Random House Children's) and has sold in excess of 45 million copies globally. Today over 2 million of her 'little books' are sold globally every year, whilst Peter Rabbit has appeared on books and merchandise in more than 110 countries throughout the world.
In 2022 Penguin Random House Children's will celebrate Peter Rabbit's 120th birthday with a series of commemorative publishing, merchandise, experiential activity and high-profile partnerships, ensuring that the adventures of Peter Rabbit continue to be enjoyed by a new generation of families.
PETER RABBIT™ © Frederick Warne & Co. 2022. PETER RABBIT and BEATRIX POTTER are trademarks of Frederick Warne & Co., a Penguin Random House Company. All rights reserved.
About Penguin Ventures
We're off the page and on an adventure.
Penguin Ventures is the licensing and consumer products division of Penguin Random House. We manage and exploit our portfolio of iconic literary brands and characters: Peter Rabbit, The Snowman, Spot, Flower Fairies and more, across product, experience and digital. We find new ways to tell the world's favourite stories by creating strategic partnerships in licensing, retail, promotions, experiential, theatrical, exhibitions; in location-based experiences; and across the digital landscape
Collecting with The Royal Mint:
Every coin tells a story, from a rare gold Sovereign to a Peter Rabbit™ 50p coin. The Royal Mint aims to inspire collectors young and old, and nurture a love of collecting through unique designs and popular themes. As the maker of UK coinage, we have unparalleled knowledge about coins, from the historic coins of our past, through to the collectable commemorative coins of today. Sourcing and authenticating pre decimal coins is a natural fit for The Royal Mint as we struck each one.
Investing with The Royal Mint:
As a world authority on precious metals, The Royal Mint has traded and made products in gold and silver for centuries. Since launching its designated precious metals investment arm six years ago, The Royal Mint has grown rapidly to become the home of gold in the UK – increasing its market share and becoming the largest producer of bullion coins in Britain. As well as offering physical precious metal investment options in the form of bars and coins, The Royal Mint also offers a range of digital investment options including DigiGold, Little Treasures, designed for children, and Gold for Pensions
Celebrating with The Royal Mint:
For over a thousand years The Royal Mint has marked the moments that changed the world on coins - from coronations to conflict, from commemorations to celebrations. The designs are captured on commemorative coins, minted in a range of metals. Commemorative coins do not always enter circulation but give collectors the chance to purchase coins to keep and cherish. Recent themes have included David Bowie, Winnie the Pooh, Decimalisation and Team GB. Each commemorative coin is carefully struck up to three times in order to create a superbly detailed finish and ensuring each one meets the standards The Royal Mint is famous for.
The Royal Mint Experience
The Royal Mint opened its popular visitor centre, The Royal Mint Experience, at its home in Llantrisant, South Wales in 2016. Since opening the award-winning attraction has welcomed around 400,000 visitors through its doors and is the place to explore the 1,100-year history of coins.
Images
The Royal Mint retains copyright ownership © of all images. These may only be used for editorial purposes and cannot be sold or used for other marketing purposes without the permission of The Royal Mint.