Royal Mint's Precious Metals Team Launch New Range of Investment Products Inspired by Myths and Legends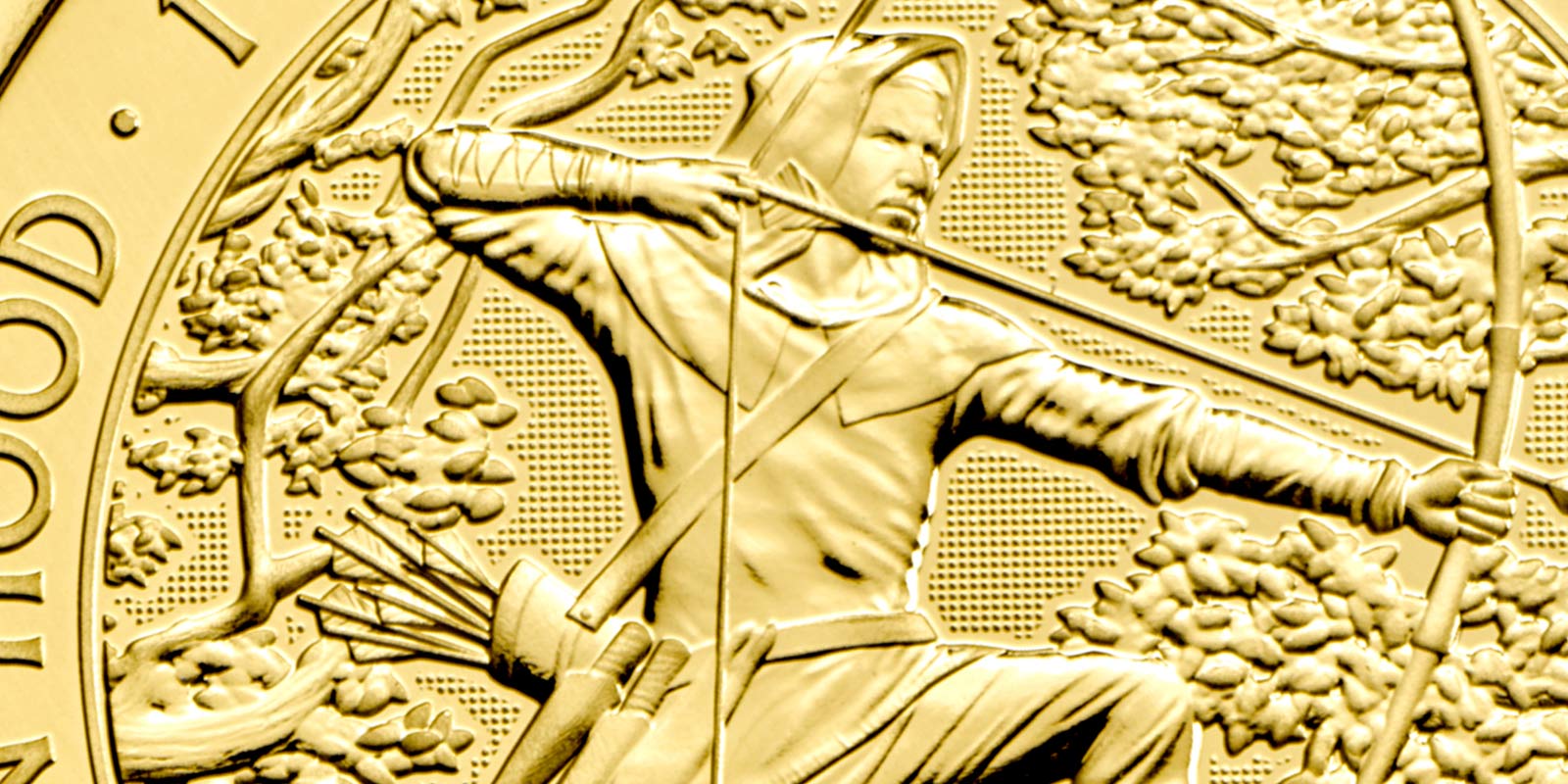 The Royal Mint has today launched a new Myths and Legends bullion collection, with the first coin featuring a modern interpretation of Robin Hood
The coin is available in gold and silver and includes an anti-counterfeit, micro-dot security feature
The Royal Mint has today launched a new Myths and Legends bullion collection, with the first coin featuring a modern interpretation of Robin Hood, available in a 1oz Gold Bullion Coin. The coin also includes a secure, micro-dot background texture, emphasising the craftsmanship and security associated with The Royal Mint's gold products.
Robin Hood has been depicted by designer Jody Clark with a bow in hand, ready to spring into action in Sherwood Forest. The portrait of Her Majesty The Queen features on the coin's obverse, which was also designed by Jody Clark. Struck in 999.9 fine gold, each one-ounce coin is finished to The Royal Mint's bullion standard, and is also available as a one-ounce silver edition. Two more coins inspired by the tale will follow, featuring the courageous heroine Maid Marian and Robin Hood's trusted companion Little John.
Andrew Dickey, Divisional Director of Precious Metals at The Royal Mint, comments: "At The Royal Mint, tradition has long gone hand in hand with innovation. For an investment fit for the future, The Royal Mint is looking to Britain's legendary past. Our new bullion coin collection is inspired by classic stories of myth and legend – combined with the latest innovation and security features.
Andrew continues, "As a leader in precious metals, The Royal Mint's bullion range is recognised by investors across the globe and admired for the standards of quality and accuracy that you'd expect from a world-leading mint. Gold is regarded as a safe haven asset, and has increased in popularity this year as it has become more accessible."
The Royal Mint has been synonymous with precious metals for over 1,100 years and is the trusted home of gold in the UK. They are the primary producer of bullion coins and bars in Britain, as well as offering digital investment opportunities and safe storage, combining a flair for design with expertise in metalwork. The form has evolved from coin to bar to digital asset, including DigiGold and physically backed, exchange-traded commodities, as well as Little Treasures, a gold-backed savings account specifically for children, yet the value and appeal has been consistent.
To view the range, visit the website https://www.royalmint.com/invest/bullion/uk-coin-ranges/myths-and-legends/
ENDS
Specifications:
Coin Title

Robin Hood

2021 One Ounce Gold Bullion Coin

Alloy:

999.9 Au

Diameter:

32.69mm

Obverse Designer:

Jody Clark

Reverse Designer:

Jody Clark

Quality:

Bullion

Year:

2021

Packaging:

Individually packaged in a single coin capsule
Coin Title

Robin Hood

2021 One Ounce Silver Bullion Coin

Alloy:

999 Ag

Diameter:

38.61mm

Obverse Designer:

Jody Clark

Reverse Designer:

Jody Clark

Quality:

Bullion

Year:

2021

Packaging:

Individually packaged in a single coin capsule
Media enquiries - The Royal Mint Press Office:
0845 600 5018 (calls cost 5p per minute) or email press.office@royalmint.com www.facebook.com/theroyalmint
Images
The Royal Mint retains copyright ownership © of all images. These may only be used for editorial purposes and cannot be sold or used for other marketing purposes without the permission of The Royal Mint.
About The Royal Mint
The Royal Mint has an unbroken history of minting British coinage dating back over 1,100 years. Based in the Tower of London for over 500 years, by 1812 The Royal Mint had moved out of the Tower to premises on London's Tower Hill. In 1967 the building of a new Royal Mint began on its current site in South Wales, UK, to accommodate the minting of UK decimal coinage. Today The Royal Mint is the world's largest expert mint and has three main focuses as a business: Currency, Precious Metals and collectable and historic coins.
The Royal Mint Experience
The Royal Mint entered the tourism business in 2016 when it opened its popular visitor centre, The Royal Mint Experience, at its home in Llantrisant, South Wales. The attraction welcomes around 100,000 visitors a year.