Royal Mint's Celebration of Diversity Continues with Launch of Lakshmi Gold Bar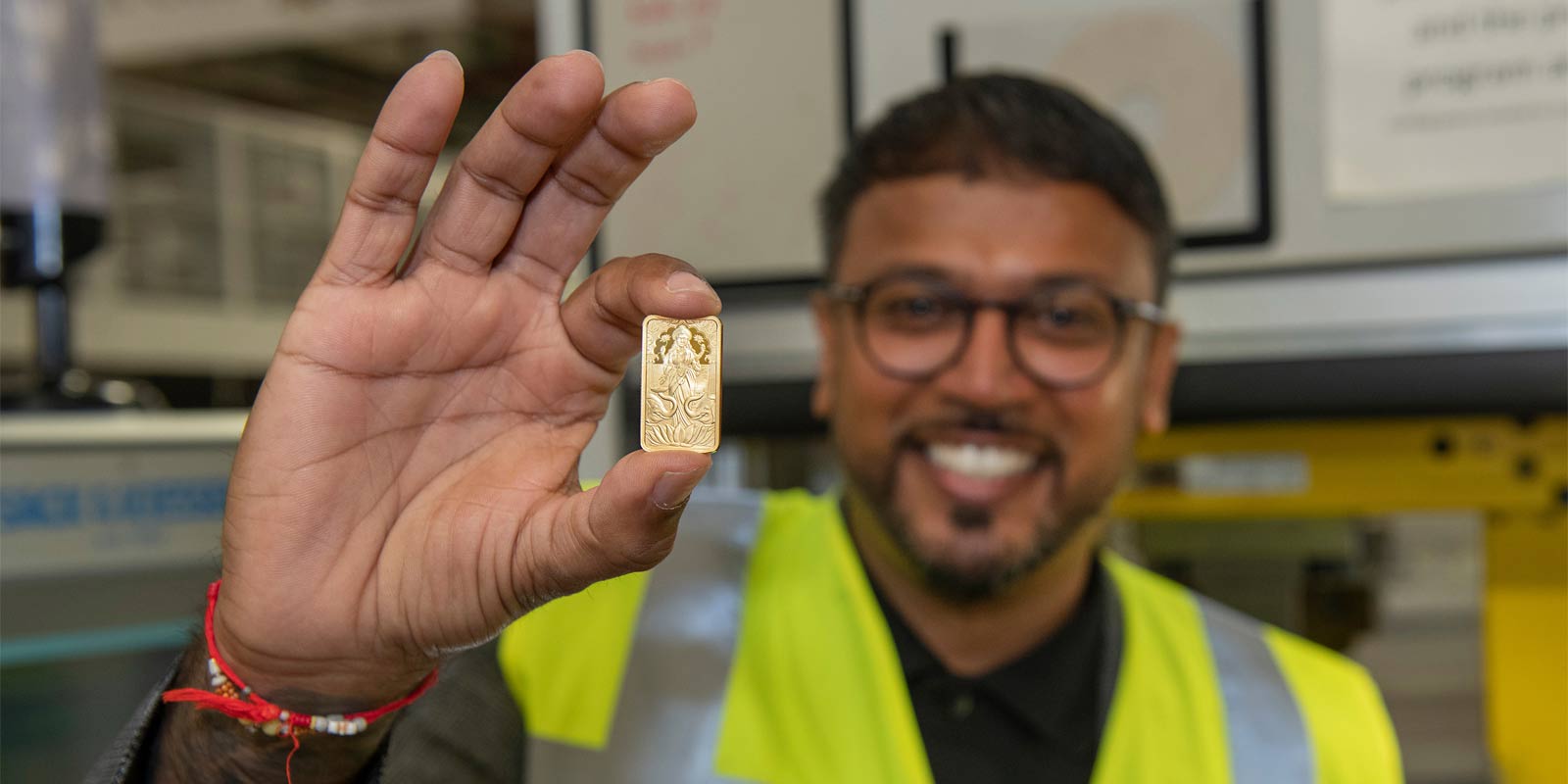 The Royal Mint launches first 'Lakshmi' gold bar as part of commitment to diversity
Working with the Shree Swaminarayan Temple in Cardiff, product designer Emma Noble has created an intricate and authentic design featuring the Hindu Goddess of Wealth on the 20 gram bar, retailing at £1080
As part of its ongoing commitment to diversity and inclusion, The Royal Mint has launched the first UK bullion bar range to celebrate Diwali- the festival of lights. The 'Lakshmi' bar – a 20 gram gold bar with the Goddess of Wealth engraved intricately into the precious metal, was designed by Royal Mint designer Emma Noble, through close collaboration with the Shree Swaminarayan Temple in Cardiff to ensure accuracy and cultural authenticity in design.
The bar, retailing at £1080, sees The Royal Mint's expansion of diverse, cultural celebrations, following the success of the 1g and 5g gold bars in henna-inspired packaging which launched last year and proved incredibly popular with customers celebrating Diwali.
Andrew Dickey, Divisional Director for Precious Metals at The Royal Mint, comments: "With gold being a traditional and auspicious gift during the Diwali festival, we wanted to develop a product that incorporates both beauty and tradition, but with a modern twist. The bar is a shining example of this and we were delighted to work with Nilesh Kabaria of the Shree Swaminarayan Temple in Cardiff to ensure that we represent the Hindu Goddess of Wealth accurately and appropriately."
Nilesh Kabaria is a devotee at the Shree Swaminarayan Temple and has worked closely with The Royal Mint on the design and development of the product. Nilesh comments, "My first reaction when I saw the final version was wow – it's incredible. I love the intricate detail that Emma has been able to include on such a small surface, and on my recent visit to see the bar being struck, I was amazed to see the final version with every detail in perfect harmony. It's wonderful to see an international brand such as The Royal Mint taking such a considered and active approach to celebrate the Hindu culture within their product range."
The bar will also be blessed at the Shree Swaminarayan Temple's Diwali ceremony as part of the 'Lakshmi Poojan' with colleagues from The Royal Mint in attendance on November 4th.
Traditionally, Lakshmi plays an important role in Hindu culture, and her iconography is used on auspicious gifts used to celebrate special occasions such as weddings and births. During these celebrations, gold is often given to family, friends and colleagues symbolising wealth, fortune and prosperity.
For more information, visit The Royal Mint's website www.royalmint.com/gifts/bullion-gifts/lakshmi-20g-gold-bar-minted
ENDS
About the Lakshmi bar and design:
The bar represents Lakshmi, the Hindu goddess of wealth, fortune and prosperity. Her four arms are symbolic of the four goals of humanity that are considered good in Hinduism – dharma (pursuit of ethical, moral life), artha (pursuit of wealth, means of life), kama (pursuit of love, emotional fulfilment) and moksha (pursuit of self-knowledge, liberation)
In Lakshmi's iconography, she is either sitting or standing on a lotus and typically carrying a lotus in one or two hands. The lotus carries symbolic meanings in Hinduism and other Indian traditions. It symbolises knowledge, self-realisation and liberation in Vedic context, and represents reality, consciousness and karma (work, deed) in the Tantra. Below, behind or on the sides, Lakshmi is sometimes shown with one or two elephants and occasionally with an owl. Elephants symbolise work, activity and strength, as well as water, rain and fertility for abundant prosperity. The owl signifies the patient striving to observe, see and discover knowledge particularly when surrounded by darkness.
As a bird reputedly blinded by daylight, the owl also serves as a symbolic reminder to refrain from blindness and greed after knowledge and wealth has been acquired.
About The Royal Mint
With a history spanning more than 1,100 years, The Royal Mint is Britain's oldest companies and the original maker of UK coins. Today The Royal Mint is a premium British maker, providing carefully crafted coins and precious metal products for the UK and overseas. Based in Llantrisant, South Wales it has three main focuses as a business: Currency, Consumer (collectable and rare, historic coins) and precious metals investment.
Collecting with The Royal Mint:
Every coin tells a story, from a rare gold Sovereign to a Peter Rabbit™ 50p coin. The Royal Mint aims to inspire collectors young and old, and nurture a love of collecting through unique designs and popular themes. As the maker of UK coinage, we have unparalleled knowledge about coins, from the historic coins of our past, through to the collectable commemorative coins of today. Sourcing and authenticating pre decimal coins is a natural fit for The Royal Mint as we struck each one.
Investing with The Royal Mint:
As a world authority on precious metals, The Royal Mint has traded and made products in gold and silver for centuries. Since launching its designated precious metals investment arm six years ago, The Royal Mint has grown rapidly to become the home of gold in the UK – increasing its market share and becoming the largest producer of bullion coins in Britain. As well as offering physical precious metal investment options in the form of bars and coins, The Royal Mint also offers a range of digital investment options including DigiGold, Little Treasures, designed for children, and Gold for Pensions
Celebrating with The Royal Mint:
For over a thousand years The Royal Mint has marked the moments that changed the world on coins - from coronations to conflict, from commemorations to celebrations. The designs are captured on commemorative coins, minted in a range of metals. Commemorative coins do not always enter circulation but give collectors the chance to purchase coins to keep and cherish. Recent themes have included David Bowie, Winnie the Pooh, Decimalisation and Team GB. Each commemorative coin is carefully struck up to three times in order to create a superbly detailed finish, and ensuring each one meets the standards The Royal Mint is famous for.
The Royal Mint Experience
The Royal Mint opened its popular visitor centre, The Royal Mint Experience, at its home in Llantrisant, South Wales in 2016. The award-winning attraction welcomes around 200,000 visitors a year and is the place to explore the 1,100-year history of coins.
Images
The Royal Mint retains copyright ownership © of all images. These may only be used for editorial purposes and cannot be sold or used for other marketing purposes without the permission of The Royal Mint.