The Tudor dynasty rose from a brutal and bloody conquest between the House of Lancaster and the House of York. The Wars of the Roses ended at the Battle of Bosworth, where Henry VII emerged victorious. His marriage to Elizabeth of York united the warring Houses but despite victory on the battlefield, Henry VII was still intent on legitimising his ascension to the throne and beating away any dynastic rivals or pretenders.
Following in Formidable Footsteps
Raised at Eltham Palace in a predominantly female household, Henry VIII was never expected to rule. It wasn't until the death of his older brother Arthur, who died after succumbing to an illness, that he became heir to the throne. From the age of 11 he was groomed and prepared for his regal destiny, ascending the throne at the age of 17 after Henry VII's peaceful death.
Like his father before him, Henry VIII became dedicated to legitimising his claim to the throne and reminding his subjects of the Tudor monarchy's proud lineage. Heraldry was an effective way of cementing this message through recognisable symbols of different shapes and colours – particularly during a time where much of the country was illiterate.
A Heraldic Stronghold
At Hampton Court Palace, his most famous residence, Henry VIII took a particular interest in heraldic beasts as part of his lavish embellishment of the palace itself. Beginning in medieval times and continuing ever since, beasts and mythical creatures have often been adopted by the Royal Family and aristocratic families as motifs to symbolise lineage, descent, pedigree and allegiances. Those chosen by Henry VIII to decorate the palace and ground, most notably the ten beasts that line the parapets of the Moat Gate bridge, served to reinforce the legitimacy of his position on the throne and to highlight the regal lineage and strength of the Tudor dynasty.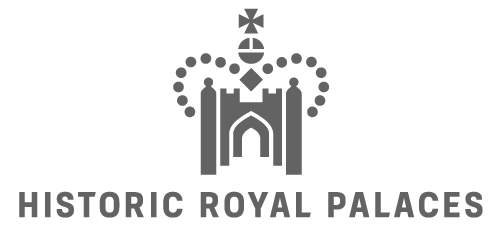 © Historic Royal Palaces 2021 Produced under licence from Historic Royal Palaces Enterprises Limited