These are certainly unpredictable and uncertain times that we're living in. These particular market conditions; including complete closure of certain sectors, widespread travel restrictions and plummeting stock markets are different even to those of the global financial crisis in 2008. Therefore, it's no surprise that investors are left wondering where they should be allocating their hard-earned money.
Despite being one of the best performing asset classes of 2020 so far, the price of gold has been volatile since the COVID-19 outbreak. According to The World Gold Council, this is likely to be due to investors liquidating their gold to raise cash to cover losses in other asset classes. At The Royal Mint, we're experiencing unprecedented levels of interest in our precious metals products, with more people than ever before turning to gold as a safe haven asset during this disconcerting period.
Past Performance
Gold has survived centuries of evolution, world wars and financial disasters whilst maintaining its reputation as a reliable store of wealth. In fact, whilst the price of gold was volatile during the 2008 financial crisis, it was one of the few asset classes to post positive returns at the end of the period, as shown below.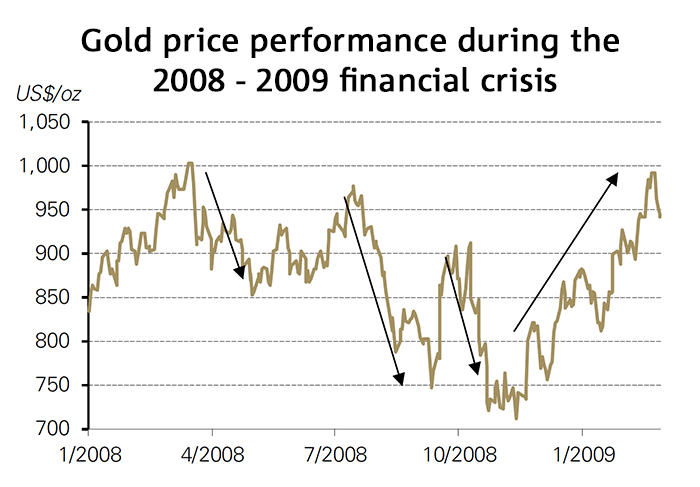 Source: World Gold Council
According to The World Gold Council, it may take a while for financial markets to stabilise, and amidst the high volatility, the gold price may experience additional swings. However, the long-term implications of an environment combining high risk and lower opportunity cost could support gold investment demand.
Andrew Dickey, Precious Metals Divisional Director at The Royal Mint commented: 'We are experiencing unprecedented demand for gold during these extremely difficult times as our customers are choosing to allocate more of their portfolio to safe haven assets. Whilst we are not in a position to predict the future performance of gold, we know that the precious metal has stood the test of time and managed to hold its own during previous periods of market turmoil.'
Login or open a bullion account with The Royal Mint today.