Peter Rabbit™ is the most-famous and well-known character that Beatrix Potter created and he has been adored since he first appeared in 'The Tale of Peter Rabbit™' in 1902. For more than 100 years the mischievous, blue-coated bunny has been known for his adventures in Beatrix Potter™'s tales, especially when getting up to no good in Mr. McGregor's garden.
Over the past four years, he's also come alive on a number of 50p designs produced here at The Royal Mint. Each design has evolved, demonstrating a di8erent aspect of Peter Rabbit's cheeky personality, loveable face and brave but naughty nature.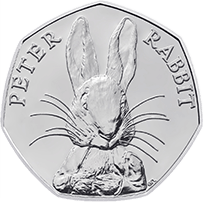 2016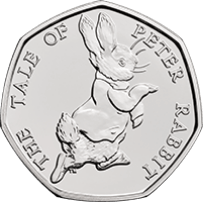 2017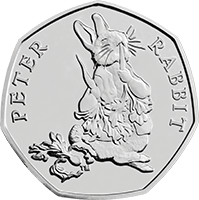 2018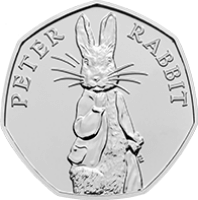 2019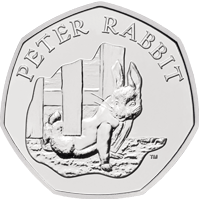 2020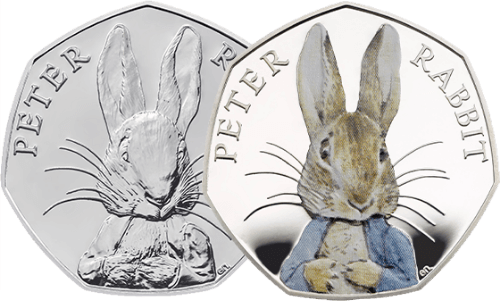 The first coin celebrating Peter Rabbit™ was released in 2016 in celebration of the 150th anniversary of Beatrix Potter's birth. It featured an up-close portrait of Peter Rabbit™ looking straight on and his iconic whiskers were a focal point in the design.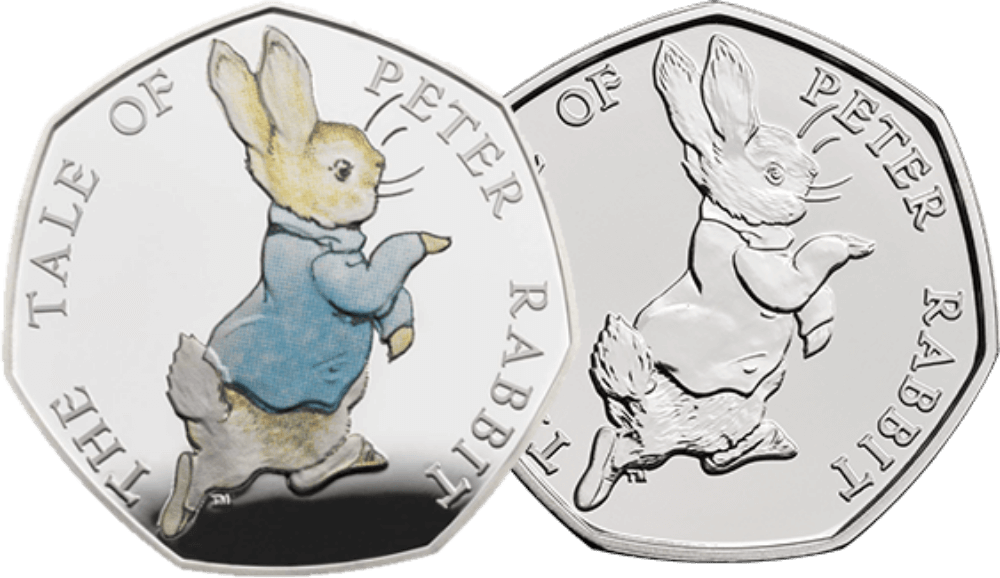 Following the success of the Beatrix Potter™ coins released in 2016, the second Peter Rabbit™ design was released in 2017 and the coin's designer, Emma Noble, engraved one of the most iconic images of Peter, hopping away on one of his adventures.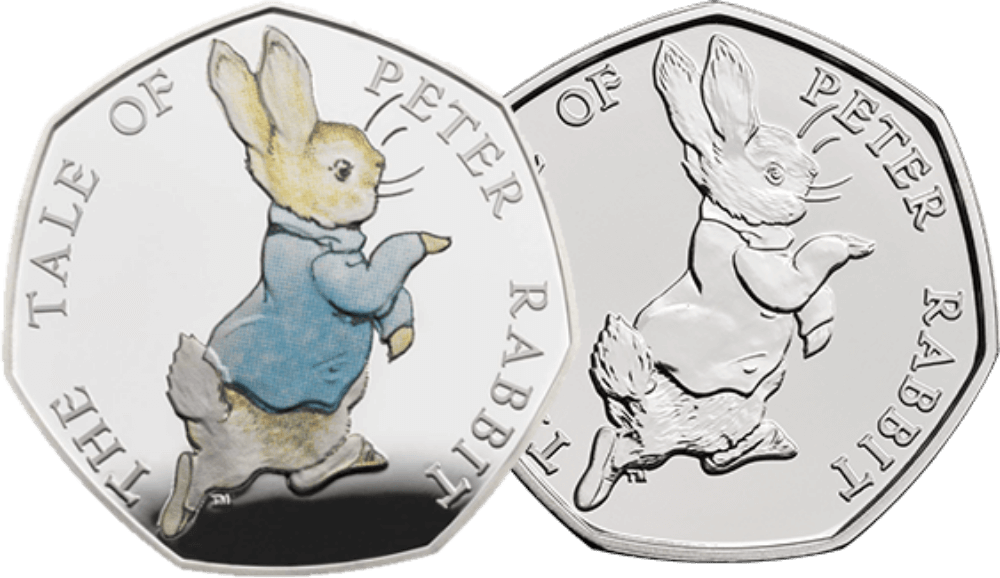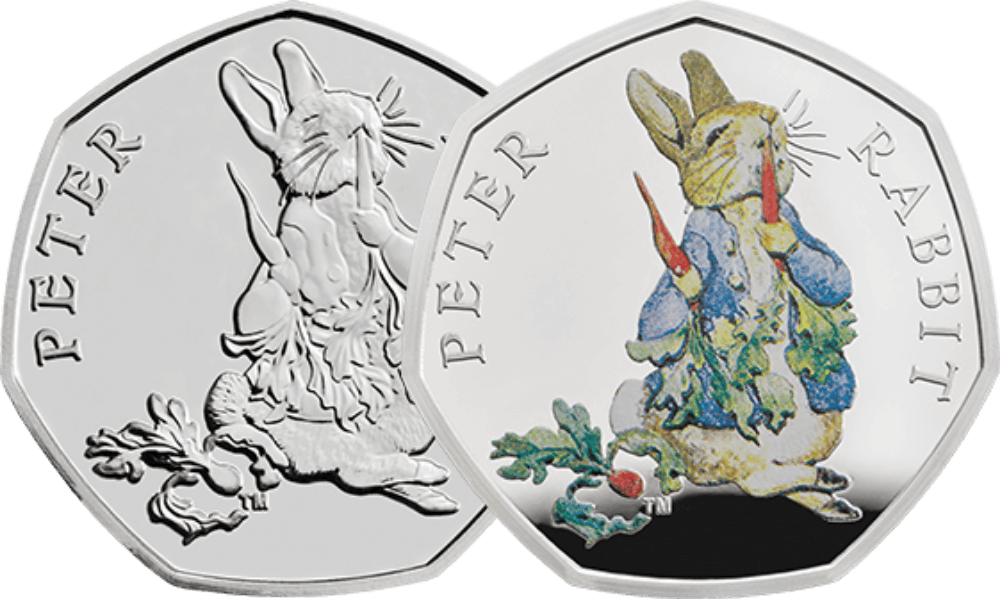 The third design, released in 2018, depicts Peter Rabbit™ just as Beatrix Potter painted him. Every detail, from his little blue coat to his long whiskers, has been captured on the coin's small surface. It shows the iconic image of Peter Rabbit™ munching on radishes after another near-miss in Mr.McGregor's garden.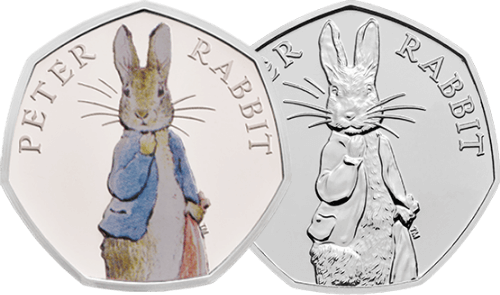 We released the fourth Peter Rabbit™ coin in 2019, this time with a design from 'The Tale of Benjamin Bunny'. Peter Rabbit™ appears in his usual blue jacket but is clutching the red cotton pocket-handkerchief that had saved his modesty after losing his clothes in Mr. McGregor's garden yet again.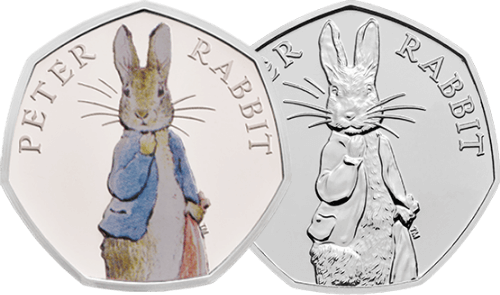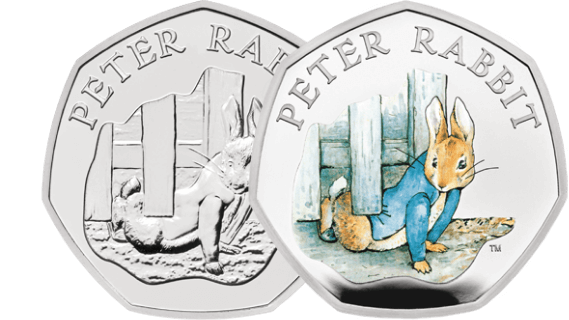 In 2020, we continue our hugely popular Beatrix Potter™ series with a new official United Kingdom 50p coin. This is the fifth and final year that Peter Rabbit™ will appear on a UK 50p coin. He is shown squeezing under the gate to Mr.McGregor's garden on the lookout for lettuces, radishes and mischief!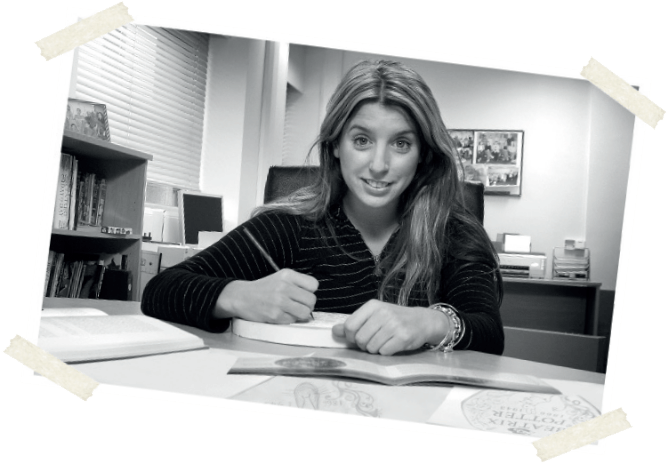 Royal Mint designer Emma Noble has brought Beatrix Potter's characters to life on the coins. Emma has been in charge of carefully engraving the original illustrations and she has previously worked on coins commemorating Remembrance Sunday and celebrating the 60th anniversary of Her Majesty The Queen's coronation. The images that feature on these coins are meticulous recreations of the handpainted illustrations which brought Beatrix Potter's iconic books to life.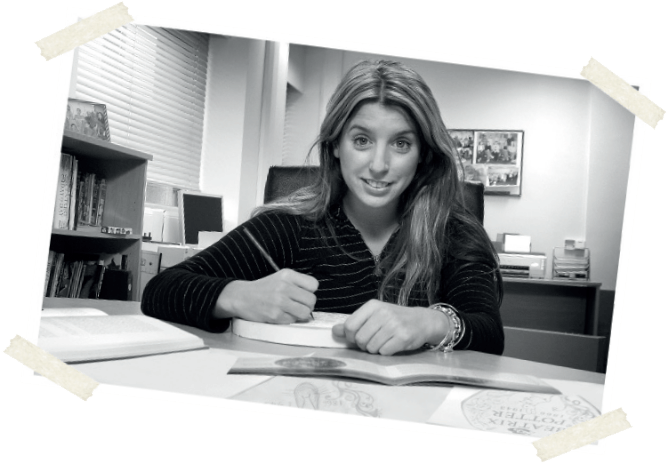 Peter Rabbit™ has become a familiar face on some of the most collectable 50p coins.
Complete your collection with the Peter Rabbit™ 2020 UK 50p Coin.