James Tottle is a young Welsh artist who specialises in carving works in ice. From horses to lions to film characters and fantastic beasts, his ice sculptures are delicate, beautiful and hyperreal. To prepare for each sculpture he sketches out a plan, using the drawing skills he has developed over many years and applied in the design of the Britannia coin. His work is in great demand, so we were lucky to grab a few moments of his time to discuss his work and approach to the design of this year's Britannia.
We started by asking how he came to submit a design of Britannia.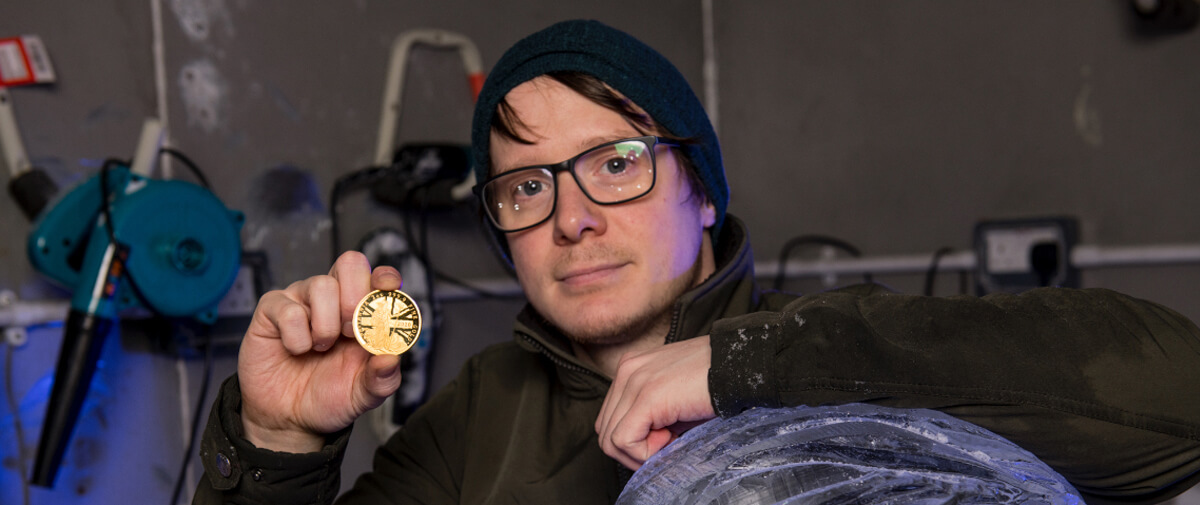 "I saw something on social media advertising for artists and got in touch with The Royal Mint. Lee R. Jones (Product Design Lead) came back to me and said, "Do you draw?" I hadn't drawn for quite a while but had for many years in the past, so I was happy to get back into it. Lee sent me some reference material to look at and asked me to submit some drawn designs. I did a mock-up of a couple of designs, including some of British animals, and two weeks later I was sent the Britannia 2020 brief.
"I was really surprised that my Britannia design was successful – I just wasn't sure how far to go or not to go. The design brief was challenging, so I put together quite a few different designs, casting my net wide.
"While thinking about how I would answer the brief, I found some information about the seven muses of creativity and the symbols to represent this. I found that there was one symbol that covered all seven and so I used this and the others in one of my designs.
"I then tried to boil down my ideas to one design, changing the pose but always trying to address the design brief. After my work was chosen I was asked to try lots of different portrait poses for Britannia and variations in the background and objects, such as the shield."
As can be seen in the sketches James Tottle submitted with his coin design, he is highly skilled at drawing and composition. He told us about his early obsession with drawing and how he came to be involved in ice sculpting.
"I grew up in Ebbw Vale and have always been into drawing. At school I was known as 'the drawer'. My brother was into it too and I was always trying to catch up with what he could do as he's three years older than me. He works in Hollywood now, so we've both done well.
"My mates were all into art and I shared a flat with them when they were all at college in Caerleon. At this time, I was drawing lots of monsters, creatures and portraits, always trying out different styles and subjects.
"I started sculpting in clay as it was something that interested me and was fun. After building up quite a bit of work over two to three years, I went in to see the people at Ice to Art and showed them what I'd produced. They were like, 'you can do ice sculpture, get stuck in' and they pretty much gave me a chainsaw there and then.
"It took me quite a few years to get the hang of it; I learnt by trial and error. You know that the pieces have to be saleable, so there's a certain amount of pressure there. The other pressure is the one of time, and every piece needs to be done quickly, in a couple of hours. I'll do three or four pieces in a day, so you need to work quickly.

"To work in ice you need to do a lot of preparation, to work out what you're going to do. This is called making a block plan. My fundamental rule is that getting the silhouette right is essential. No matter how good the details are, they can't disguise an outline that doesn't look right.
"We make the ice blocks in the unit and hoist them out to be worked on in the freezer, where the temperature is controlled. Then it's a case of getting carving.
"I wear ski shoes, salopettes and go through lots of pairs of gloves. I use chainsaws, angle grinders and I modify the tools for the job and the material.
"I also sometimes enter ice sculpting competitions with another sculptor Danny Thomas. These take place in colder countries and tend to be one or two day competitions. You submit ideas on a theme and if those are accepted you're invited to sculpt them in competition with people from around the world. It's really hard work but good fun. In 2018 we won one day of the Tatry Ice Master competition held in Slovakia, with a sculpture featuring a Welsh dragon's head."
The Royal Mint is delighted to work with creative talent like James Tottle and his initials now join those of many other artists and designers who have interpreted and represented Britannia on a coin.