Since 1817 The Sovereign had been a 22 carat gold coin worth £1 or 20 shillings.
By the early twentieth century, it was firmly established as a part of Britain's circulating currency. However, gold was playing a much less important role in the nation's coinage. When the First World War broke out, The Sovereign had already survived several attempts at its withdrawal but even the 'chief coin of the world' could not survive the effects of the war.
Within days of the outbreak of war on 4 August 1914, the Government asked the public to hand in its gold Sovereigns. The Government used the precious metal to pay off its international debt, support the Bank of England's reserves and finance the war effort.
Only a day after the outbreak of war, the then Chancellor of the Exchequer, David Lloyd George, explained just how important it was:
"Anyone who, from selfish motives of greed or from excessive caution or cowardice, goes out of his way to attempt to withdraw sums of gold and appropriate them to his own use – let it be clearly understood that he is assisting the enemies of his native land, and he is assisting them more effectively probably than if he were to take up arms."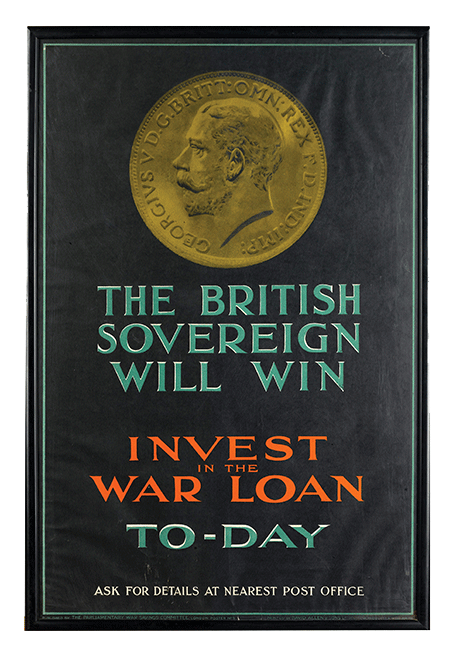 The Sovereign's replacement
On 7 August 1914, the UK government issued two Treasury notes. One was worth £1 while the other was worth 10 shillings and they were designed to replace the gold Sovereigns. The government also printed posters with a message, 'The British Sovereign will win', and urged people to hand in their gold Sovereigns at their nearest post office. In return, people would be given the new Treasury notes. People responded in their thousands and the new notes soon replaced the gold coins. By the summer of 1915, gold was no longer a regular part of the nation's coinage.
It was an incredible change as before the war there had been around £100,000,000 of gold coinage in circulation. By the end of the war, all that precious metal had been withdrawn. In fact, the campaign didn't just bring domestic circulation of The Sovereign to an end but it also ended the use of gold in circulation in Britain. Gold didn't disappear entirely from The Royal Mint's presses, though, as the mint continued to make gold Sovereigns during the war that were used to strengthen the Bank of England's gold reserves.
By 1918, The Royal Mint stopped producing the gold Sovereign altogether and branch mints across the Commonwealth substantially lowered their production, with only the Ottawa mint increasing its production. The coin didn't reappear again until 1957, when The Royal Mint started producing gold Sovereigns as bullion coins.
The Sovereign in numbers during the First World War
| | Bombay Mint | London Mint | Melbourne Mint | Ottawa Mint | Perth Mint | Sydney Mint |
| --- | --- | --- | --- | --- | --- | --- |
| 1913 | 0 | 24,539,672 | 2,323,180 | 3,717 | 0 | 2,249,000 |
| 1914 | 0 | 11,501,117 | 2,012,029 | 14,900 | 4,815,996 | 1,774,000 |
| 1915 | 0 | 20,295,280 | 1,637,839 | 0 | 4,373,596 | 1,346,000 |
| 1916 | 0 | 1,554,120 | 1,272,634 | 6,119 | 4,096,721 | 1,242,000 |
| 1917 | 0 | 1,014,714 | 934,469 | 58,875 | 4,110,286 | 1,666,000 |
| 1918 | 1,294,372 | 0 | 4,809,493 | 106,570 | 3,812,884 | 3,716,000 |
| 1919 | 0 | 0 | 514,257 | 135,957 | 2,995,216 | 1,835,000 |