The Science Behind the Shape of the 50p
Different, distinct and instantly recognisable; we might not stop to appreciate it when we find one in our change, but the shape of the 50p is an engineering marvel. And the science that gave us the world's first seven-sided coin is a fascinating story encompassing the very best of British innovation.
Shape of a Revolution
Released ahead of decimalisation, the shape of the 50p heralded the revolution to come. In 1966 parliament decided that the nation's ancient system of coinage would be consigned to the history books. The Decimal Currency Act was passed in May 1969, with the first decimal coins having already reached the high street in readiness for the switchover in February 1971.
As part of these measures, the ten-shilling note was demonetised and replaced with a new coin – the 50p. The decision was influenced in part by obvious cost savings. The lifespan of a note was around five months on average whereas coins could last 50 years or more.
The new coin would be the largest denomination in circulation. As such, it required a design that would enable people to easily tell it apart from other coins in their change. However, anything too bulky would weigh down pockets and purses so any prospective design had to be practical as well as distinctive.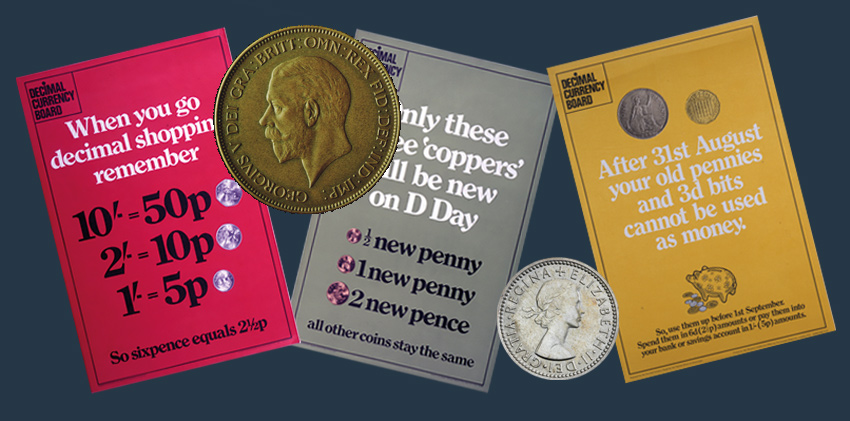 Aerospace Expertise
Hugh Conway, the only technical member of the Decimal Currency Board, was a man of ideas, more used to working with aero-engines than coinage. A past President of the Institute of Mechanical Engineers and Managing Director at Bristol Siddeley Engines, which had been purchased by Rolls-Royce in 1966, Conway proposed a multisided coin.
Shaped coins were nothing new – the Civil War siege pieces of the seventeenth century are early examples of experimentation with this idea – but it wasn't until the 1930s that Britain saw its first official non-circular coin, the 12-sided threepence.
Conway's idea posed a design challenge pertinent to changing times – getting a coin that wasn't circular to roll smoothly without changing height. Given the proliferation of vending machines and parking meters, this was an essential requirement for the 50p, but Conway and his team were uniquely placed to turn concept into reality thanks to their knowledge of precision engineering techniques.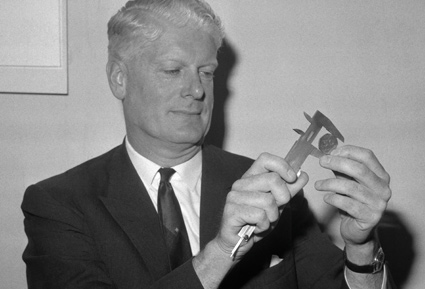 A Coin of Constant Width
The 'equilateral curve heptagon' that we know today went through various stages of development, with Conway and his team using their considerable expertise to perfect this radical design. They even called on the services of Bristol Siddeley's design office, where staff normally worked on engines for aircraft including Concorde.
Early trial pieces of the 50p included ten and twelve-sided versions; a square coin with rounded corners was even suggested. Ultimately, the seven-sided design was preferred as it was easily distinguishable from other coins both by feel and by sight, and as a coin of constant width its shape allows it to roll smoothly.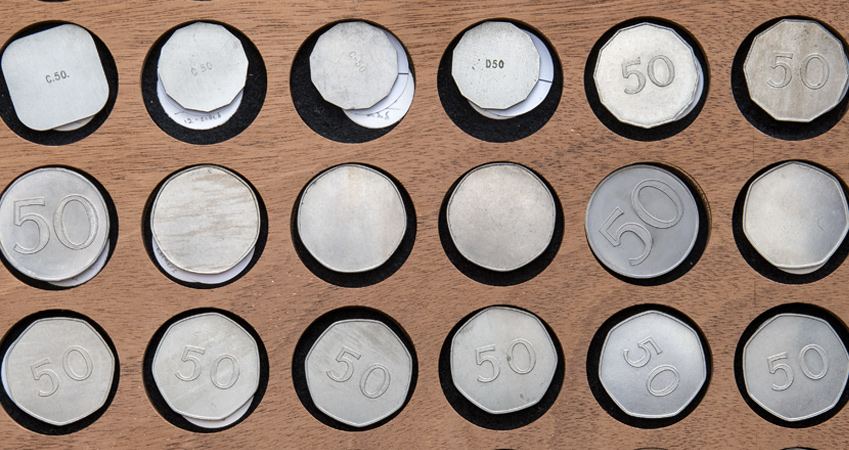 Made to Last
Engineered to perfection, the world's first seven-sided coin has stood the test of time. Fifty years after it first appeared in circulation, it's still in daily use. And has even inspired other mints around the world to follow suit with similar designs. Gibraltar, Tonga, the Isle of Man and the Falkland Islands have all released their own 50p-shaped coins. Testament to a design that was made to last.