The Royal Mint unveils new range of coins celebrating Six Decades of 007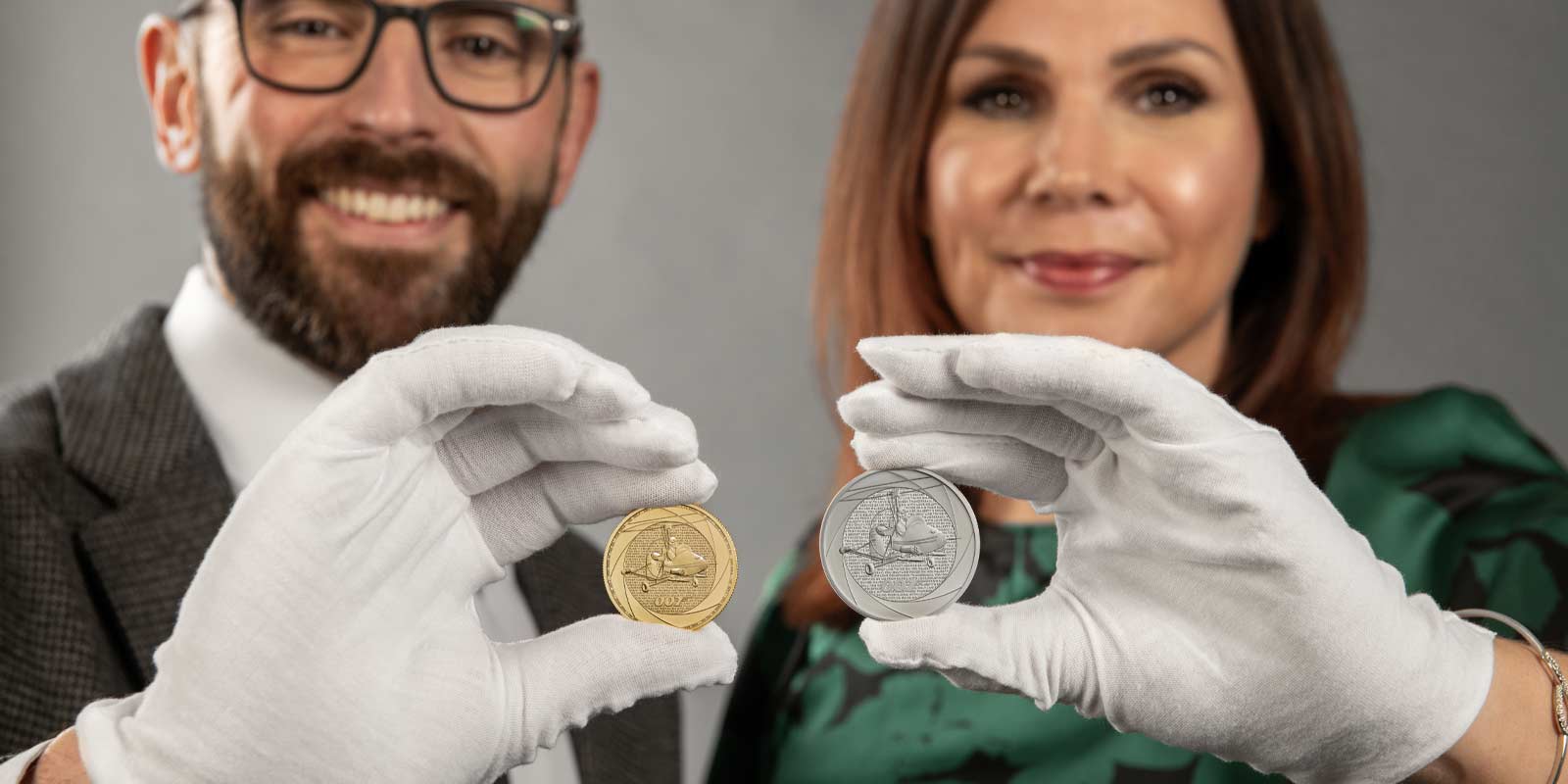 The Royal Mint has today unveiled a collectable and bullion coin range that celebrates 60 years of James Bond.
The new range of collectable and bullion coins provides 007 fans an opportunity to collect limited edition coins or invest in precious metals, gold or silver.
Each design will feature an iconic scene from each decade of Bond with the first coin celebrating 007 in the 1960s.
15th November:
The Royal Mint has today unveiled a new range of collectable and bullion coins to celebrate 60 years of Britain's favourite secret agent - James Bond.
The latest 007 range by The Royal Mint, will see six decades of Bond celebrated on their own official UK collectable and bullion coins. The range offers 007 enthusiasts a unique opportunity to grow their existing collection or invest in precious metals in gold or silver.
Each design will feature an iconic scene from a different decade of Bond. The first coin celebrating 007 in the 1960s depicts Sean Connery's Bond sat in Little Nellie, the legendary gyroplane from You Only Live Twice. The titles of each Bond film of the decade make up the background, the stylised 007 logo of the 1960s appears at the base of the coin, and the classic gun barrel features around the perimeter of the design.
Rebecca Morgan, Director of Commemorative Coin at The Royal Mint said, "James Bond is Britain's favourite secret agent who has captivated audiences for over 60 years. We are delighted to be unveiling a new collectable coin range to celebrate 007's journey. Each coin will feature a unique design linking to the films of that decade, which is a testament to the coin making skills that our craftspeople have perfected over the years. We hope 007 enthusiasts and coin collectors find a special place for these limited-edition coins in their existing James Bond or coin collections."
Andrew Dickey, Director of Precious Metals at The Royal Mint said, "We're excited to launch the 007 range of bullion coins, a celebration of British culture that combines exclusive design with meticulous craftsmanship. These bullion coins, available in 1oz gold and 1oz silver and minted to the highest specifications, embody the standards of quality and excellence expected from a world-leading mint. I have no doubt they'll resonate with investors and collectors, as well as a new audience seeking to give the timeless gift of gold or silver."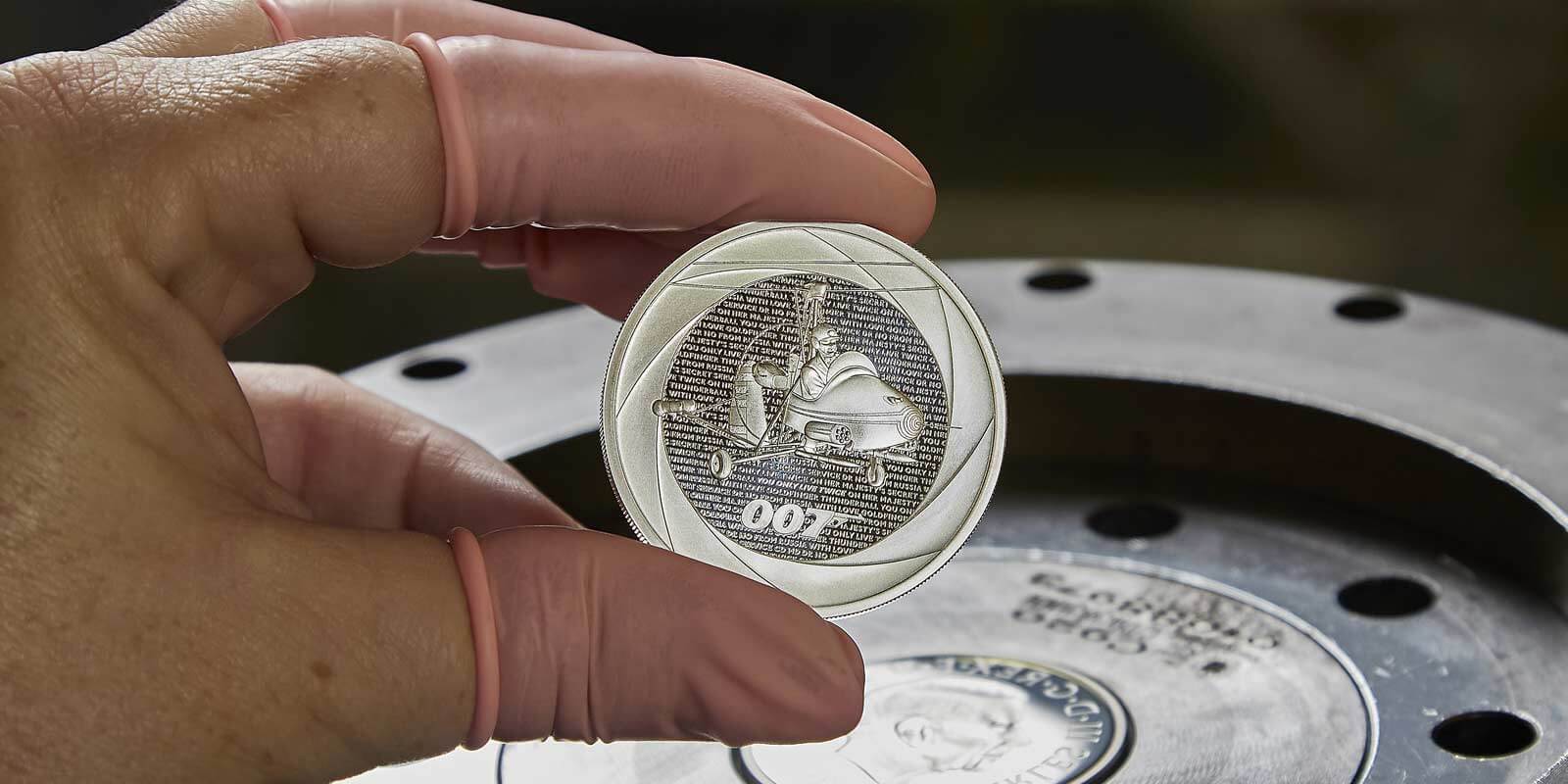 Commemorative or collectable coins in proof finishes are the highest quality of a coin available to collectors. Their sharpness, detail and finish make them perfect for collectors looking for the highest levels of craftsmanship and detail. Each proof commemorative coin is individually struck up to six times, at a lower speed and with less pressure than other finishes to preserve the finer details of the design. Every single coin is inspected for imperfections, with the dies being cleaned by air between each coin striking to ensure that no marks or imperfections are caused during striking. Due to the level of extra care and attention involved during production, approximately 50 proof coins can be struck within an hour. Commemorative coins also have a mintage figure attributed to them making them highly sought after by collectors.
Bullion coins are a form of investment and are an alternative to holding precious metals in bars. The designs and themes depicted on bullion coins also add an element of collectability. Customers that purchase bullion coins as a form of investment buy them for the intrinsic value of the precious metal they contain, whether that's gold, silver or platinum. Therefore, all Royal Mint bullion coins available to be purchased from The Royal Mint are based on the live price of precious metals. Bullion coins tend to be of a similar standard to a Brilliant Uncirculated commemorative coin.
The James Bond bullion coins are available as 1oz 999.9 fine gold and 1oz 999 fine silver with pricing based on the live precious metal price that day. Each collectable coin is available as gold Proof, silver Proof and Brilliant Uncirculated editions with prices starting from £14.50. For more information about the James Bond collectable and bullion coin range visit The Royal Mint website