The Royal Mint celebrates Stir-up Sunday with His Majesty King Charles III's first official Sixpence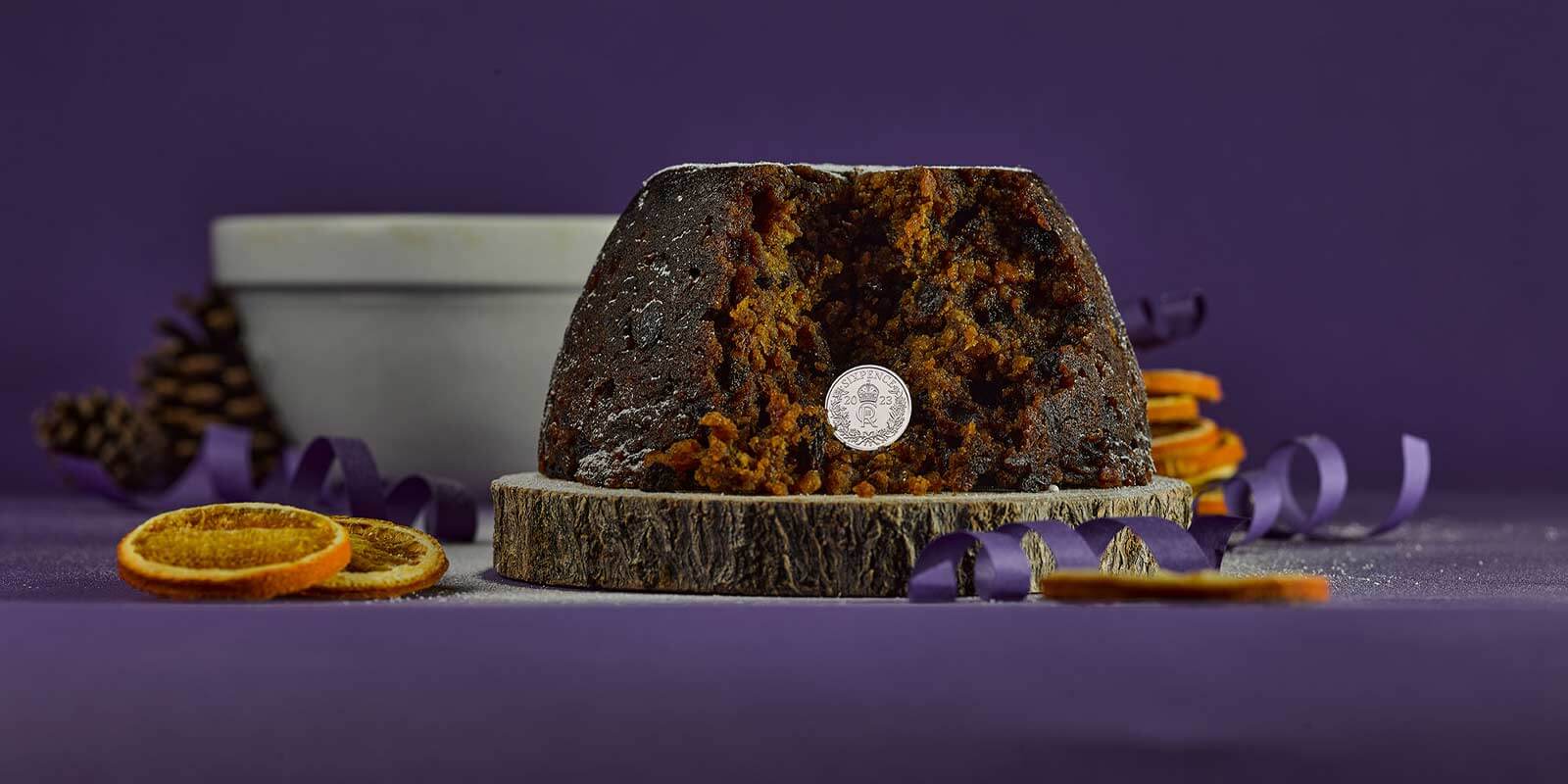 The Royal Mint has unveiled the first Sixpence to feature His Majesty King Charles III's portrait - a coin which has been a part of festive traditions for centuries.
Ahead of Stir up Sunday, The Royal Mint is encouraging people to take part in festive traditions this year – including stirring a sixpence into your Christmas pudding.
The design appearing on the Sixpence will only feature on the 2023 dated coin – a special tribute to His Majesty's coronation year.
The Christmas Silver Sixpence is available to purchase on The Royal Mint's website
30th October 2023:
Ahead of Stir up Sunday, The Royal Mint has unveiled the first official Sixpence to have His Majesty King Charles III's portrait appear on the obverse (heads) side of the coin.
The Sixpence was in circulation from the 16th century up until decimalisation in 1971 when Britain's coinage became decimal. Since then, it has become a popular festive tradition with people across Britain putting a sixpence in their Christmas pudding and gifting as part of their festive celebrations.
Designed by John Bergdahl, His Majesty's first Sixpence features The King's official Royal Cypher at the centre of the coin, surrounded by apple and orange blossoms symbolising good fortune. As a special tribute for King Charles III's coronation year, the design created by John Bergdahl will only appear on the 2023 dated Sixpence.
Traditionally the last Sunday before advent, this year falling on 26th November, Stir-up Sunday is when families make their Christmas puddings, stirring in a silver Sixpence for good luck. The tradition dates back to Victorian times, where members of the family would take it in turns to stir the pudding and make a wish. Whoever found the Sixpence in their own piece of the pudding on Christmas Day would see it as a sign that they would enjoy wealth and good luck in the year to come.
Rebecca Morgan, Director of Commemorative Coin at The Royal Mint said, "The Sixpence has played a special role during the festive period for centuries and continues to do so today. Ahead of Stir up Sunday, we are delighted to unveil and celebrate a new chapter in the Sixpence's history, with the first to feature His Majesty King Charles III's portrait. With a new design and monarch appearing on the Sixpence, it's a wonderful opportunity for members of the public to begin a new festive tradition to share with loved ones by adding the Sixpence into their Christmas pudding ready to serve up a slice of good luck on Christmas Day!"
Those wishing to take part in Stir-up Sunday on 26th November 2023 can purchase their own Sixpence from The Royal Mint website, Bakers can also tag @RoyalMintUK on Instagram with their creations for a chance to be featured on The Royal Mint's social channels.
For more information, or to purchase a 2023 dated Sixpence, please visit The Royal Mint's website.