The Royal Mint achieves International Standard for Energy Management (ISO 50001)
01 Dec 2011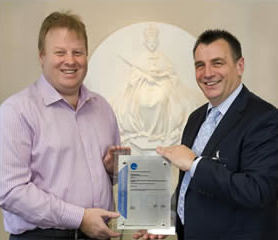 The Royal Mint today became one of the first organisations in the world to achieve certification for the International Standard for Energy Management (ISO 50001).
Released in June 2011, ISO 50001 is the most robust framework for optimising energy efficiency and will enable the Royal Mint to make continual improvements in its energy performance – generating significant savings and reducing its carbon footprint – helping it become one of the most sustainable operations in the global minting industry.
The ISO 50001 certification has been awarded by NQA, one of the world's leading assessment, verification and certification bodies. A presentation will take place at the Royal Mint today.
The Royal Mint, located in Llantrisant, South Wales, earned the certification after passing a series of independent audits that covered all aspects of its energy management systems. As part of the process it was required to review and set key energy performance targets, identify opportunities for energy saving across the organisation and introduce energy considerations into any purchase of equipment.
In order to ensure the organisation is on track to meet these targets the Royal Mint will also be required to undertake continual energy reviews to assess current and planned use, as well as the energy sources it uses.
Adam Lawrence, Chief Executive of the Royal Mint said: "We are very proud to be one of the first organisations globally to achieve this standard which emphasises the ongoing commitment of the Royal Mint to sustainability and world class energy management systems. As the world's leading export mint and producer of the victory medals and commemorative coins for the London 2012 Olympic and Paralympic Games it is crucial that we as an organisation are leading by example and doing all we can to build energy management into business practices and reduce our carbon footprint."
Max Linnemann, Environmental Sector Manager at NQA said: "Certification to this standard defines an organisation's commitment to continual improvement in energy management. Its successful implementation by the Royal Mint will enable the organisation to reduce their carbon footprint and ensure related legislative and regulatory requirements are met."
Images of the certificate presentation and the Royal Mint site are available upon request.
For media enquiries, please contact the Royal Mint Press Office on 0845 600 50 18.