Queen Anne Precious Metal Proof Coin Range
10 Apr 2014
The Royal Mint has revealed precious metal variants of the 300th Anniversary of the Death of Queen Anne 2014 UK £5 coin.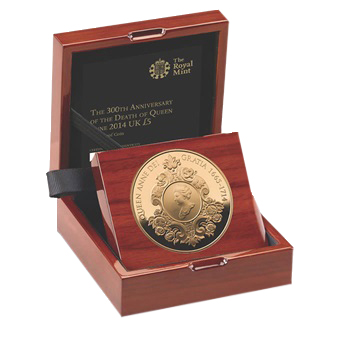 Queen Anne's reign is one of great interest to many collectors, as it gave rise to a number of numismatic treasures that were struck by The Royal Mint. This period of classic elegance has been recalled by portrait sculptor Mark Richards FRBS in his design for this 2014 UK £5 coin that has been struck by The Royal Mint to mark the 300th anniversary of the death of Queen Anne, and to pay tribute to the achievements of her reign.
Capturing the sense of refinement and taste of the era, his portrait is styled as a miniature of Queen Anne's much-admired effigy, surrounded by a decorative frame. The obverse features the current coinage portrait of Her Majesty The Queen, by Ian Rank-Broadley FRBS.
The 300th Anniversary of the Death of Queen Anne UK £5 Coin is now available in 22 carat gold, sterling silver plated with fine gold, sterling silver or as a double-thickness sterling silver Piedfort coin, all finished to The Royal Mint's prestigious Proof standard. Each coin set is presented in a sophisticated case with a Certificate of Authenticity and a beautifully illustrated booklet documenting the key milestones of Queen Anne's life.