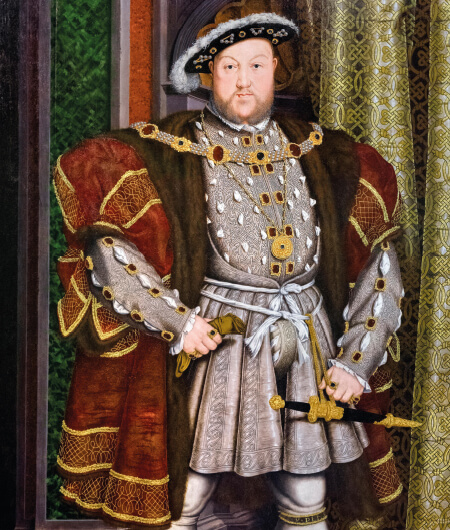 During the period known as the Renaissance, artists rediscovered the technical excellence and beauty of works created in ancient Greece and Rome. Emerging in Italian city states such as Florence, Venice and Rome, a revolution in artistic thinking and execution radiated out across Europe, reaching England in the late fifteenth century.
The Sovereign is undoubtedly one of the most impressive coins struck by The Royal Mint. Henry VII ordered a new coin of gold in 1489 and the resulting design radiates regal majesty. The coin surface is large, enabling the engraver to include decorative details. The portrait is of a crowned king, holding his coronation regalia and sitting on an almost architectural throne.
The Sovereign was a coin of splendour and symbolism as well as a triumph of technique. But the movement to a heightened realism in portraiture was more clearly seen on other coins. In 1494 Henry VII appointed Alexander of Brugsal as engraver at The Royal Mint. This skilled artist was familiar with the move towards realism and this is seen in his work on the coinage. The profile portrait he produced of Henry VII is highly regarded as a work of numismatic art. For the first time in centuries the king was represented as he appeared to the artist, giving the coin holder a realistic impression of their monarch. From beneath the large crown, the king's thick hair falls in waves to his neck. The jaw and chin jut out below his thin lips and long nose. His forehead frames a delicately detailed eye, fixed on some far-off object.
Henry VIII continued to issue coins that showed a realistic likeness. His coinage shows how the king aged and changed physically over his reign. The first coins of his reign show him as an athletic young man, while later issues show the commanding and overweight king we are familiar with from portrait paintings such as those by court painter Hans Holbein.
This shift towards more realistic portraiture continued throughout the era of the House of Tudor. The bare-headed portrait of Edward VI, numerous finely engraved effigies of Mary I and the machine manufactured portraits of Elizabeth I are all fine examples of the quality of design during this period.
H. V. Sutherland, a respected authority on numismatic art, commented on the coin designs of this time in his book, Art in Coinage.
"The change was a change from splendour to economy, from to balance, from a love of rich pattern to a more sparing rhythm, with the interest in portraiture always paramount; and with these changes there came also a steady improvement in the technique of those who engraved the dies and struck the coins. English coinage in these hundred years was as handsome as any in Europe outside Italy."