17 April 2019 - Meet Peter Rabbit
Peter Rabbit will be visiting us on 17 April 2019 and you can meet him as a free extra with all guided factory tours booked on this date.
The meet and greet will take place in a separate area and you can choose to meet Peter Rabbit either before or after your tour (please allow up to 90 minutes per tour).
Peter Rabbit will be appearing at 10:30, 12:00, 13:30, 15:00 and 16:00 (subject to availability).

Book Tour Tickets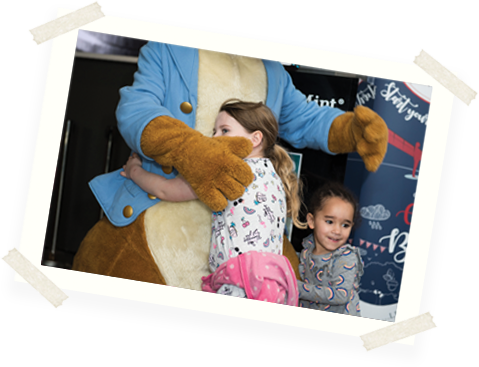 Peter Rabbit™ Easter Events
Available 18, 20, 22, 24 and 26 April 2019*
Come to The Royal Mint Experience and take part in an adventure as you listen to 'The Tale of Peter Rabbit'. During the storytelling, children will be invited to take part in games and activities inspired by the book's characters, all of which are outlined below. Each workshop, including the storytelling and activities, will last approximately 45 minutes.
Activity 1: Raid Mr. McGregor's Garden
The children will have to squeeze under a gate and sneak into Mr. McGregor's garden to collect some vegetables. Whilst he's doing some gardening, Mr. McGregor spots the children and they have to try and escape before he catches them!
Activity 2: Escape the Sieve
Peter gets stuck in a gooseberry net as Mr. McGregor tries to catch him with a sieve. Can the children wriggle out of their jackets (provided) and escape before Mr. McGregor catches them? Can they make it to the tool shed?
Activity 3: Escape the Tool Shed
Mr. McGregor is looking for the children in the tool shed. Can the children escape from Mr. McGregor by jumping out of the small window that he can't fit through?
Activity 4: Find the Gate to the Wood to Escape
As a group, the children need to navigate the map to find the gate. When the children have found the gate, they will have a time limit to squeeze under it, escape to the woods and get home.
The workshop is available as part of your guided factory tour. Please allow up to 90 minutes per tour and you can choose to book the workshop either before or after your tour. The workshops will take place in a separate area and will be held at 11:30, 12:30, 14:00, 15:00 and 16:00.
*Subject to availability. All children must be supervised by an adult.
BEATRIX POTTER™ & PETER RABBIT™ © Frederick Warne & Co., 2019.