Around the world, Chinese New Year is celebrated with the exchange of gifts and money, traditionally given in red envelopes to wish the recipient love, luck and prosperity. Our Shēngxiào Collection combines centuries of Chinese tradition with British minting craftsmanship, celebrating the 12 animals of the Chinese Zodiac; each with their own unique characteristics and qualities. This year it is the Lunar Year of the Dog, the fifth animal in the Shēngxiào collection to be brought to life by artist Wuon-Gean Ho; following designs for the Year of the Horse, the Year of the Sheep the Year of the Monkey and Lunar Year of the Rooster.
We will bring in the Chinese New Year on 17 February, ahead of the celebrations we caught up with designer, Wuon-Gean Ho to find out a little more about her Lunar Year of the Dog coin design.
Hi Wuon-Gean, tell us a little bit about yourself…
Hello, I'm Wuon-Gean and I am the designer of The Royal Mint Lunar Series of coins and this year it's the Year of the Dog.
This is your fifth coin in the Lunar series, so tell us, how did you go about designing this coin? Talk us through the process…
I design coins by making linocuts which involves carving into a substrate; everything you carve away will print white and everything you leave behind prints dark. So the energy that you put into carving these lines is a very similar energy that comes out when you're making a design on a coin because metal is also a very difficult substrate to move and mould – I think there are a lot of parallels between lino and coin making.

Tell us about the Year of the Dog…
The Lunar Year of the Dog follows the Lunar Year of the Rooster and will run from 16 February 2018 to 4 February 2019. For me the dog is very much a wonderful companion animal, they have a lot of love, affection and loyalty. Every dog has a different personality, they are in a way individuals but I feel sometimes they very much mirror their owners, so you have this link between people and animals which comes forward a lot more with dogs.
Talk us through the different elements of the coin
The design is a picture of a very happy, bounding dog that is jumping for joy! This dog is a mix between a West-Highland white Terrier and a Jack Russell – it's really wirey and really energetic; he also looks like he's smiling because his mouth is slightly open and it seems like he's leaping across the waves. In reality the background is a hidden story, I like to put hidden motifs in my coins so the background is actually created from a nose pattern of another dog. The nose print is unique to every dog so the nose print is a portrait of another animal that this dog is potentially playing with – it's a story of a dog in a landscape but the landscape is not what you expect it to be.
The signature is in the foreground of the landscape and it's looks like a little shell on a beach – it's just a motif that says "Wuon-Gean" in very old characters at the front of the coin.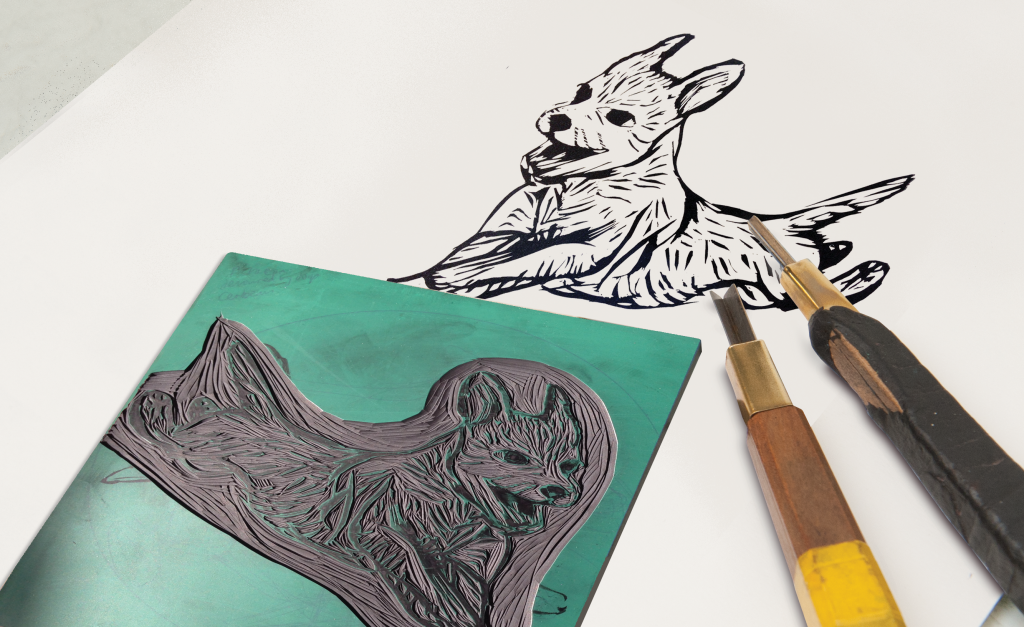 How do you think your design translates on to the finished product?
I am always completely astounded by the work of the design team at The Royal Mint, they do an amazing job at taking my two dimensional design and transforming it into a three dimensional object. I think this coin is very successful, they've done a great job at modelling the body so the dog really looks like he's moving through the air and there's also a really nice blend of digital technology as well. The nose print looks a little bit like a bio-morphic pattern or something like pixelation which is another type of visual language that also comes across very nicely on the coin – I'm happy with the end result!
How does coin design differ from your normal work?
There are restrictions within working in a circular dimension, but at the same time there is a lot of freedom – if you think about how we view the world we view it in a circular way, there are no corners, so I think in a way designing in a circle is something that is becoming more and more natural to me as I progress through the series.
Tell us about your research… Did you use anything in particular for your inspiration?
I'm always interested in depicting animals in motion and I watched a lot of dogs running around and playing with each other, both in life and also online. I spent a lot of time researching dogs in movement for this coin design and I spent a lot of time watching agility programmes on Crufts. It's actually very entertaining because any breed of dog can go around the agility course – but of course the collies win (practically every year!) The best bit is watching the variety of breeds that go around – you will see quite short-legged terriers attempting really incredible jumps.
I also went to a beginners' agility class in London and what really struck me about observing people with dogs was the real bond between them, there is a lot of affection and trust between them. What you will notice when you observe owners teaching their dogs agility, is that the dogs really have to trust their owners when they're moving around the course – you can almost see the connection between them and that's really sweet.
So I spent a lot of time watching videos and sketching from them, I also went to the park and sketched a lot of dogs running around; I'm really happy that the energy and movement of the dog has been translated into the coin's design.
What about dogs interacting with each other?
Dogs with each other are hilarious, there's that huge kind-of boisterous, no holds barred kind of…madness – I like it a lot it's great! With dogs it seems like there's more emotion, more honesty in their interaction than humans – it seems like they display what they're thinking a lot more, I mean I know they have different personalities but it feels like they have a real freedom.
What's next in The Shēngxiào collection?
The next coin is the Lunar Year of the Pig which is the twelfth coin in the Lunar cycle.
So there you have it, another fascinating look into the story behind a coin design. The Lunar Year of the Dog coins are available now on royalmint.com. We'd like to know what you think of Wuon-Gean's Year of the Dog design, so let us know on Facebook and Twitter.