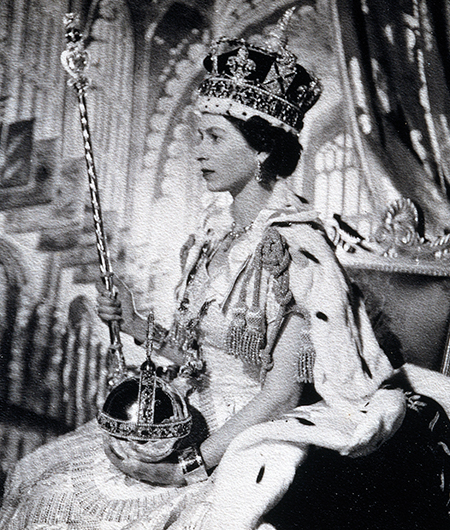 Five portraits of Her Majesty The Queen have been used on the United Kingdom coinage since her accession to the throne in 1952. The preparation and approval of the first four designs were overseen by His Royal Highness The Prince Philip, Duke of Edinburgh, in his capacity as President of the Royal Mint Advisory Committee (RMAC) from 1952 to 1999.
Prince Philip was able to advise and support The Queen as she took on her new responsibilities, including with regard to the coinage. One of his first roles in his capacity as President of the RMAC was to oversee the development of a new coinage portrait for The Queen. The selected likeness was by Mary Gillick and it is known that Prince Philip visited the sculptor's studio as the portrait was worked on.
Gillick's elegant depiction of The Queen first appeared in 1953 and shows her wearing a wreath in the style of many British coins struck between the seventeenth and early nineteenth centuries. The portrait remained in use for United Kingdom coins until decimalisation, and still appears on the special silver coins minted each year for the Royal Maundy.
For the decimal coins, the first of which entered circulation in 1968, a fresh portrait was created by Arnold Machin. Like Mary Gillick, he avoided the portrait style which had been common on coins earlier in the century and showed less of the neck of the subject. He replaced the wreath with the tiara of festoons, scrolls and collet-spikes which had been given to The Queen as a wedding present by Queen Mary.
After several sittings with The Queen, Machin's design was approved at a meeting of the RMAC in April 1964, with Prince Philip asking for it to be noted in the minutes that Machin should be 'heartily congratulated on his work'.
The effigy selected for use from 1985 was prepared by the sculptor Raphael Maklouf. Having worked originally from photographs, he was granted two sittings by The Queen in order to make minor adjustments to the portrait. It shows The Queen with the royal diadem which she wears on her way to and from the State Opening of Parliament, and she is also depicted wearing a necklace and earrings.
There was a classic timelessness about the Maklouf design, but for the fourth portrait, introduced in early 1998, a greater degree of realism was evident. The portrait created by Ian Rank-Broadley FRBS shows The Queen in her sixth decade, her crowned head filling the coin's surface.
The most recent portrait of The Queen is by Royal Mint designer Jody Clark. It skilfully combines modern and traditional elements as well as introducing personality with a hint of a smile. The design also marked the first time in more than 100 years that the UK's definitive coinage portrait had been designed by someone working at The Royal Mint.