Silversmithing is a vanishing trade yet the tools and techniques that go into this highly skilled art have changed very little over the years making the few left highly sought after. From fine jewellery to luxury homeware, the time and techniques that go into the process add to both the value and beauty of each individual product created.
For award-winning silversmith Philip Kydd, it has become a family business, with his son James following in his footsteps. The dynamic duo, based in Bristol, have recently worked together on a precious metal project for The Royal Mint, creating their signature piggy bank, Minty® in sterling silver.

Phillip has taught his son James all there is to know about the art of silversmithing, and passing these skills down from generation to generation is crucial to the future of an ancient and increasingly scarce technique, one that allows luxury goods such as the new metal Minty® to be created. Philip told us: "The process of making a luxury item such as Minty® piggy bank is really incredible and to see the project from sketch to finish is very rewarding. We only use the most credible suppliers for all of our precious metals and there's also a range of skills and techniques involved to ensure the end product is of the highest possible quality. Some of the skills used to make the Minty Pig were hand forging, soldering, accurate filing and polishing. Each Minty® takes around 40 hours to complete."
Helen Cooper, Director of Gifting at The Royal Mint, comments: "We make many of our gifting products on site, using the same techniques as our commemorative coins, but when we require particular expertise to elevate the quality of our products, we look to source the finest talents and skills, and that's what we have found in Philip and James Kydd. Their attention to detail and highly skilled approach has ensured our Minty® is of the best possible quality for our customers."
Minty® has previously appeared in classic white fine bone china, a limited edition Christmas design, first edition design and The Snowman design but this is the first time it will appear in a precious metal. The new silver Minty® piggy bank also features The Royal Mint's exclusive Tower hallmark, a symbol that demonstrates all products are of the highest standard and quality and Minty® is no exception. The Royal Mint has also revealed that they are set to make the world's most expensive and luxurious Minty® Piggy Bank; the 18 carat gold edition will be made to order and will become the world's most expensive piggy bank retailing at £100,000
Helen continues: "Our previous Minty® piggy banks have been incredibly popular and sold out very quickly so we are anticipating a very positive response to our latest addition to the Minty® family. As we look to support local businesses wherever possible, The Royal Mint has chosen to work with artisans such as Philip and James to deliver this premium product and the brand new precious metal Minty® does not disappoint."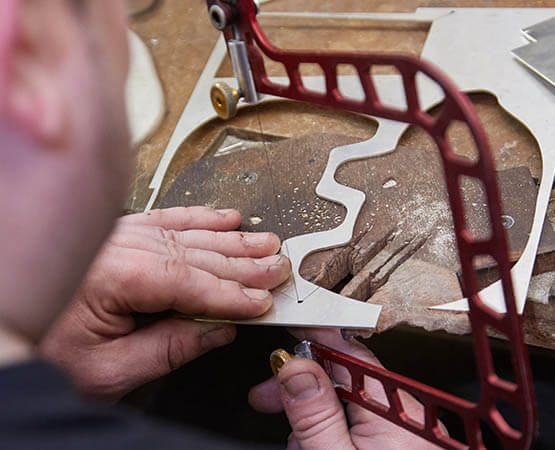 James Kydd told us, 'We are always very proud to work on such beautiful hand-crafted items for companies such as The Royal Mint. The Minty® piggy bank project is of particular interest to me as I am inspired by silverware and silver items. There were some challenges that we came across with this project, for example ensuring the pigs are produced as uniformly as possible, however it is always satisfying to overcome them and ensure the end product is as pleasing for the end customer as it is for ourselves. The process is meticulous and I can spend up to 40 hours crafting the parts needed to produce one of these pieces so they really are miniature works of art."
Philip has been a silversmith for nearly 40 years, creating contemporary, handmade items finished to an exceptional standard. He started his career at WH Manton Ltd, before setting up Philip Kydd Ltd in 1981. His son, James Kydd, started an apprenticeship under the Goldsmiths Company Apprenticeship Scheme, with his father as his Master, over 6 years ago. Since then he has gone on to win numerous awards at the Prestigious Goldsmiths' Craftsmanship & Design Awards.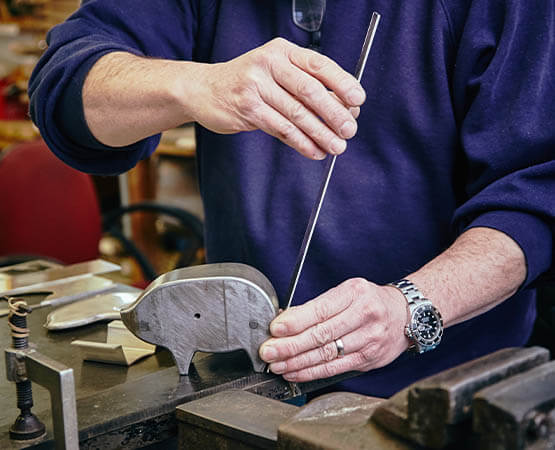 Philip continues: "I am incredibly proud of James for producing such outstanding work and to carry on the family business. My father in law also works alongside us in the workshop and the business has a very homely, family feel to it. We are incredibly proud to be producing such a beautiful piece of silverware for a company as prestigious as The Royal Mint. This Minty® piggy bank is completely handmade using all of our traditional tools and craftsmanship. We hope that this shows in the quality of the product.
"My son and I were very much working as a team on this project and thoroughly enjoyed the challenges we faced to produce the end product we are sure customers will cherish. It is wonderful to see something that was made by father and son being sold by The Royal Mint!"
The Sterling Silver Minty® model retails at £6,000. For more information, click here