Standing fierce and foreboding on the Moat Bridge of Hampton Court Palace, the Seymour Panther was likely gifted to Jane Seymour by Henry VIII from the treasury of royal beasts. However, its original appearance was that of a leopard which represented the arms of the king's previous wife, Anne Boleyn. In the year of Anne's execution, which was the same year Jane Seymour replaced her as queen and consort, Henry VIII ordered all of Anne's arms and badges to be replaced or destroyed. In an attempt to save money, whilst simultaneously honouring his new queen, he employed savvy thinking and ordered Anne's leopard to be altered in order for it to become the Seymour Panther, which also served as the dexter supporter of her arms, meaning it appears on the viewer's left-hand side. The panther is covered in spots, a feature the stone panther shares with the Chapel Court panther, and possesses a crown collar and chain down the body.
A Potent Predator
The heraldic panther is commonly depicted as angry or infuriated, with the flames coming from its mouth and ears said to represent its fragrant breath. This would induce other animals to approach it save for the dragon, who would retreat into its hole from the smell. Occasionally, the panther was also used as a symbol of Christ, although there's nothing to suggest Henry VIII requested the panther for his new queen other than to celebrate their union and reinforce his royal lineage.
The Seymour Wings
The Seymour Panther supports a shield bearing the Seymour Wings, which are conjoined in lure, meaning they are joined together with their tips pointing downwards. Wings used in heraldry symbolise peace, flight, freedom and spiritual transport, as well as denoting protection. The wings conjoined in lure on Jane Seymour's arms are the most well-known in heraldic tradition.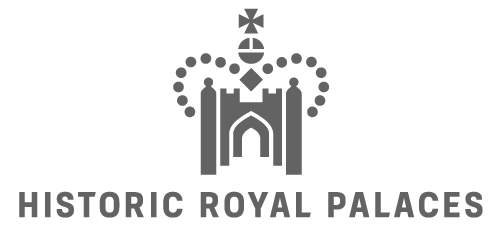 © Historic Royal Palaces 2021 Produced under licence from Historic Royal Palaces Enterprises Limited