 The bullseye on an Olympic archery target is only 12.2cm across. Only four 50p coins would fit inside if you laid them side by side. The men's pole vault record is 6.03 metres, the equivalent of vaulting over a stack of 3,387 50p coins. You'd need to line up 14,653 50p coins end to end to get you all the way round an Olympic Stadium's 400m oval athletics track and past the finish line.

The women's javelin record is 72.28 metres. You'd need to lay 2,628 50p coins end to end to cover the same distance.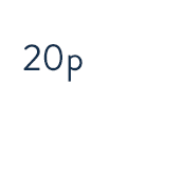 The weight of a shuttlecock is similar to that of a 20p coin.