Royal Mint graphic designer, David Knapton, meets Paddington to bring him into everyone's homes, (not just the Browns!) on United Kingdom coins – read about the inspiration and hard work behind bringing Paddington to life on a coin.
Paddington Meets David Knapton
Mr. Knapton is a designer at The Royal Mint and a big fan of Britain's much-loved bear from Darkest Peru. Mr. Knapton won an internal competition to design two new coins featuring Paddington and was very excited to be selected, having been a lifelong fan since childhood. It was very important to Mr. Knapton to tell the story of how this curious bear arrived in London from Darkest Peru. When he showed his designs to Paddington and the Brown family, even Mr Brown was impressed by how lifelike they were.
Paddington was pleased that Mr. Knapton was inspired by his adventures in and around some of the landmarks of London, after all it was where his story began.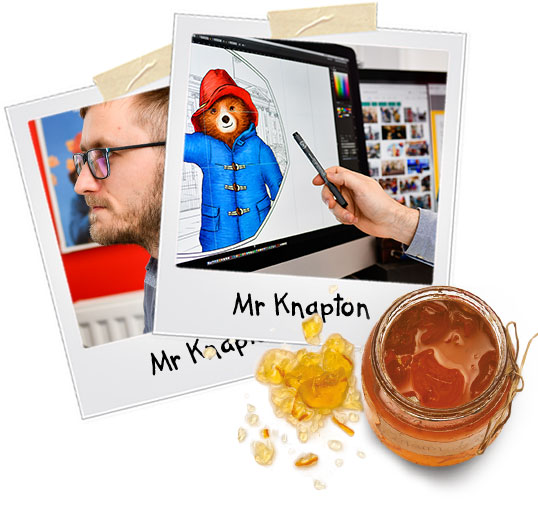 "I loved reading the books about Paddington when I was young, and felt a real sense of nostalgia as I was designing these coins. Paddington was part of my childhood, but now he's being discovered by a whole new generation. I wanted to bring his character to life and show him in a very realistic environment, so I positioned him on the platform at Paddington Station, showing Paddington waiting patiently on his battered suitcase for his new life to begin.
I couldn't believe I was lucky enough to meet Paddington; it's something I always dreamed of as a boy. So I wanted to make sure the designs really told the story and captured his character – polite, warm-hearted and very British. So I was thrilled when he accepted our invitation and also came to The Royal Mint. He seemed excited but a bit overwhelmed, which is exactly how I felt when I first came here. You don't really think about what goes into making our nation's coins, so it's really eye-opening seeing the whole process. I have to admit I never realised just how many marmalade sandwiches Paddington actually eats in a day!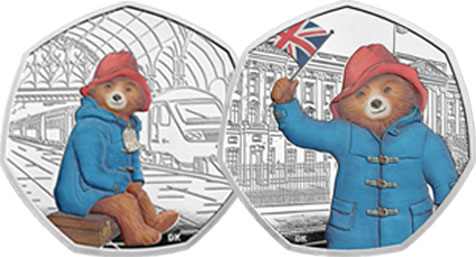 In the second design I chose to show him in front of Buckingham Palace. He is excitedly waving a flag, like the millions of other people who visit each year. I love the idea that Her Majesty The Queen perhaps invited him inside – I hope Paddington is pleased to appear on one of her official coins!"
© P&Co.Ltd./SC 2020.