AN ICON OF BRITISH CINEMA
Bond, James Bond
As the 25th film, No Time To Die, is set to be released, The Royal Mint is
celebrating with a new collection, exploring the technology, luxurious lifestyle
and iconic imagery from the 007 movies.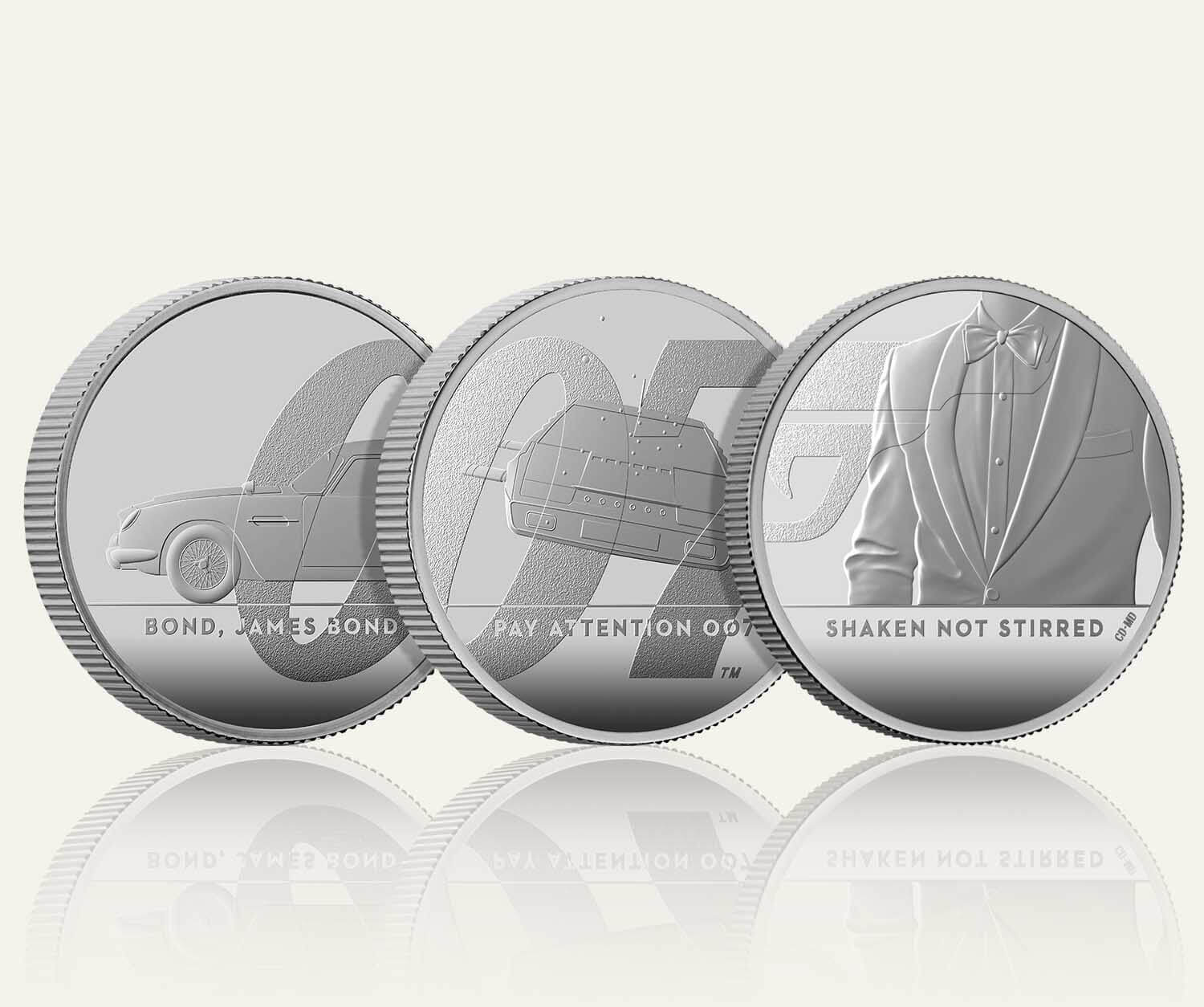 Set against a backdrop of opulence and glamour, 007's world of dangerous adversaries, exotic backdrops and high roller casinos has captivated audiences for decades.
We are celebrating 007 with our new James Bond Collection, featuring a range of three coins with interconnecting designs, an Inspired Innovation range, which include micro-text and a hidden message, and Special Issue editions.
When 007 first appeared on our screens in 1962, in Dr. No, he is playing a hand of cards at a casino table. Bond introduces himself to the other poker players, and the film audience, with the iconic line 'Bond, James Bond'.
"It would be great if people looked at my design and got a little bit of the same tingle I get when I see the opening sequence of a Bond film."
- Laura Clancy, Royal Mint Designer
Shaken Not Stirred - A spy with style
Now, as our coin series celebrating James Bond continues, we dive into the luxurious lifestyle of our favourite secret agent. Charming and sophisticated, Bond isn't your average spy. As someone who seamlessly mingles with the wealthy and powerful in his pursuit to bring down his enemies, it's clear
Luxury hotels, glittering soirées and poker tables are essential parts of the job description and during the movie franchise's history. James Bond's clothes have been almost as celebrated as thecharacter himself, with an evening suit worn in each film.
"The motif seemed appropriate to connect the three coins, especially as it has run throughout all the films, just in slightly different adaptions. It provides an extra interest and texture without overcomplicating the designs."
- Matt Dent and Christian Davies, Bison Bison