Our Step-By-Step Guide on How to Wear a Tie Pin
A traditional item used to keep ties or cravats safe and secure, our new range of tie pins is as stylish as it is functional.
Tie pins, also known as tie tacks, are an alternative to tie clips or slides, and our brand new range balances functionality with stunning designs.
As well as looking beautiful, the aim of a tie pin is to secure your tie to your outfit, and it should be attached and positioned precisely. Here's our step-by-step guide to wearing a tie pin: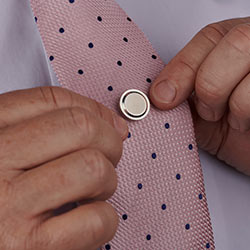 1. Locate the best placed shirt button to fasten your tie to (aim for the middle of your chest, potentially around the third or fourth down from your neck) and open the button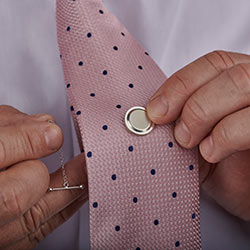 2. Place the bar through the button hole, and once the chain is through, button the shirt back up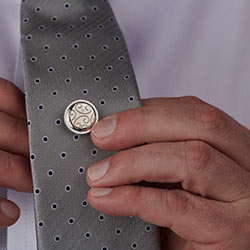 3. Remove the decorative front panel and place on the desired position in your tie, ensuring that the pin goes through the wider and slimmer two parts of the tie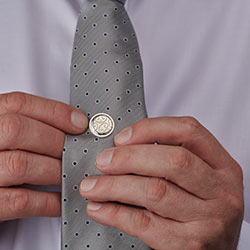 4. Re-attach to the tie and pin securely
Your tie is now not only secure but looks stylish with an extra touch of elegance and class. If you find that your tie is still not staying in place, then it is most likely located too high, so simply remove the pin and re-position it lower down on your tie.
Tie pins add a stylish finish to your formal wear, but they also serve a practical purpose; preventing your tie blowing over your shoulder on windy days, or worse still, trailing in your dinner plate at a formal event!
Check out our range of tie pins here.