The Great British Coin Hunt is growing!


The Great British Coin Hunt began during the London 2012 Olympic games, when collecting coins from change became a sport in itself. In total, 29 50p coins – each representing an Olympic sport – were issued in 2011 and 2012 to mark the home games. These coins were collected in their millions and unlocked a world of coin collecting for people of all ages, right across the country. People everywhere stopped spending and started collecting the coins in their change. But the Coin Hunt didn't stop there. In fact, the 29 50p designs issued to mark the games joined around 60 different designs already in circulation on 50p, £1 and £2 coins.


In the last four years the Coin Hunt has continued to grow, with new UK coins released each year. Today you'll find no fewer than 103 different designs in circulation and that's before you include the 2016 coins, which you'll find in your change later this year. 2016 is a bumper year for UK coins and, by the end of the year, the Coin Hunt will grow to 115 designs! So just where do you keep all these coins? Well, in 2012 a collector album was released along with the 29 50p coins to give collectors a means to catalog and store their new collection. As the Coin Hunt has grown, so has the range of albums, and today there are 10 albums and several ways to collect UK coins from change.
Collect the 50p coins from your change
A collector album designed for you to collect the £2 coins
Catch the latest characters from the little tales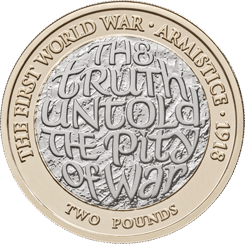 The Journey to Armistice
In 1918 the First World War came to an end as the Armistice was signed,
bringing a silence to the battlefields. A century on, we remember the fallen and their sacrifice as part of our commemoration of the First World War, a five-year journey in coins from Outbreak to Armistice. The moment of the long-awaited ceasefire is our subject for 2018 and the final coins in the series. The design for the Armisitce £2 coin features poignant words taken from Wilfred Owen's poem 'Strange Meeting'.
Add To Basket
Add To Basket