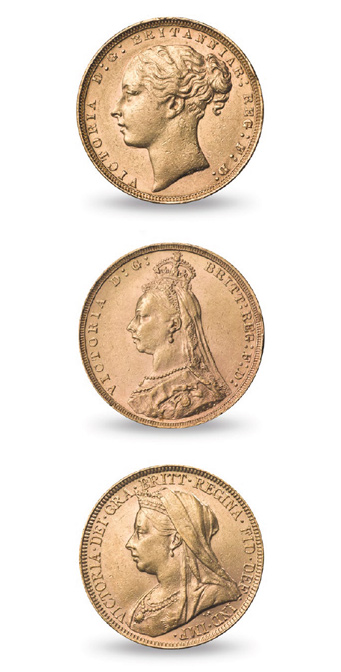 The Many Faces of Queen Victoria
At almost 64 years, the reign of Queen Victoria is the second longest in British history behind that of her great-great-granddaughter, Her Majesty The Queen, who has ruled for 67 years and counting. Due to her long reign, a number of effigies of Queen Victoria were needed for her coinage. Through the portraits it is possible to trace her journey from being a young queen to becoming a global figurehead.
Arguably the most popular of these designs among coin enthusiasts is the first: William Wyon's portrait of the young queen, which first appeared in 1838 and was used through much of her reign. The so-called 'Young Head' effigy captures the youth and beauty of Queen Victoria when she became queen at just 18 years old. Over the years, this classically styled portrait was reinterpreted a number of times, with each consecutive effigy attempting to portray the queen as she aged. Poignantly, one of those reinterpretations came after the death of William Wyon and was designed by his son Leonard Charles Wyon.
The 'Jubilee Head' effigy, produced by Sir Joseph Edgar Boehm, first appeared in 1887 and gives a realistic but dour representation of Queen Victoria. The portrait was seen on coins in the same year as her Golden Jubilee but the portrait wasn't well received. Despite Queen Victoria becoming increasingly popular in later years, this portrait was never taken to her people's hearts.
In 1893, when Queen Victoria was 74 years old, another effigy was commissioned and produced. Appropriately, it is often referred to as the 'Old Head' design. Produced by Thomas Brock, it gives us the image of Queen Victoria that seems most often to appear on the signs of the countless pubs across the United Kingdom that carry 'Victoria' in their name. It is in this interpretation that she seems the most relatable. Although wearing the regalia of empire – a diamond and sapphire tiara, a diamond necklace, pearl earrings – she seems at her most human.
Perhaps it is for that reason that the 'Old Head' image is the one that we tend to connect most readily to Queen Victoria. She was queen and the face of an empire upon which the sun never set but she was also a mother and a grandmother, as well as a passionate and artistic woman who carried the responsibility of her role for decades.